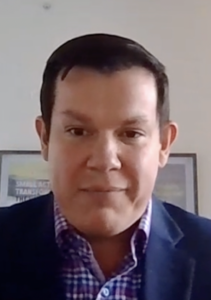 Insurance industry rep. blames 'market forces' for stagnant auto body labor rates in Mass.
By on
Announcements | Insurance
The executive director of the Massachusetts Insurance Federation told a special state commission on Tuesday that the auto body labor rate paid by insurers in Massachusetts has not risen in 30 years because of "market forces," rather than rate suppression by insurers.
"The key to understanding this entire debate is it really does come down to an issue of supply and demand," Christopher Stark told the 15-member Special Commission on Auto Body Labor Rates, which is considering whether legislative action is needed.
Stark told commission members that increased competition has led some body shops to enter into contracts with insurance companies, and that the lower labor rates that are part of those contracts figure into the industry's determination of the prevailing labor rate, which has remained at $40 for the past three decades and is the lowest in the country.
Stark presented figures showing that since 2000, the number of accidents in the state have decreased by 22%, while there has been a 5% decrease in the number of auto body shops in operation. That difference, he said, shows that the market has become more competitive.
"You know, there's been a lot of conversation today, Mr. Chairman, about the various relationships that insurers have with these auto body facilities. We don't have a government-set price right now. This is the market setting these prices, partially still based on supply and demand economics of the commonwealth versus our surrounding states," Stark said.
His argument prompted some bewilderment among representatives of the collision repair industry on the commission.
"How does [supply and demand] impact the labor rate? I need to understand that," asked commission member Jack Lamborghini of Total Care Accident Repair in Raynham.
"Because when you have an oversupply of a service, there are going to be those in the market as there are today willing to negotiate that price with insurers, as they have been doing," Stark responded. "And the market today, through their agreements, which, you know, I think we've talked about those agreements, do impact the rest of the market.
"…[W]e have an oversupply, an ever decreasing demand as the safety of the vehicles increases," he said. "And so you have that market suppression of rates. It's not insurer suppression, it's market suppression."
Asked again to explain, Stark said, "[The] excess supply incentivizes folks to come to insurers to work with them, to become preferred facilities, to negotiate their rates with the insurer. And then that prevailing rate goes into the calculations for the quote-unquote prevailing wages, as it's been referred to today."
Stark testified midway through the four-hour-plus hearing, offering the insurance industry's perspectives on the pressures the repair industry faces. His 45-minute appearance followed testimony by repairers, who told the commission that auto insurers' refusal to budge on the labor rate has caused real pain in the collision repair industry, threatened its survival and put members of the public at risk.
Many of those testifying urged the commission to support H.1111, a bill that would raise the labor rate and tie it to the region's Consumer Price Index. The bill is currently being considered by the Legislature's Joint Committee on Financial Services.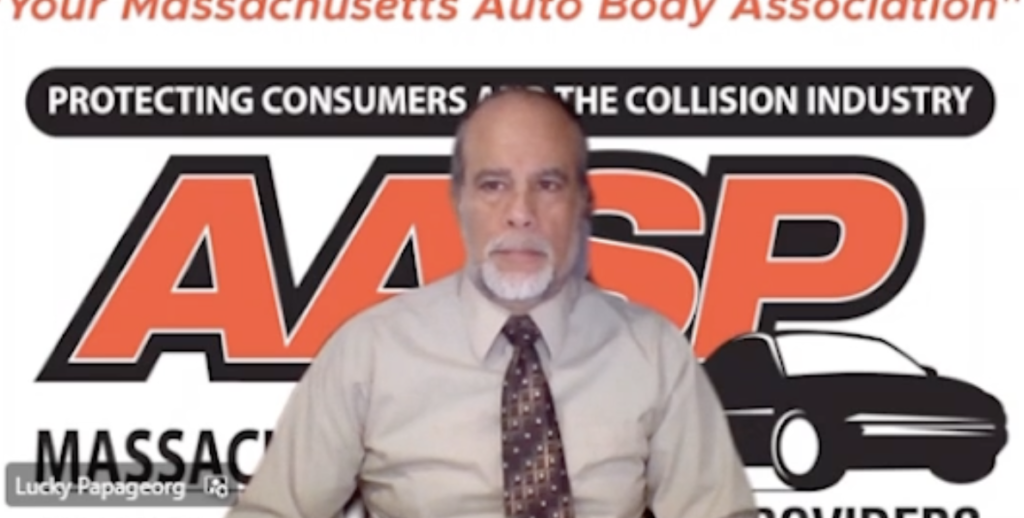 Commission member Evangelos "Lucky" Papageorg, the executive director of the Alliance of Automotive Service Providers of Massachusetts (AASP-MA), took issue with Stark's argument.
"The argument that there's too many shops in Massachusetts has no bearing on what it costs to run a business in Massachusetts," he said. "If there were fewer shops, the cost to run those businesses — heat, insurance, property taxes, everything else making Massachusetts be the fifth highest [state] in the country to run a business — would not change. We would still need to have a fair and equitable rate of reimbursement that would allow for being compensated enough to cover those costs and the increase associated with them.
"And the insurance industry is one of those costs that shops are absorbing all the time – their liability insurance, worker's comp insurance, all for the same labor rate," he added.
Papageorg addressed the prevailing rate issue during a back-and-forth with fellow commission member Michael Nastari of Mapfre Insurance, who asserted that some repair shops are willing to do work for car rental companies at a lower labor rate than insurers pay.
"You get a benefit by having shops work at a discount, and then you try to impose that discount on other shops," Papageorg said. "You…force non-referral, non-program shops to work at a labor rate."
"We heard from one shop out in the western part of the state, which, you know, if you use the geographical definition, there's no [other shops] near her, yet she's constantly being forced to work at a labor rate that does not make any sense," he said. "The shops closest to her [in neighboring New York and Connecticut] are getting $55 an hour. Then why isn't your company in particular willing to negotiate?"
Papageorg urged the commission to view the issue "from a common sense standpoint," rather than through the interpretation of statistics.
Addressing Stark, he said, "I'm asking you specifically, are you thinking that it makes sense that since 1988, to today, a rate of reimbursement taking into account all the cost and increase in doing business here in Massachusetts, has increased a grand total of $10 per hour? Does that make sense to you?"
"I disagree with the premise of your question," Stark answered.
"It's a simple yes or no, Mr. Stark," Papageorg continued. "Do you think that that rate of increase across 34 years, when you take into account all the other increases that have taken place in Massachusetts and all the other states, makes any sense whatsoever?"
"Again, I'm going to go back to when we think about the total labor cost that is adjusted," Stark replied. "This is — we have to look at this holistically. We have to look at this as, what are the insurers saying as they would see it in other regions and other states and yes, that number fluctuates between our states, amongst our neighbors. We are not the lowest, even in this region, in terms of the total labor cost.
"And so when you look at that, when you look at the last four years alone, an increase of 10% over that time, that is significant. So I'm not just going to say that, you know, taking labor rate by itself. There are ways that that's not calculating the total labor cost of what is going into each of those estimates."
"I just want to point out that Mr. Stark keeps using the word 'holistic,'" Papageorg said. "You know, you're using a holistic approach, you're gonna kill this industry. You've already started killing this industry."
The commission plans to hold a second remote hearing on the bill. The date and time have not yet been decided, the commission's co-chair, state Rep. James Murphy, said.
More information
Video recording of the first public hearing held by the Special Commission on Auto Body Labor Rates
https://malegislature.gov/Events/Hearings/Detail/4167
Mass. special commission on labor rates to hold first public hearing Tuesday
Images
Featured image: Christopher Stark, executive director of the Massachusetts Insurance Federation. (Screen capture via Massachusetts Legislature website)
Evangelos "Lucky" Papageorg, executive director of the Alliance of Automotive Service Providers of Massachusetts. (Screen capture via Massachusetts Legislature website)
Share This: