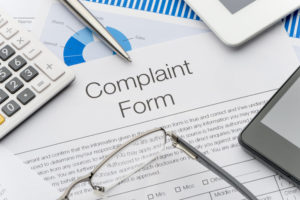 N.Y. issues annual consumer complaint ranking of insurers
By on
Insurance
Sixty-three of the 135 individual insurance companies writing auto policies in New York earned a perfect score, with no consumer complaints upheld against them, in the New York Department of Financial Services' annual ranking.
Of those 63, just 10 were subsidiaries of one of the nation's 10 largest insurers, a Repairer Driven News analysis of the data shows. In all, 36 subsidiaries of the top 10 companies are included among the 135 companies ranked.
To put it another way, subsidiaries of the largest companies accounted for 27% of all companies ranked, but 16% of those with the highest scores.
The 2021 New York "Auto Insurance Complaint Ranking" ranks the individual subsidiaries, rather than lumping them together under their parent companies, as a way to give consumers an accurate picture of their individual insurer's performance.
The rate is based on the number of consumer complaints upheld by DFS, divided by a company's insurance premiums written directly in New York, in millions, over the past two years.
Complaints typically involve issues like delays in the payment of claims, the value of monetary settlements, and the non-renewal of policies. An upheld complaint occurs when the department agrees with a consumer that an insurer made an inappropriate decision. Complaints not upheld by DFS or withdrawn by the consumer are not included in the final calculation.
The ranking does not include complaints sent only to insurance companies.
The procedure for filing a complaint is available at https://dfs.ny.gov/complaint. Users can also check the status of a complaint, or add information, such as a Letter of Authorization (PDF), to an existing complaint. DFS notes that it may share a copy of your complaint with the company or individual you are complaining about.
In 2020, DFS received 3,136 private passenger auto insurance complaints, 424 of which were upheld. Dividing that figure by the average premiums for all companies in 2020 and 2019 gives an average complaint ratio of 0.0301.
Eighty-six of the 135 companies on the list had complaint ratios lower than the average.
Grouping subsidiaries together gives a broader view of the performance of the largest companies. Travelers, which has eight subsidiaries writing policies in New York, scored an aggregate 0.0152 complaint ratio, which would have placed it at number 73 on the list, the best of the 10. At the other end of the scale, USAA, which has two subsidiaries operating in New York, had an aggregate 0.1021 complaint ratio, which would have placed 115th in the rankings.
The rest of the aggregate ratios and where they would place among the rankings are: Geico, 0.0156, 74th; Nationwide, 0.0230, 83rd; Progressive, 0.0233, 84th; Farmers, 0.0301, 87th; Liberty Mutual, 0.0316, 89th; Allstate, 0.0372, 93rd; State Farm, 0.0454, 101st; and American Family, 0.0828, 113th.
DFS notes that "Large insurance companies doing a lot of business typically generate more complaints than smaller companies, so while ratios may allow you to compare small companies with large companies by looking at complaints as a percentage of premiums written, only one or two additional upheld complaints per year can have a significant impact on a smaller insurer."
The rankings also give a look at the market share of each insurer. Geico and its subsidiaries, while second in the nation in premiums collected, rank No. 1 in New York, with an average of $3.715 billion written in 2019 and 2020. Allstate, No. 4 nationally, is second in New York, at $1.827 billion, with State Farm, first nationally, close behind at $1.720 billion.
At the other end of the scale, American Family, the nation's ninth-largest auto insurer, has a relatively small footprint in New York, at $24 million.
Taken individually, Geico subsidiaries are three of the 10 largest auto insurers in New York. Allstate and Progressive each take up two spots on that list, with State Farm, Travelers, and LM General holding the remainder.
The DFS rankings closely align with the results of CRASH Network's 2022 "Insurer Report Card," which is based on letter grades awarded by collision repair shops that participated in a survey.
The CRASH Network survey asks repairers a single question: "How well does this insurer's claims handling policies, attitude and payment practices ensure quality repairs and customer service for motorists?"
The results are broken down by state in the report card. New York repairers tended to give their higher marks, from C+ to C-, to the insurers at the top of the DFS rankings. The lowest marks were a D awarded to Allstate and a D+ given to State Farm, whose aggregate scores were the seventh- and eighth-lowest among the 10 largest companies in the DFS rankings.
For the full 2021 DFS rankings, visit https://dfs.ny.gov/consumers/auto_insurance/auto_insurance_complaint_ranking.
A free report with the CRASH Network's 2022 "Insurer Report Card" findings can be downloaded at https://www.crashnetwork.com/irc.
More information
Body shops rank insurers on ensuring high-quality repairs, service for motorists
Images
Lead image: courtneyk/iStock
Share This: