CCC Intelligent Solutions Chairman and CEO Githesh Ramamurthy during the company's Q4 earnings call on Tuesday touted its new Estimate-STP AI-powered product and wide use of another digital product, Engage, by more than 9,000 of its 27,000 repair facility customers.
Engage is a photo estimate and online appointment tool that can be used to allow customers to initiate estimates and manage their appointments online," according to CCC's website.
CCC Public Relations Director Michelle Hellyar told Repairer Driven News Estimate-STP is an "industry-first, insurer-facing solution," meaning geared toward use by insurers. Ramamurthy said it "enables a truly touchless straight-through processing experience for our customers and a critical step forward for the industry."
"This solution fully digitizes the estimating process for qualified repairable claims and shortens the estimating process from days to seconds," he said. "Momentum continues to build around Estimate-STP as customers embrace the increase in accuracy, speed, and efficiency this AI-powered solution brings to the estimation process."
In response to questions from RDN about the specifics of how Estimate-STP is touchless, Hellyar said touchless doesn't mean humans aren't involved in the estimating process and qualified claims are determined by the insurer. Instead, the AI is used on vehicles with minor damage to free up time for employees to "address more complex decisions and to provide personalization and empathy to drivers when they need it more."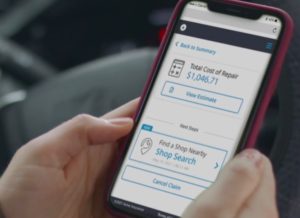 CCC's AI is developed from a historical database of 16 million annual claims that include final estimates used to complete repairs, and some OEM repair procedures are addressed in the process, which helps to identify what is necessary, she said.
"These final estimates are routinely created using OEM repair procedure data. This contributes to our ability to help insurers generate actionable estimates with line-level detail including the labor time it will take to repair the car, the parts that will be needed (down to the part number), the repair operations that are likely needed, and taxes for the work to be done, for the local market the vehicle is in."
Supplements, she added, are supported by both digital technology and human expertise. Estimate-STP is configurable by the insurer, including claim eligibility thresholds and policyholder experience objectives, she added.
CCC "expects to scale" Estimate-STP as a "significant opportunity" over the next several years, according to Ramamurthy.
Ramamurthy said during the earnings call that by the end of the quarter, CCC had more than $1 billion of revenue under contract with its 25 largest insurance customers. CCC works with 300 insurance carriers, including 18 of the top 20 auto insurers in the country. More than 95 U.S. auto insurers are actively using CCC's "AI-powered capabilities," he said.
Ramamurthy said CCC will continue to invest in parts and total loss by adding parts suppliers, banks, financial institutions, and other auto insurance economy participants to its platform. He noted CCC has more than 4,000 parts supplier customers.
The fourth quarter also saw the acquisition of Safekeep, a startup insurtech provider that uses AI, machine learning, and natural language processing to digitize and streamline the "entire subrogation process," according to Ramamurthy. "Historically, subrogation has been a highly manual and time-intensive process, and digitizing it is a natural extension of our STP vision and platform strategy."
In January, CCC reported a 50% year-over-year increase in the application of advanced AI with more than 9 million claims processed in 2021.
Another AI-powered tool
Another company, Dents.co, last week launched its dent measurement app of the same name that uses lidar and AI on several iPhone and iPad models. Founder and CEO Jonathan Pyle told RDN Dents.co doesn't provide estimates or repair plans, but is meant to be used as a damage measurement tool with the goal of being complementary to estimating systems.
Pyle, who is also director of business development with Caliber Collision, worked at and helped expand his father's shop, AutoBody Express, to multiple locations from 2009-2021.
"We saw over the years in the industry it just gets more difficult to negotiate in a way that we liked to negotiate with other stakeholders," he said. "…more and more we weren't able to talk face-to-face or ever even meet the folks that we were negotiating with so when we noticed the capability of modern iPhones and iPads with lidar we thought there might be a way to use that technology to measure body damage."
Lidar emits a couple of hundred lasers per second to capture "quite a bit" of data in the same time it takes to snap the photo, Pyle said. iPhones and iPads are able to measure how long it takes the lasers to get back to the device and therefore determine how far the user is from the panel then AI is used within the app to identify the surface damage.
"As we progress and use additional photos to train our models then we'll be able to add more layers of useful data about the depth of the damage in addition to the height and width that we're able to give now," Pyle said.
He couldn't provide RDN with any successful or unsuccessful examples of real-life app use because of the short time it's been live, but he shared how Dents.co tested it before the launch. Measuring targets were created with 15-centimeter squares printed on them, which were used as a standard to measure the accuracy of the app.
The targets were taped to a wall and an iPad Pro and iPhone 13 Pro Max were set up .75 meters from them. Forty photos were taken with each device. While the tests were performed in a controlled environment, Pyle noted extremely bright or extremely low external light can sometimes cause less accurate results.
The test results are summarized in the table below:
| | | | | |
| --- | --- | --- | --- | --- |
| | Total Average Variance | % within 1 CM of Target | % within .5 CM of Target | % within .25 CM of Target |
| iPad Pro | 0.73% | 100% | 97.50% | 80% |
| iPhone 13 Pro Max | 0.04% | 100% | 92.50% | 73.75% |
Both tools reinforce that technology companies are poised to continue to leverage AI-powered services that will change how vehicle owners, insurers, and repair facilities interact with damage analysis tools.
IMAGES
Featured image: Tony Studio/iStock
CCC's Estimate-STP in use (Provided by CCC)
Testing data table (Provided by Jonathan Pyle)
Share This: