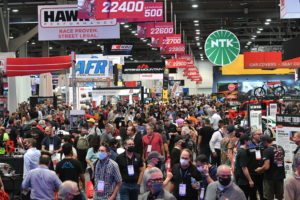 Exhibit rental applications are now available online for the 2022 SEMA Show that will be held Nov. 1-4 in Las Vegas, and SEMA Vice President of Events, Tom Gattuso, told Repairer Driven News that repairs on vehicles with advanced driver assistance systems (ADAS) is going to be a focal point as learnings from the new SEMA Garage in Detroit will be shared at the show.
In-person demonstrations of ADAS vehicle modifications and repairs are planned to take place during the show. The Detroit garage is currently under construction. It will open in August or September, but some services will be offered beginning in April or May, according to SEMA Public Relations Director Della Domingo.
"While education at the SEMA Show has always been a popular staple for the collision industry, 2021 saw greater interest as attendees seek information on how to repair and modify ADAS, electric vehicles and respond to OEM technology," Gattuso said. "One of the benefits of attending the SEMA Show is having the ability to see other segments of the aftermarket. The underground tunnel/LVCC [Las Vegas Convention Center] Loop made it easy for folks to navigate from South Hall to West Hall in a matter of minutes."
The floorplan was reconfigured last year to improve traffic flow and access including moving the Collision, Repair & Refinish section to the Upper South Hall where it will be again this year.
"Everything from collision repair products, tools, accessories and software management programs and even paint booths and equipment will be in Upper South Hall," Gattuso said.
More than 100,000 professionals attended the 2021 SEMA Show making it the No. 1-attended trade show in Vegas last year, according to SEMA. The show was the Las Vegas Convention Center's first full-capacity event since the beginning of the pandemic. 

"In-person interactions have greater meaning today than ever before," Gattuso said in a SEMA press release. "The ability to communicate face-to-face, witness a live product demonstration, and take a photo with a celebrity is rare. The SEMA Show offers four full days of valuable activity both on and off the Show floor."

In addition to more than 4.6 million square feet of convention space, the SEMA Show includes interactive experiences, celebrity appearances, seminars, and panel discussions.

To be included in the priority booth space selection process, rental applications must be received by April 4. For more information, visit www.semashow.com.
The Society of Collision Repair Specialists (SCRS), who has partnered with SEMA since 2010 in delivering the Repairer Driven Education (RDE) series at the SEMA Show, will continue to deliver on the stacked education offerings, including live RDE sessions Monday-Wednesday, the OEM Collision Repair Technology Summit on Thursday – which will no doubt tie-in to SEMA's focus on ADAS and EV – as well as IDEAS Collide and daily segments from the stage in conjunction with I-CAR.
Repairers interested in exploring the RDE and OEM Summit sessions from the 2021 Show can find all of them online at rde.scrs.com.
IMAGES
Featured image: Attendees on the show floor at the 2021 SEMA Show. (Provided by SEMA)
Share This: