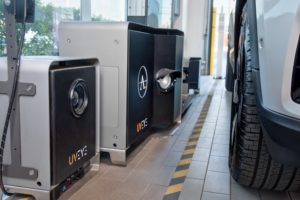 Volvo to launch AI inspection tools that repair shops can also use
By on
Technology
Artificial intelligence vehicle inspection tech will now be used at Volvo dealerships, beginning with some on the East Coast, and is an option for repairers as well.
Volvo Car USA said the goal is to equip U.S. retailers with Israel-based UVeye's AI vehicle inspection systems "to improve customer satisfaction and business efficiencies." The high-speed, camera-based systems use machine learning technologies along with AI to check tires, underbody components, and vehicle exteriors for defects, missing parts, and other safety-related issues in seconds, according to Volvo. UVeye CEO Amir Hever previously said during IDEAS Collide that the tech can be used to identify mechanical issues and can spot cracks, dents, and rust on the chassis.
Hever highlighted the AI inspector during the inaugural Society of Collision Repair Specialists IDEAS Collide forum in 2018.
"They don't buy the hardware," he said, adding that instead, UVeye installs it at a particular site and charges the user per scan. The UVeye site also mentions a monthly subscription.
Volvo Car USA Sales Operations Vice President Rick Bryant said UVeye will help retailers appraise trade-ins quickly, and cost-effectively, as well as check the condition of customer cars coming in for service. Volvo also touts the systems as being able to create digital "vehicle health" reports with photos that can be shared with owners.
"This is a homerun for Volvo Cars and our retailers," Bryant said in a statement. "UVeye's automated systems will add a new level of credibility to the inspection process for us, for our retailers and for our customers."
UVeye and Volvo Cars have collaborated since 2019 when the automaker became a strategic investor in the company through the Volvo Cars Tech Fund. Since then, Volvo Cars also has installed UVeye body-inspection scanners on its assembly lines for quality assurance.
Volvo retailers can install three basic UVeye inspection systems:
Helios – An underbody scanner that detects a wide range of problems from frame damage to oil leakage and corrosion;
Artemis – A tire system that identifies tire brand, basic specifications, air pressure, tread depth, sidewall damage, and if a vehicle's tires are mismatched;
Atlas – A system that provides 360-degree exterior scans and detects damage such as dents, scratches, and rust on critical components including bumpers, mirrors, door locks, grilles, and windows.
"An automated system can help resolve problems," Bryant says. "It shows the vehicle's actual condition. The result is that customers will be able to see flaws such as a rusty tailpipe that they didn't know about. And they'll also know the retailer is being upfront with them."
The technology could foreseeably aid other businesses, like collision repair centers, to expedite and document the check-in process prior to repairs in a similar manner to Hunter Engineering Co.'s Quick Check Inspection tool that uses eight cameras and 32 lasers. The company's website states the "touchless and efficient design" speeds up the intake process at shops that offer tire alignments because of "faster scans with no labor."
IMAGES
Featured image: UVeye systems at work. (Photo provided by Volvo Car USA)
SCRS IDEAS Collide 2018 Showcase Amir Hever video (Video provided by SCRS)
UVeye systems video (Provided by Volvo Car USA)
Share This: