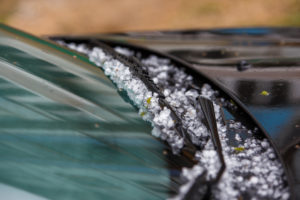 Quarterly losses from hail damage have increased by as much as 24.5% in some states, as extreme weather disruptions continue to increase, CCC Intelligent Solutions reports in its 2022 Crash Course study of trends affecting the industry.
CCC reported that hail is accounting for as much as 50% to 80% of losses from severe convective storms.
According to the Insurance Information Institute, convective storms like tornadoes and thunderstorms are the most common and damaging natural catastrophes in the United States, with annual insured losses averaging about $17 billion.
Using a six-year average, CCC has documented the increase in overall appraisal volume for hail losses in the third and fourth quarters, when convective storms are most common. South Dakota and Wyoming lead the field, with increases of 10.8% in the third quarter, and 24.5% and 24% in the fourth quarter, respectively.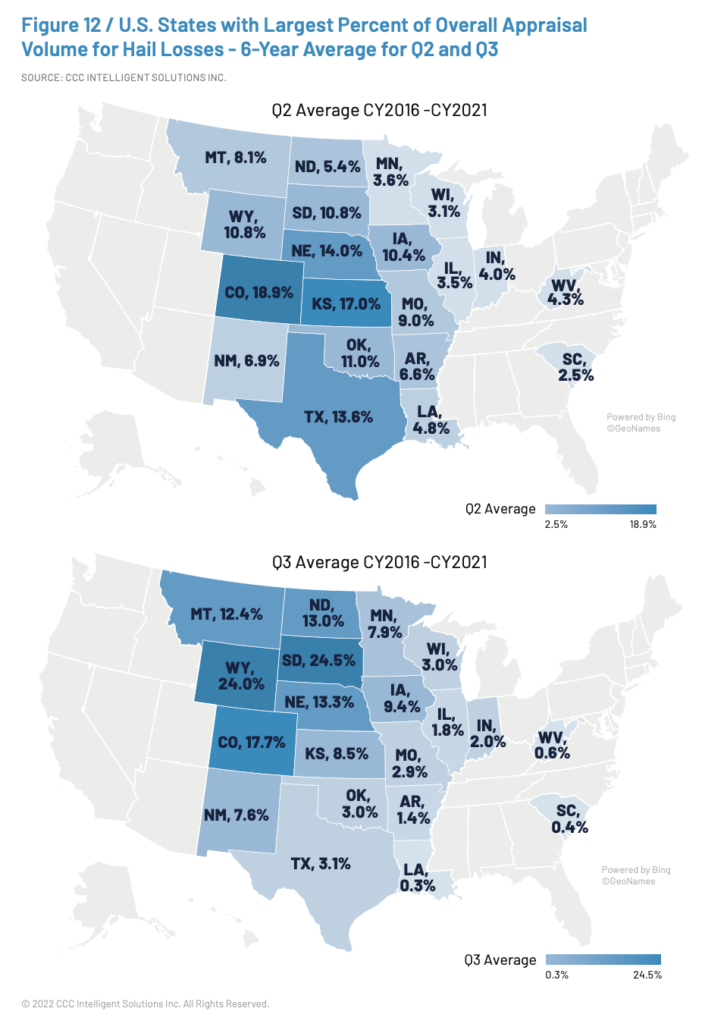 In 2021, CCC reported, more than 40% of Americans lived in a county hit by climate-related extreme weather, and 80% lived in places that experienced a multi-day heat wave.
If you're a repairer or an adjuster in "Hail Alley," the region stretching from Wyoming to Texas, you've undoubtedly seen more vehicles with hail damage, and more severe damage. Expect that increase to continue, CCC said.
"Climate change is expected to push hailstorms to become more frequent and drop larger ice pellets" in that section of the country, CCC said.
The 2021 midyear CCC Crash Course reported that Texas and other states had seen significant vehicle damage from severe hail in March and April of 2021.
CCC reported that 3.5% of all appraisals it processed on behalf of its customers in April 2021 were for vehicles damaged by hail, while Texas hail losses accounted for 19.5% of that state's appraisals in the same period.
Other states with significant hail volume in April were West Virginia, 8.0%; South Dakota, 5.8%; Alabama, 7.6%; and Oklahoma, 4.7%.
In its most recent three-year report, the National Insurance Crime Bureau (NICB) found that hail led to nearly 735,000 personal auto and nearly 26,000 commercial auto insurance claims between 2017 and 2019. That's an average of about 245,000 and 8,600 claims a year, respectively.
Population levels naturally influenced the number of claims filed. According to NICB, the top five states for hail loss claims for those three years were Texas (637,977), Colorado (380,066), Nebraska (161,374), Minnesota (150,673) and Illinois (150,416).
State Farm estimated its average hail vehicle claim in 2020 at more than $4,300. That's nearly $1,000 more than the $3,421 average repairable vehicle claim recorded in 2019, according to CCC. 
More information
CCC's free 2022 Crash Course report
NICB: "Top 5 States for Hail Claims: 2017-2019 Data"
https://www.nicb.org/news/news-releases/top-5-states-hail-claims-2017-2019-data
Discover magazine: "Welcome to 'Hail Alley,' a U.S. Region Prone to Pelting Ice"
https://www.discovermagazine.com/environment/welcome-to-hail-alley-a-u-s-region-prone-to-pelting-ice
Images
Featured image provided by z1b/iStock
Maps provided by CCC
Certain areas of the country, like Texas, have seen significant numbers of vehicles damaged by severe hail in March and April of 2021. Through April 2021, analysts with Jefferies investment bank estimate claims costs are approximately 30 percent above the 10-year average, with U.S. winter weather in Feb 2021 and severe weather in Mar-Apr 2021 the primary drivers. 3.5 percent of all U.S. appraisals processed by CCC on behalf of its customers in April 2021 were for vehicles with primary impact
of hail, while Texas hail losses accounted for 19.5 percent of all April volume. Other states with significant hail volume in April 2021 were WV (8.0 percent), SD (5.8 percent), AL (7.6 percent) and OK (4.7 percent).
Share This: