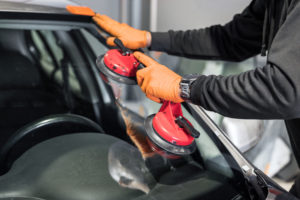 LKQ sells aftermarket glass supplier PGW to private equity group
By on
Announcements
LKQ Corporation said it has agreed to sell PGW Auto Glass, a distributor of aftermarket glass to the North American automotive sector, to private equity firm One Equity Partners (OEP).
LKQ had bought PGW in early 2016 for $635 million, and shortly after sold off the company's OEM operations to Vitro, North America's largest glassmaker, for $310 million.
The terms of the sale to OEP were not disclosed. OEP declined to tell Repairer Driven News what assets were included with the deal, and LKQ did not respond to a request for information.
In a press release, OEP said it would partner with the management of PGW to establish the company as an independent business. It promised to "ensure continuity for customers, suppliers and employees, and invest in exciting growth areas."
According to its website, PGW has more than 100 distribution branches and more than 27,000 customers throughout the U.S. and Canada. Its fleet of 500 vehicles distributes windshields, tempered glass, and other products to over 9,000 installation customers.
The sale is expected to be completed in the second quarter of 2022, LKQ said, and is subject to customary closing conditions and regulatory approval.
Dominick Zarcone, president and CEO of LKQ, said in a statement that the sale is part of the company's commitment to sell off "non-core businesses" and rationalize its assets.

"We are confident that the PGW management team, in partnership with OEP, will continue to deliver great outcomes for PGW's customers. We wish them both continued success in the future," Zarcone said.

During an earnings call with investors on Feb. 17, Zarcone said one of the company's main goals is "to integrate our businesses and simplify our operating model."
OEP said it intends to invest in PGW to help it "tap into new and exciting trends in the sector."
"We're excited to partner with Todd and his team for the next chapter of the PGW story," Steve Lunau, managing director at OEP, said in a statement. "The North American auto glass sector is witnessing unprecedented levels of advancement and innovation. PGW, with a century-old reputation for industry leading quality customer service, is well positioned to accelerate into its next phase of growth and development as a standalone enterprise."
PGW generated almost $400 million of revenue in 2021, and its EBITDA margin was approximately 10%, LKQ said.
"OEP has a strong track record of building market-leading industrial companies through organic and inorganic investment initiatives that drive operational performance, add product capabilities and expand geographic reach," the company's new CEO, Todd Fencak, said in a statement. "We are pleased to be partnering with OEP as we continue to further develop and grow the Company."
PGW has 113 facilities across the U.S. and Canada and has long-term relationships with the largest suppliers to the North American aftermarket. In 2016, Zarcone, then CFO of LKQ, said that PGW manufactures "less than half" of its aftermarket glass in-house, and sources the rest from other companies.
Shares in LKQ's closed at $46.65 on NASDAQ on Thursday, down 41 cents from Wednesday.
In its report to investors in February, LKQ reported record revenues of $13.1 billion for the full year of 2021, an increase of 12.6% over 2020, and net income of $1.1 billion, an increase of 70.7%.
More information
LKQ sells off OEM auto glass business of PGW to Vitro for $310M
Images
Featured image: An installer replaces  a windshield. (herraez/iStock)
Share This: