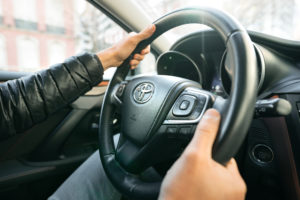 An article recently posted on the homepage of Toyota's Parts and Services website advocates for following OEM repair procedures and takes a stance against insurance companies recommending alternative parts.
Written to collision repair shops, it states, "When there is damage to a Toyota vehicle, insurance companies have an obligation to repair and return the vehicle back to pre-accident or pre-loss condition. Unfortunately, some insurance companies routinely challenge a shop to use 'industry standard' procedures and alternative parts."
It goes on to say that Toyota parts and repair procedures should be used, including details on when to repair and when not to repair. The article also lets readers know how to access the procedures and points to tips for interacting with customers who are using insurance company apps that rely on photo estimating.
Toyota states repairers should:
Understand their state's collision repair laws;
Get proper training;
Access Toyota resources;
Be diligent in preparing documentation to justify repair processes; and
Be the customers' advocate.
"Collison repair is anything but simple. Rapidly evolving vehicle technologies and increased use of aluminum and other newer construction materials make following Toyota repair procedures essential, and you should strictly follow Toyota's procedures," Toyota states.
This serves as a reminder for repairers to follow all OEM procedures to properly and safely repair vehicles and to avoid liability in litigation if there is a malfunction or crash.
When asked by Repairer Driven News if the timing of the release of the article is an indication that collision repair shops are increasingly not following OEM repair procedures, Toyota Parts, Service and Accessories Marketing Manager Timothy Rippinger said "there is no intended correlation between the timing of this article and any trends in repair procedures being followed."
"Toyota is always looking to provide our dealers and repair center partners with information to best service their customers," he said. "Our customers choose Toyota because of the dependability, reliability, and quality of our vehicles. We want to help our dealers and repair center partners keep their customer's Toyotas in the same condition as when they left the lot, so we are providing them with a reminder of the tools and information available in this article to do so."
IMAGES
Featured image credit: Daria Kulkova/iStock 
More information
AV litigation & insurance: No definitive answer of who's at fault; OEM procedures key to avoid liability
3 tips from SCRS, DEG & Mike Anderson: Release meetings, documentation & using EPCs
Share This: