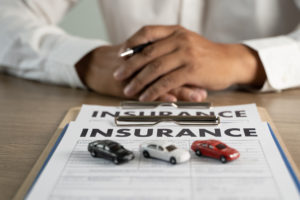 AV litigation & insurance: No definitive answer of who's at fault; OEM procedures key to avoid liability
By on
Insurance | Legal
Legislators, safety advocacy groups, and others are mulling over not only the safety of semi- or fully autonomous vehicles (AVs) but who is at fault and accountable when they're involved in crashes. So how does that affect insurance and repairers?
A lawsuit brought to New Jersey District Court last week from Camden County Superior Court against Tesla is one example of a semi-AV court conundrum that may leave many wondering who is at fault – Tesla or the owner? And who pays for damages? Toll collector Sharon Scott filed the suit because she says she was injured when a 2019 Model X allegedly accelerated on its own causing a crash at the toll booth she was working at on the New Jersey Turnpike in 2020.
Scott is suing Tesla, vehicle owner Mike Gao, and Kim Lam, who was "operating" the vehicle at the time of the crash. A class of "yet unknown individuals, corporations, or partnerships who sold, marketed, maintained, manufactured, designed and/or supplied a vehicle or component to a vehicle involved in this accident" are also listed as defendants. The suit alleges negligence, material misrepresentations about safety, and violations of New Jersey's Consumer Fraud Act. It demands a jury trial and an unspecified amount of compensation for Scott's injuries.
Perhaps from this case repairers can see why following all OEM repair procedures and documenting every step is important to not only ensure safe repairs but to avoid liability in the event of a malfunction or crash. For example, if the vehicle was repaired prior to the crash, to what extent would the repair business need to defend its process in restoring safety system functionality?
"As a direct and proximate result of conduct, breach of warranties and negligence by the aforementioned Defendants, and product defects in the subject vehicle, the Plaintiff, Sharon Scott, suffered serious and permanent injuries," the suit states.
It also claims that for several years Tesla drivers have reported "Sudden Uncommanded Acceleration or 'SUA,'" meaning the vehicles accelerate at full power without the driver touching the accelerator or when the accelerator is pushed hard enough to warrant full power. A 2016 federal lawsuit is noted that claims the National Highway Traffic Safety Administration (NHTSA) received 13 SUA complaints on the Model X during its first year of being on the road.
In its answer to the complaint, Tesla denied negligence and violation of the New Jersey Consumer Fraud Act. It also denied the negligence allegations made against Lam and instead blamed Scott and unnamed third parties.
"Plaintiff was guilty of negligence which either caused or contributed to the happening of the alleged accident and resulting injuries," Tesla's attorney wrote in the answer to the complaint. "The Complaint herein fails to state a claim upon which relief can be granted. The negligence herein, if any, was the negligence of third parties over whom these defendants had no control."
Lam and Gao also filed a cross-claim against Tesla to indemnify them for "liability and damages of the type alleged by plaintiffs and to procure liability insurance protecting defendants." The case was referred to arbitration on Feb. 8, according to the case docket.
The future of auto insurance
Nonprofit research organization RAND Corp. studied the effects AVs could have on the future of auto insurance by interviewing 43 unnamed "subject-matter experts" from 35 stakeholder organizations and conducting an "extensive" literature review.
The study echos what AV industry representatives have claimed: that AV technologies have the potential to save lives, prevent injuries, and increase mobility for Americans who can't drive due to disability or otherwise. However, it's noted that there are technological and infrastructure barriers for AVs including camera and sensor performance hindrances in inclement weather and dust as well as on unpaved roads or where there is a lack of signs, markings, and mapping. A lack of federal safety regulations is also pointed out as a "challenge," which many across the board said is needed during a Feb. 2 U.S. House Subcommittee on Highways and Transit hearing.
"From a theoretical perspective, there are several reasons to think that automation will lead to a shift in liability from the individual driver (and the driver's insurer) to the manufacturer," the study states. "The primary historical justifications of tort law offer a few rationales for such a shift. Existing products liability law doctrines, including manufacturing defect, design defect, and failure to warn, could readily apply to crashes involving automated vehicles. … It seems likely that manufacturers may increasingly compete with traditional auto insurers and offer insurance packaged with their vehicles."
The study states that auto insurance is a "critical factor that policymakers must consider as they seek to realize the societal benefits of automation" not only to comply with existing state regulations but also for consumers to have confidence in AV technologies.
"Policymakers do not need to fundamentally change automobile insurance law to see automated vehicle technology advance," the study states. "Currently, insurance is governed by states, and each state sets its own particular requirements and requires rate approval. This makes some sense in the federal system because tort law is primarily a function of state law. This also permits a state-by-state determination of financial solvency and rates."
IMAGES
Featured image credit: juststock/iStock
Share This: