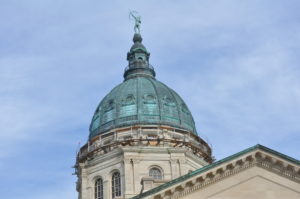 Kansas bill would bring in AV tech for 'middle-mile' goods transportation
By on
Legal | Market Trends
A bill recently introduced in the Kansas Senate proposes allowing "middle mile" autonomous vehicle (AV) goods distribution within the state.
Although Senate Bill 379 doesn't specify the AV company Gatik, it was brought to the legislature by Walmart, in partnership with the company, according to Mike O'Neal, who spoke to the Senate Transportation Committee during a Feb. 1 hearing on behalf of Walmart. Middle mile is defined in the bill as "the intrastate commercial movement of goods, in a business-to-business capacity, between two or more fixed points on fixed, repeatable routes."
In anticipation of arguments that the bill would be too narrow, which were later made by bill opponents during the Feb. 10 continuation of the committee's hearing on the bill, O'Neal said the legislation is meant for any AV company that wants to operate in the middle-mile space.
"We felt that the more measured approach was the more practical, good public policy and it's one that we have a proven safety record that can back us up," he said.
In regard to safety, Gatik Head of Policy and Communications Richard Steiner said the company is committed to data transparency with authorities and submits safety reports at the local, state, and federal level, which so far has been "no incident" reports. Companies are required to submit monthly crash reports to the National Highway Traffic Safety Administration under a Standing General Order.
Gatik operates its Level 4 AV box trucks from Walmart distribution centers to stores or other customer-centered locations in Louisiana and Arkansas. Steiner said there are also Gatik operations in California, Texas, and Ontario, Canada but didn't share with what companies. Gatik operates both electric and internal combustion engine (ICE) vehicles.
Apeksha Kumavat, Gatik co-founder and chief engineer, told the committee the AV systems are designed specifically for each route and are "exhaustively" tested on the routes. Hardware, software, and infrastructure, including the braking and steering systems, are duplicated so if there's a component malfunction or failure, the operation can be switched to the subcomponent to "get the vehicle to a safe state," she said. The AVs can only operate on the routes they're deployed for.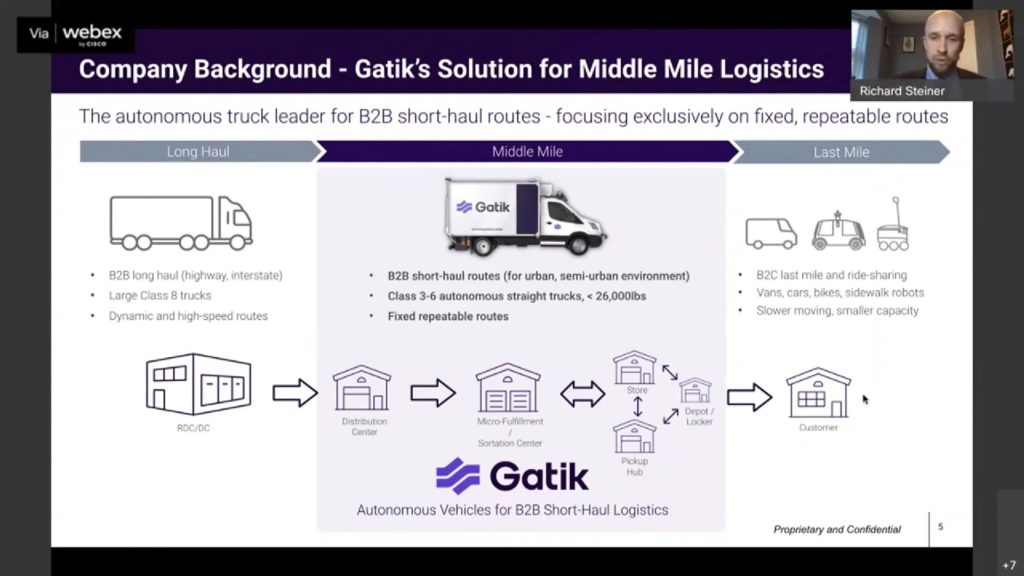 The trucks are monitored and assisted remotely to take over, if needed, or to talk to law enforcement. For the first year of every new route, a driver is on board. Kumavat said it takes less than 500 milliseconds for vehicles to stop or pull over if needed. In the case of inclement weather, sensors on the trucks identify if conditions are suitable for continuing their routes. If not, they'll park in a safe, pre-identified location.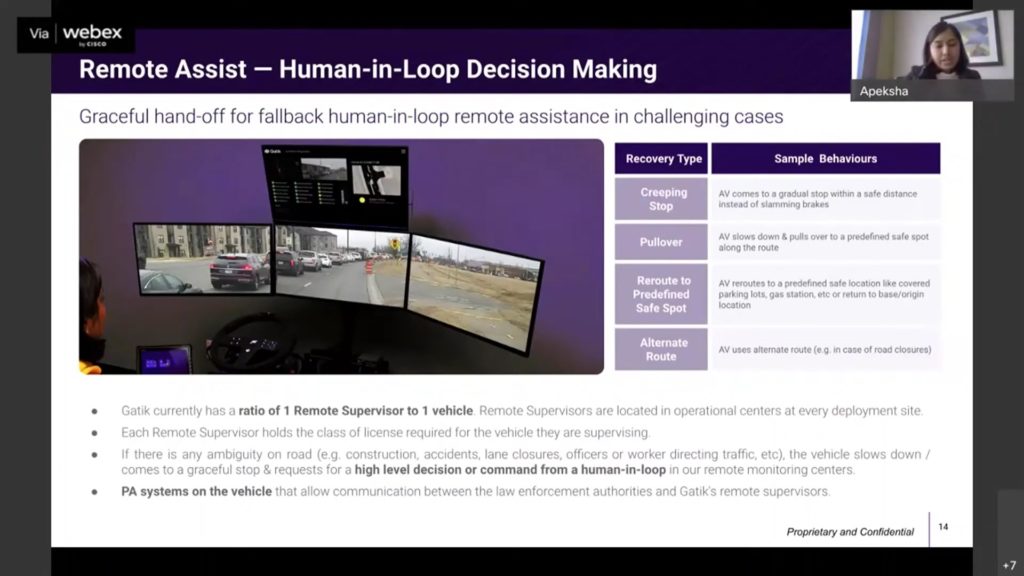 O'Neal and Steiner said if Kansas passes the bill they'll join 44 states that already have AV policies in place. Wyoming and Pennsylvania introduced bills during the current legislative sessions that allow for AV operation with or without a driver. 
Under the bill's definition of the AV owner, O'Neal said Gatik would be responsible for any tickets received or crashes the AVs are at fault for. The company would also be the insurance policyholder for each of the AVs. 
The legislation would also allow Gatik to create new engineering, technical, driving, and fleet management jobs in Kansas; improve safety by reducing the number of "road incidents" caused by distracted, impaired, or inattentive driving; establish a reliable supply chain across the middle-mile, improve fuel economy, and reduce truck service and maintenance needs, according to Steiner.
Opponents of the bills during the Feb. 10 hearing continuation criticized the specified middle-mile use of the bill, its lack of safety accountability, and insurance coverage requirements.
"Such an approach to AV regulation would make Kansas stand alone among all U.S. states by expressly denying an entire technology ecosystem from operating in Kansas other than allowing, at this time, a single company's limited operations," said Ariel Wolf, general counsel to the Autonomous Vehicle Industry Association. He was one of several industry representatives that pleaded for federal AV regulation during a Feb. 2 U.S. House Subcommittee on Highways and Transit Committee hearing.
The Kansas bill, as it's currently written, would deny Kansas "substantial" safety, mobility, supply chain efficiency, and environmental benefits that AVs are providing across the country, Wolf said.
Jackie Beckwith, on behalf of the Association for Unmanned Vehicle Systems International (UVSI), said the bill would "dramatically shrink the mobility and goods benefits that broader AVs offer" for businesses, the elderly, and the disabled.
"By so stringently limiting the operation of automated vehicles in Kansas this bill would actually disadvantage businesses who want to benefit from using the different types of automated goods movement technologies to increase productivity, to augment the workforce, to reach new markets," she said.
Ruthie Barko, with TechNet, encouraged lawmakers to "pursue a balanced approach" in regulating AVs. According to its website, TechNet is a national, bipartisan network of technology CEOs whose members include General Motors, Amazon, Apple, and several others.
American Association for Justice Senior State Affairs Counsel Daniel Hinkle said the bill needs to hold Gatik accountable for safety.
Blake Shuart, KTLA member and a civil attorney with Hutton & Hutton Law Firm in Wichita, criticized the minimum insurance liability requirements of the bill, which he believes should be higher. Other states are mandating insurance coverage in the millions, he said. Shuart also noted the bill doesn't require the vehicle owner or operator to remain at the scene of an accident and contact law enforcement. The bill should also be more specific about what AVs have to do in the event of any type of failure — system or otherwise, such as pulling over and illuminating emergency signal lights, he said.
Philip Koopman, who said he has worked on AV safety for more than 25 years, told the committee the bill lacks "key safeguards" and hopes checks and balances will be added, including the requirement of remote supervision and a figurative circuit breaker in case of a malfunction or crash.
Senate Transportation Committee Chairman Sen. Mike Petersen (R-28) said he thinks the bill needs to require driver safety training and weight limits on the trucks.
No future hearings were scheduled on the bill as of Friday afternoon.
IMAGES
Featured image credit: CraftyLenz/iStock
Gatik presentation slides (Feb. 1 Senate Transportation Committee YouTube video screenshots) 
Share This: