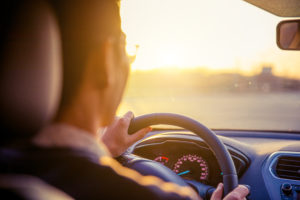 Older model cars on the road longer due in part to COVID-19 pandemic
By on
Market Trends
Several sources have reported the average age of vehicles in the U.S. has risen to more than 12 years due to the COVID-19 pandemic, lower new vehicle sales, increased durability of vehicles, and increased values of used cars and light trucks.
IHS Markit's most recent data, released in June 2021, shows the average age of light vehicles in operation to be 12.1 years, which was an increase of about two months compared to 2020.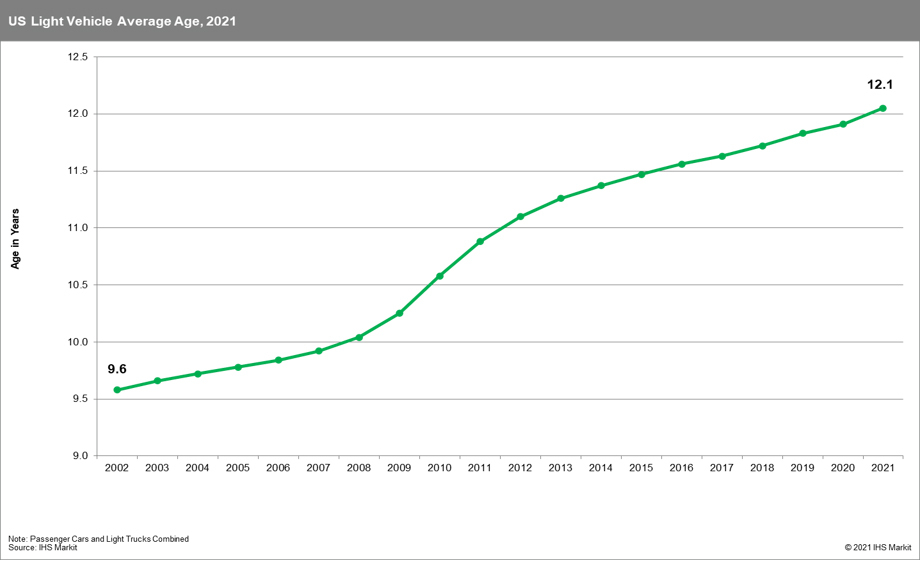 "COVID-19 and its impact across the U.S. caused a drastic reduction in new vehicle sales as well as a sudden increase in vehicle scrappage, which was a catalyst for increased velocity in the growth of the average age of light vehicles," IHS Markit states in its study. "The pandemic-induced rate of increase in average age is expected to be short-lived as 2021 will see a return of new vehicle registrations and increased activity in used registrations as we adapt to post-pandemic norms."
Automotive research firm and car search engine, iSeeCars.com, found, as of March 1, that Toyotas and full-size SUVs are the longest-lasting vehicles most likely to reach 200,000 miles or more after analyzing more than 14.9 million cars sold in 2021.
Toyota's Land Cruiser and Sequoia rank No. 1 and No. 2 on the firm's
top 15 cars, SUVs and trucks list
at 18.2% and 14.2%, respectively, still on the road with over 200,000 miles on the odometer. Two Honda models are No. 13 and 14. Domestic brands Chevrolet, GMC, and Ford models also made it on the list with the Chevy Suburban and GMC Yukon XL ranking third and fourth.
"With new and used car prices at record highs, many consumers are likely keeping their vehicles on the road for an extended period of time or are looking to buy a reliable vehicle to get the most return on their investment," said iSeeCars Executive Analyst Karl Brauer, in a statement. "Toyotas account for the majority of the top ten longest-lasting vehicles, which validates the brand's reputation for building enduring and reliable vehicles."
Lang Marketing Publisher Jim Lang wrote in his March 16 "Aftermarket iReport" that the average age of domestic makes has "soared" by more than two years over the past decade to 14.8 years in 2020. Lang preliminarily estimates the average age rose to a record-high of more than 15.2 years at the beginning of 2022.
"The ever-advancing age of domestic cars is the result of diminishing new vehicle sales, the increased durability of vehicles, and the soaring value of used cars and light trucks," he wrote. "The record-high average age of domestic nameplate cars has significant consequences for the aftermarket."
Those consequences, Lang wrote, are the need for OEMs, distributors, and retailers to maintain inventories of replacement parts for older vehicles and vehicle owners "becoming more price-sensitive," which affects the mix of product brands and independent repairers. The third consequence is one Lang said is positive for the aftermarket – older cars mean inexpensive transportation for younger drivers who typically drive more miles because they'll likely require more repairs per mile compared to other cars and light trucks.
CCC Intelligent Solutions Senior Director and Industry Analyst Susanna Gotsch wrote in her "2022 Crash Course Report" that while overall total loss frequency dropped some between 2020 and 2021, especially for older vehicles, it still remained higher in 2021 than in 2019 based on higher non-drivable percentages and growth in repair complexity and costs.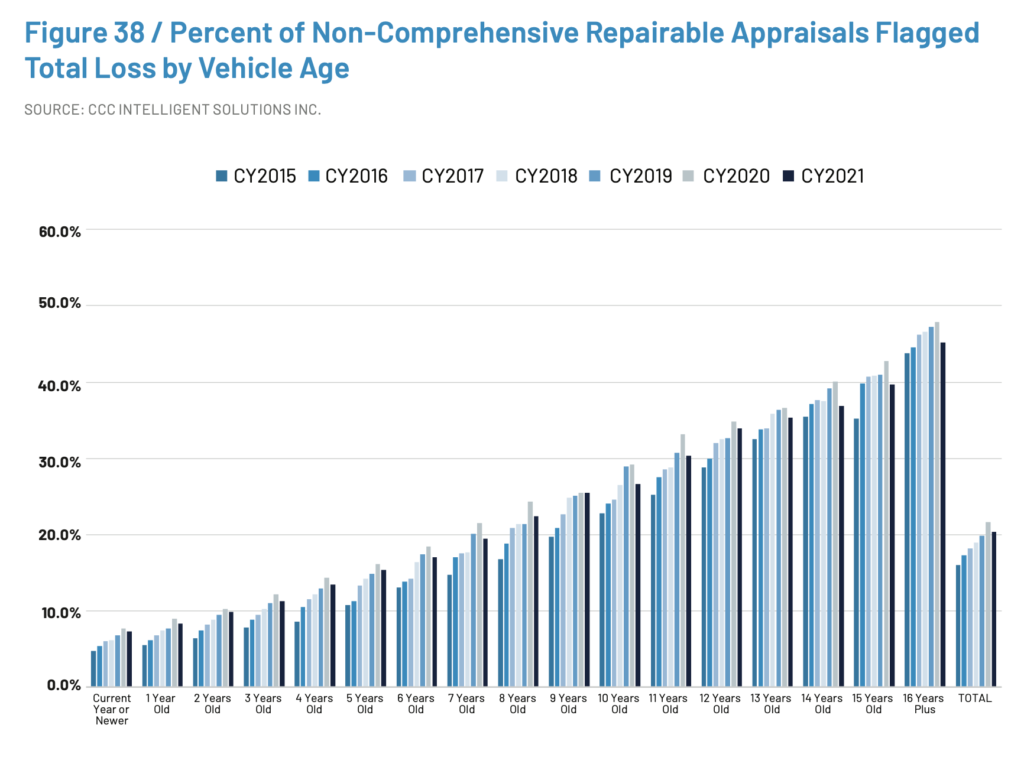 IMAGES
Featured image credit: xijian/iStock
"U.S. Light Vehicle Average Age, 2021" line graph (Provided by IHS Markit)
"Percent of Non-Comprehensive Repairable Appraisals Flagged Total Loss by Vehicle Age" (Provided by CCC Intelligent Solutions)
Share This: