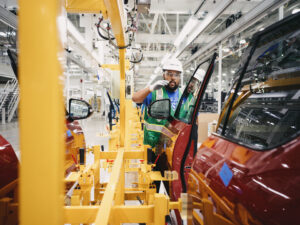 EV sales rise 11% in Q4, as states consider direct-to-consumer legislation
By on
Legal | Technology
Sales of electric vehicles (EVs) rose by 11% in the fourth quarter of 2021, with EV sales hitting 6% of all light-duty vehicle sales, the highest for any quarter to date, the Alliance for Automotive Innovation (AAI) has reported.
The report comes as a number of states consider legislation around direct-to-consumer sales by EV manufacturers. The Connecticut legislature's joint Transportation Committee approved a bill allowing such sales last week, sending it on to the full assembly for consideration.
Nationally, EV sales grew to represent 4.4% of the market last year, nearly double the market share in 2020, AAI said. It noted that market share of new EVs registered increased in all states, year-over-year, in the fourth quarter.

California continues to have the highest share of sales, with 17% of the total, followed by the District of Columbia (10.9%), Washington and Hawaii (both at 7.7%), Oregon (7.6%), and Colorado (6.2%).
Publicly available EV charging locations have kept pace, growing by 16% to 44,500 stations with 110,158 ports. Thirty-one percent of those charging locations are in California, according to AAI's quarterly Get Connected report.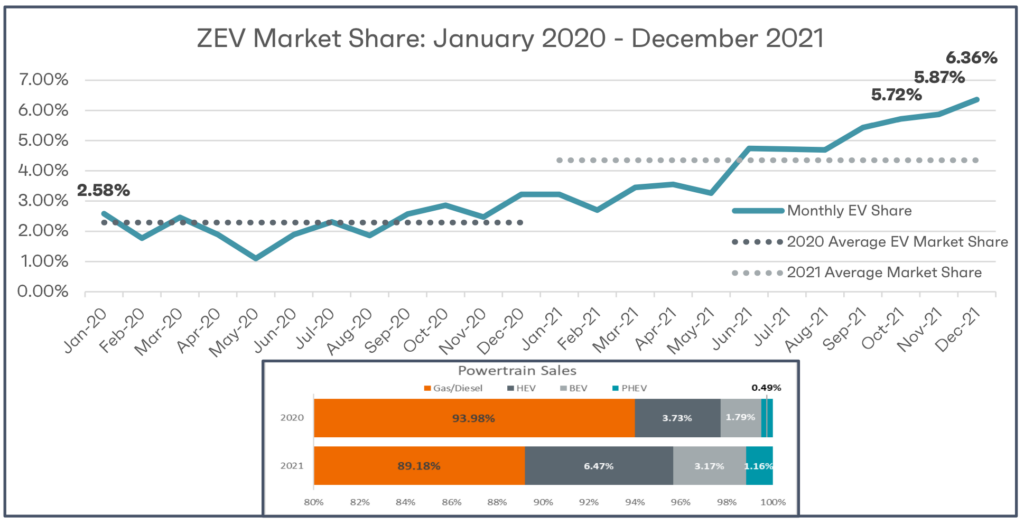 The rising sales justify "public and private investments to strengthen supply chains, expand purchase incentives, and build robust and reliable charging and hydrogen refueling infrastructure," AAI President and CEO John Bozzella said in the report.
Investment in the EV charging infrastructure was built into the federal infrastructure law passed by Congress and signed by President Joe Biden. It makes available $5 billion in federal funds over the next five years to establish a national charging corridor. The bill also includes $2.5 billion in competitive grant funding for additional charging or refueling infrastructure.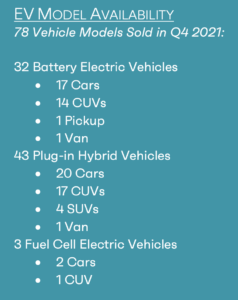 "As the data continues to show, EVs are at an inflection point," Bozzella said. "In order to make the transition smoothly and successfully, we need to ensure charging infrastructure is widely available and convenient to use. It is encouraging to see consistent growth in the EV sector complemented by increased availability of public EV charging locations and ports, which grew 16 percent nationwide."
By market segment, light trucks – crossover utility vehicles (CUVs), SUVs, minivans, and pickups – now make up 58% of the EV market, AAI said. It noted that the first commercially available BEV pickup trucks arrived in September 2021, with more models on the way.
State legislation
Connecticut was one of a number of states to consider allowing EV sales directly to the public this legislative session. That state's proposal, RB 214, was approved by the Transportation Committee by a 24-14 vote on March 24, and sent to the General Assembly for consideration.
RB 214 would allow the state's commissioner of motor vehicles to issue a new or used car dealer's license directly to a manufacturer, provided that the manufacturer sells only EVs, sells only what it produces, and does not have a franchise agreement with any new car dealer in the state.
Before the vote, legislators noted that several other attempts to put EV manufacturers on an equal footing with traditional franchises have failed in recent years. Proponents said that the legislation would give consumers more choice; critics worried that consumers would not be protected, and that communities stood to lose the benefits that local franchises bring, such as taxes, jobs, and community support.
During hearings on the bill, Zachary Kahn, a policy advisor for Tesla Motors, said that automaker's business model, which includes uniform, transparent pricing, is incompatible with the traditional dealer approach.
"We firmly believe that direct sales is central to the mission of scaling Tesla's vehicle delivery and service capacity and that it has been a key factor in popularizing electric vehicles in the United States," Kahn wrote to the committee.
"Over the last three years, direct sales account for about 75% of battery electric vehicle sales in the United States, and around 71% of the battery electric vehicles registered in Connecticut over that period are EVs that were sold directly to CT residents by EV manufacturers from licensed sales locations in neighboring states," Kahn said.
"Several other EV manufacturers have come to the same conclusion that direct sales provide them with the best opportunity to succeed, and we join them today in once again supporting a change to Connecticut's outdated and protectionist franchise law," he said.
Wayne Weikel, senior director of state affairs for AAI, said that the legislation would take the unnecessary and unwarranted step of creating "two different sets of laws" for traditional franchises and EV manufacturers.
"The fact remains that not a single law needs to be changed for any manufacturer of electric vehicles to begin selling vehicles in the state. In Connecticut – as in every other state – automakers and dealers operate under a complex scheme of state franchise laws that regulate nearly every facet of the business relationship," Weikel wrote. "Admittedly, some of these laws are onerous for manufacturers. Yet, in a marketplace where competition between brands is fierce, all participants at least engage under the same set of rules."
"Over the past 50 years, each new market entrant has conformed their business model to the automotive distribution laws of each state in which they were asking for the privilege to sell their product. They did not seek, nor were they preemptively granted, any special consideration to operate outside the existing system," Weikel said. "Tesla Motors and other new automakers have no legitimate justification for this request, only that they would prefer to ignore the existing state laws that all other automakers are required to follow. They are doing so because they believe it will give them a competitive advantage over other automakers, which we believe to be patently unfair."
In Georgia, SB 398, a bill that would have allowed EV manufacturers to sell directly to consumers in that state failed to make it out of committee. In Oklahoma, the House Business and Commerce Committee approved a bill that would prohibit direct sales models from operating in the state without having a direct shipper license. No other action on it has been taken since. In Mississippi, both the House and Senate passed their own versions of a bill that would prohibit the sales model. Since the House declined to concur with the Senate's amended bill on March 17, the proposal was referred to a conference committee of legislators from both chambers.
More information
Georgia bill that would allow EV direct sales stalls in Senate
Images
Featured image: A worker inspects a Rivian RT1 door panel prior to finally assembly on the trim line. (Provided by Rivian)
Share This: