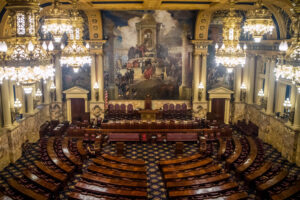 Pennsylvania Senate bill aims to create statewide hit-and-run alert system so shops can help identify drivers
By on
Collision Repair | Legal
A bill approved Tuesday by the Pennsylvania Senate Law and Justice Committee would bring collision repair shops in on identifying hit-and-run drivers.
The creation of an alert system is an idea of the family of Jayanna Powell, an 8-year-old who was killed in 2016 by a hit-and-run driver, according to bill sponsor Sen. Anthony Williams (D-District 8). SB 24, called the Jayanna Powell Hit-and-Run Direct Notification Act, would create a system that sends "Jay Alerts," named after Powell, to repair shops to be on the lookout for vehicles that were involved in hit-and-run crashes that caused serious injuries or death.
The bill states, "On November 18, 2016, a driver traveling at a high rate of speed struck eight-year-old Jayanna Powell of West Philadelphia as she walked home from school, resulting in her death. The driver fled the scene of the accident, leaving Jayanna's family aggrieved and without hope for justice. The driver who struck Jayanna, aided by an accomplice, took the vehicle to a repair facility two counties away from Philadelphia so as to evade detection."
"The family was left with the emptiness that many of us are left with without the ability to identify the driver of the car," Williams said.
Powell's grandmothers, Joyce James and Darlene Maddox, said Powell was "God's sunshine," according to a 2018 article in The Philidelphia Inquirer about the driver's court trial. Powell's father called her "a happy-go-lucky little girl."
The driver, Paul Woodlyn III, was convicted in 2018 and sentenced to four-and-a-half to nine years in prison, according to The Philidelphia Inquirer.
"This suggest is very simple – that just as we identify and we alert those folks of other kinds of fatalities and we use an alert system – this becomes a part of that," Williams told the committee. "Repair shops would be put on notice that if someone comes within a certain period of time with damages to the car …that information would be advanced to the State Police and then they would investigate those cars."
Information provided in the alerts would include vehicle make and model, year, color, license plate, unique identifying characteristics, and/or damages as a result of a hit-and-run. The bill would bring closure to some families, he added. SB 24 notes that hit-and-run crashes in which the driver leaves the scene result in the death of 1,500 Americans every year, according to the American Automobile Association, and 60% of the victims are pedestrians.
An alert would be sent out to all Pennsylvania automotive repair facilities by the investigating law enforcement agency, according to the bill. Automotive repair shops in the state would be required to register with the PennDOT to get the alerts. The bill also states that any owner or operator of a shop who fails to report a vehicle "reasonably matching that of a vehicle described in a direct notification on the system" would be charged with a third-degree misdemeanor.
Williams said he's "negotiating with State Police as to why they don't want to add this to the process."
Pennsylvania State Police Communications Office Director Lt. Adam Reed emailed RDN the following joint statement with the Pennsylvania Department of Transportation:
"The Pennsylvania State Police and PennDOT appreciate the intent behind Senate Bill 24. While we will continue to review the legislation, there are initial concerns that inserting a new alert in addition to the Amber Alert and Missing and Endangered Person Alert systems (which Pennsylvania is nationally recognized for implementing) could impact their overall effectiveness."
Committee Chair Sen. Mike Regan (R-District 31) called the legislation "a great bill."
"I think it's going to be assistance to law enforcement. I've seen it in my law enforcement career where someone gets involved in an illegal hit-and-run and they try to go to a body shop and do a quick cash deal or something like that. This kind of holds those body shops to account and I think, ultimately, will be a very good thing…."
The bill will now go before the full Senate for consideration.
Editor's note: Powell's mother, Ayeshia Poole, let Repairer Driven News know that only her mother, Darlene Maddox, said Powell was "God's sunshine."
IMAGES
Featured image: (Sept 15, 2018) The large meeting hall of Senate Chamber in Harrisburg State Capitol. (Photo credit: Cheri Alguire/iStock)
Share This: