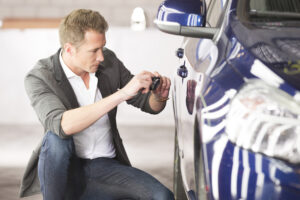 Mitchell International has released a new photo-based estimating service that SVP Repair Sales/APD Solutions Jack Rozint told Repairer Driven News is an improvement on TruckEst and will replace it.
Mitchell Cloud Estimating TruckMax, available in the U.S. and Canada for medium- and heavy-duty commercial trucks, features integrated aftermarket parts pricing directly from suppliers as well as detailed diagrams, in-house authored procedure pages, extensive labor data, intuitive paint refinish calculations, and VIN decode for model- and year-specific data — all meant to streamline the estimating process, according to Mitchell.
"It's cloud-based and that makes it much more easy to access from any device, any time, anywhere if you have an internet connection," Rozint said.
Mitchell touts the service as improving appraiser productivity with an "industry-first, remote workflow" product when combined with its photo-based appraisal technology.
"There's much less need for manual intervention of writing the estimate," Rozint said. "Writing estimates on commercial vehicles is typically more complicated than passenger vehicles because, with passenger vehicles, all three estimating companies have put so much work on the data side of it that you can give them the VIN, put in the bumper and everything is automatically filled in in terms of part numbers and part prices.
"In commercial vehicle [estimating], the more common model has been that you write up kind of a skeleton of an estimate, and then you have to go offline from the application and look up the part prices and then come back and make manual adjustments to refinish times and things like that. We've now automated a lot of that work in TruckMax. …Because of the improved accuracy, [it will be] much easier to get reimbursed by insurance if you're the repairer because the data's coming out of online databases; it's not just a number plugged in by a user."
However, Rozint did note that when used as part of a remote photo-based appraisal process the product is "wonderful with getting the process going," but is most accurate for "very light hits or modest damage that can easily be captured in a photo."
"In a lot of other cases, the only way to get a true, accurate final estimate is with a teardown," he said.
Mitchell debuted TruckMax at the HD Repair Forum earlier this week in Fort Worth, Texas. Pricing and availability will be announced in a few weeks, which will vary by the number of users and options selected, Rozint said.
Fairfield Auto & Truck Service COO and CFO Chris Sterwerf told RDN he's looking forward to using TruckMax.
"We have used Mitchell's TruckEst product for over a decade, and I think it's refreshing that Mitchell has answered the call to make their product stronger," he said. "I'm thankful that industry efforts from groups like the HD Repair Forum and Axalta's Business Council's 20 Groups have been heard, and Mitchell has taken their input to continue driving their estimating software further. Now that it has been formally announced at the HD Repair Forum, our shop and many others will be taking it for a test drive to experience what's new."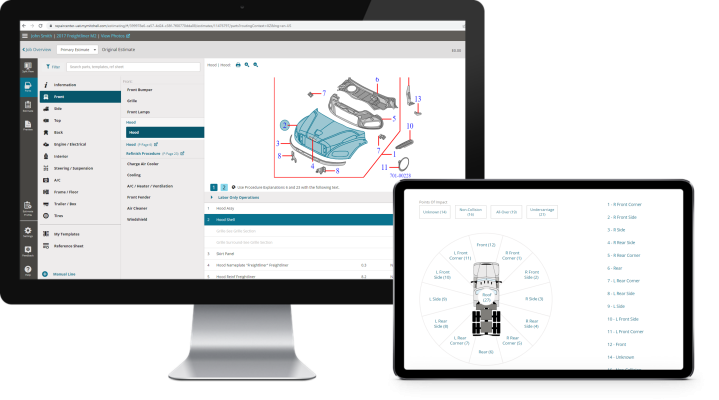 Together with Mitchell's passenger and specialty vehicle data, TruckMax and an expanded motorcycle database give appraisers access to over 30 years of coverage on more than 135,000 vehicle configurations, 13 million parts, 5.4 million labor times, and 4.5 million part and assembly relationships, according to Mitchell.
Truck OEMs in the TruckMax database are Freightliner, International, Kenworth, Peterbilt, Western Star, Volvo Commercial, Mack, Hino Commercial Truck, Chrysler, Ford, General Motors, Isuzu, Mercedes-Benz, Mitsubishi, and Nissan.
"Mitchell is committed to delivering efficient vehicle claims and collision repair workflows," said Debbie Day, executive vice president and general manager of Mitchell's Auto Physical Damage division, in a statement. "With the addition of Mitchell Cloud Estimating TruckMax, insurers now have a single, integrated platform for managing all on-road vehicle claims. And collision repairers have a proven technology solution to assist them in meeting customer expectations for fast, error-free estimates."
More information about TruckMax is available at mitchell.com/solutions/auto-physical-damage/estimating/commercial.
Mitchell now offers parts and labor information for more motorcycle makes and, for the first time, some ATVs and RUVs. OEMs in Mitchell's database for motorcycles, ATVs, and RUVs are BMW, Buell, Harley-Davidson, Honda, Indian, Kawasaki, Polaris, Suzuki, and Yamaha.
IMAGES
Featured image credit: BartCo/iStock
Mitchell Cloud Estimating TruckMax is pictured. (Photo provided by Mitchell International)
Share This: