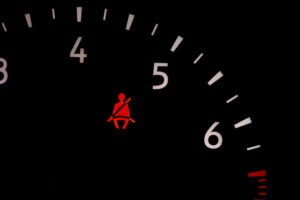 The Insurance Institute for Highway Safety (IIHS) is encouraging manufacturers to improve their seat belt reminders, saying the increased belt use that would result could save as many as 1,500 lives a year.
For repairers, this initiative by IIHS may serve as a reminder that many OEMs require thorough inspection of seat belt systems, including warning lights, chimes, and buzzers, every time a vehicle has been in an accident.
IIHS is encouraging better performance through a new ratings program, which has deemed the reminder systems in just seven of the first 26 vehicles tested either good or acceptable.
"By now everybody knows that seat belts save lives when they are used," IIHS president David Harkey said in a statement. "Our research shows that effective seat belt reminders can also save lives by getting those who aren't diligent about belt use to buckle up. These new ratings are designed to push manufacturers to realize that potential."
Under federal standards, seat belt reminders must include a buzzer, chime or other audible signal that lasts at least eight seconds, and a visual alert that lasts at least 60 seconds, whenever the driver's seat belt is unbuckled.
IIHS said its research has shown that more persistent alerts could increase compliance among those who usually don't buckle up by as much as 34%. That would translate to 1,500 lives saved a year, it said.
"Most Americans use their seat belts, especially in the front seat. But the small number who don't translates into a lot of fatalities," Harkey said. "Almost half of the drivers and front seat passengers killed in crashes in 2019 weren't belted."
The new IIHS protocol rates seat belt reminders as good, acceptable, marginal or poor, based primarily on the volume, duration, and timing of the audible alert. "The gold standard is an alert that's impossible to ignore," said IIHS senior test coordinator Sean O'Malley, who conducted the evaluations.
Among the first batch of 26 small and midsize SUVs evaluated, only two Subaru models, the Ascent and Forester, earned a good rating. Five others, the Hyundai Palisade, Hyundai Tucson, Nissan Murano, Nissan Pathfinder, and Nissan Rogue, earned acceptable ratings.
Seven more were rated marginal: the Jeep Compass, Jeep Renegade, Jeep Wrangler, Mazda CX-5, Mazda CX-9, Toyota RAV4, and Toyota Highlander.
Twelve others received a poor rating: the Audi Q3, Buick Encore, Chevrolet Equinox, Chevrolet Traverse, Ford Escape, Ford Explorer, Honda CR-V, Honda HR-V, Honda Pilot, Mitsubishi Eclipse Cross, Volkswagen Atlas, and Volvo XC40.
IIHS said some simple software adjustments could probably lift all of the marginal and some of the poor performers to an acceptable rating.
"Most of these problems don't require new hardware," O'Malley said. "Even among the vehicles that earn poor ratings, it's possible that simply lengthening the duration of the audible alert could do the trick."
Seat belt system inspection
Many OEMs require the inspection of safety belt systems, including belt reminders, every time a vehicle has been in a crash. Some procedures are quite extensive; Toyota, for instance, provides four pages of instructions for checking the reminder system for the driver, passenger, and second-row seats on the 2018 Toyota Camry.
According to Danny Gredinberg of the Database Enhancement Gateway (DEG), any type of seat belt system inspection is a non-included operation in the CCC, Mitchell and Audatex estimating systems.
An April 2021 "Who Pays for What?" survey found that the proportion of body shops charging to inspect seat belts has grown over the past five years.
The survey, conducted by Mike Anderson of Collision Advice and the CRASH Network, said 62% of shops reported they have charged for the labor to inspect seat belts. That's up from 36% in 2016, when the question was first included in the survey.
Unfortunately, repairers and their customers experienced less success having the work reimbursed by eight of the nation's largest insurers.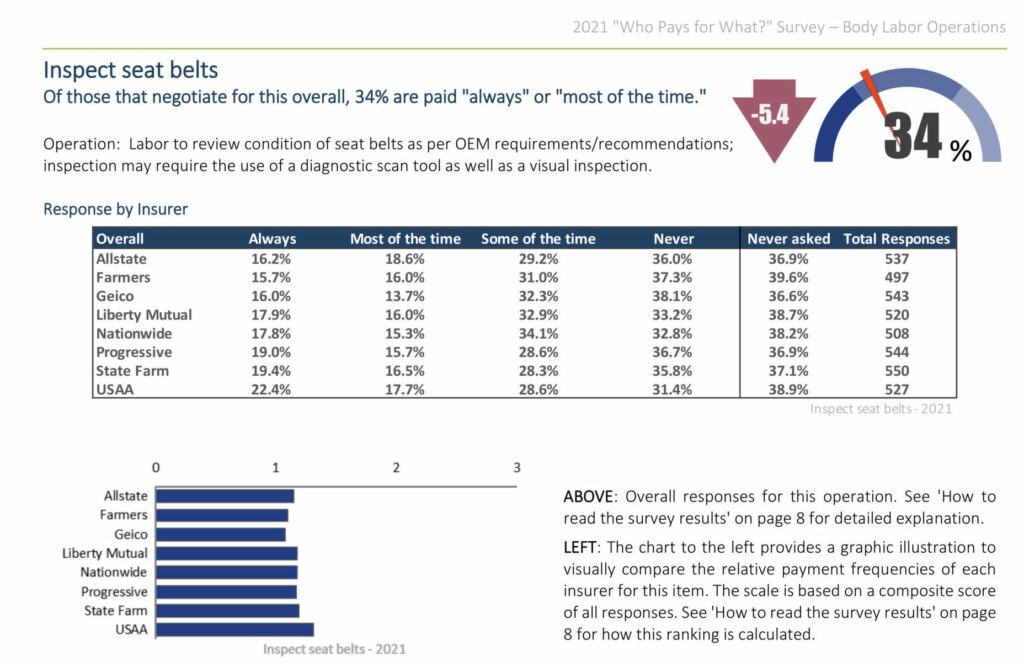 The proportion of repairers reporting State Farm, GEICO, Progressive, USAA, Liberty Mutual, Farmers, and Nationwide covered the cost of inspecting seat belts "always" or "most of the time" fell to 32%, a drop of 5.4 percentage points from summer 2020 "Who Pays?" polling.
"Out of all of the procedures in the survey, this is the one that most keeps me awake at night," Anderson, the CEO of Collision Advice, wrote in the report. "Every OEM has a very specific procedure for how to inspect seatbelts. The response to this question is very concerning because it indicates to me that too few shops are researching OEM repair procedures and are thus not aware of this requirement. As an industry, we must accept responsibility for researching and following the requirements for this on every vehicle."
"You often can use just the vehicle owner's manual to prove that this is a necessary procedure," Anderson said. "Those manuals often indicate that a seatbelt inspection is needed after a collision."
More information
'Who Pays?' authors highlight growth in seat belt inspection charges
Inspections truly required after every collision, and other Subaru answers to shop FAQs
Images
Featured image provided by JJ Gouin/iStock
Share This: