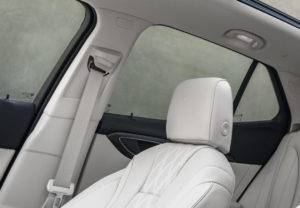 CRASH Network and Collision Advice this week celebrated "Who Pays for What?" results indicating the proportion of body shops charging to inspect seat belts has grown over the past five years.
The data from the quarterly shop surveys — including the hot-off-the-presses 2021 body labor results — might reflect a growing awareness of an safety operation repairers might have previously overlooked.
"The trend is good news for shops and consumers," CRASH Network wrote in a news release this week. "But for this procedure in particular, Mike Anderson of Collision Advice … is concerned more with just making sure that it gets done."
The surveys first asked about seat belt inspections in 2016 and found that 63 percent of shops had never attempted to charge for the work.
Major OEMs can require repairers to check out restraints following a crash— and this mandate might have been on the books longer than shops and insurers realized.
For example, No. 1 General Motors had since at least 2014 offered a position statement instructing shops to conduct the operation after a crash. (The OEM recently revamped its guidance on post-collision safety checks — but the new instructions demand seatbelt checks regardless of crash severity, no exceptions.)
So the absence of repairers attempting to bill in 2016 for what can be a lengthy procedure raises the suspicion that many in the industry might not have even realized such OEM requirements existed.
But today, the statistic "has nearly reversed, with 62 percent of shops reporting they have charged for the labor to inspect seat belts," CRASH Network wrote.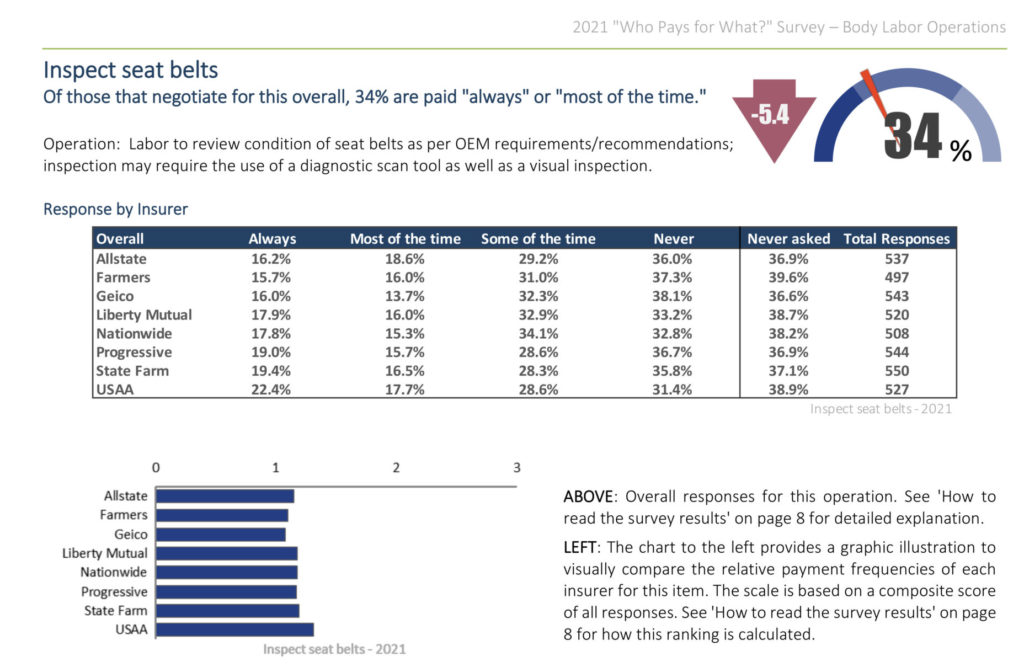 "Out of all of the procedures in the survey, this is the one that most keeps me awake at night," Anderson, the CEO of Collision Advice, wrote in the latest "Who Pays?" report. "Every OEM has a very specific procedure for how to inspect seatbelts. The response to this question is very concerning because it indicates to me that too few shops are researching OEM repair procedures and are thus not aware of this requirement. As an industry, we must accept responsibility for researching and following the requirements for this on every vehicle.
"You often can use just the vehicle owner's manual to prove that this is a necessary procedure. Those manuals often indicate that a seatbelt inspection is needed after a collision. …
"In some cases, the inspection procedure may require the use of a diagnostic scan tool to check the pretensioners (on some Honda and Acura vehicles, for example, a deployed pre-tensioner does NOT trigger a DTC, so other 'live data' from the scan must be checked), as well as a visual inspection. There may be additional steps if a seatbelt is reinstalled to verify it is installed properly."
The 2021 data collected from hundreds of shops during April polling indicates the proportion of repairers who never asked to be paid for the work might have even fallen slightly from 2020. However, the declines are within the margin of error.
Unfortunately, repairers and their customers experienced less success having the work reimbursed by eight of the nation's largest insurers.
The proportion of repairers reporting State Farm, GEICO, Progressive, USAA, Liberty Mutual, Farmers and Nationwide covered the cost of inspecting seat belts "always" or "most of the time" fell 5.4 percentage points from summer 2020 "Who Pays?" polling. It's back to 2019 levels, according to CRASH Network.
"Every OEM has a very specific procedure for how to inspect seatbelts," Anderson said in a statement. "No matter whether you charge for it or not, we have an obligation to make sure that we're fixing vehicles safely and properly, and that means following the OEM repair procedures when it comes to seatbelts."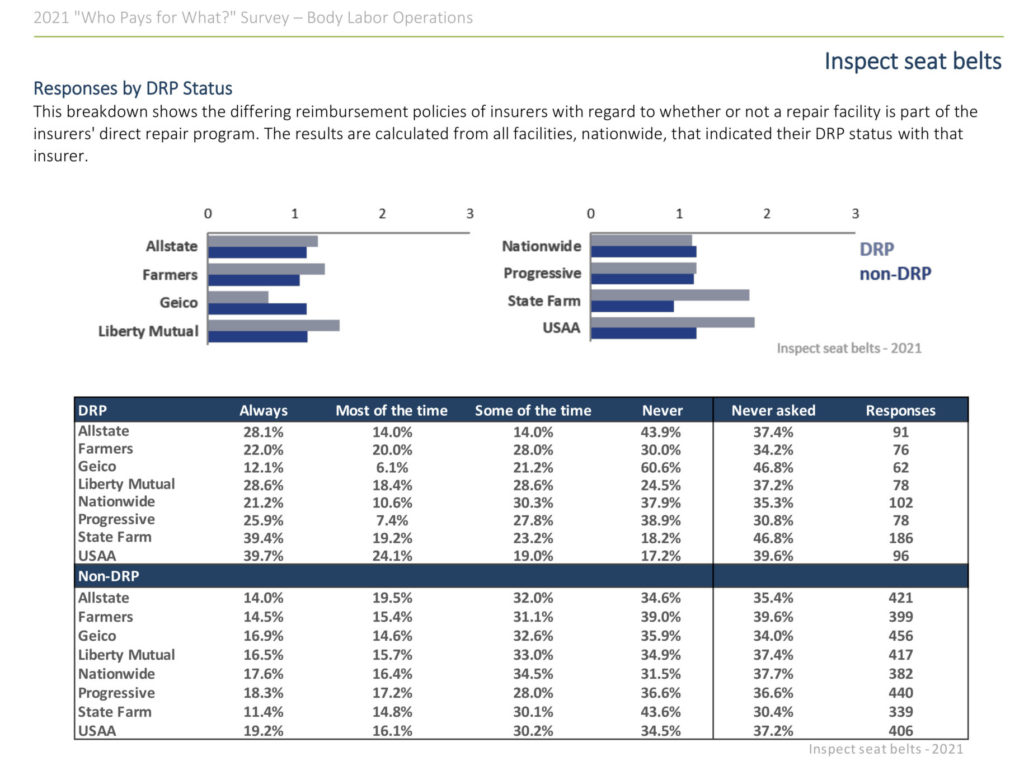 It's interesting to note State Farm and USAA were notably more receptive than their peers to such charges from their direct repair program facilities than non-DRP shops. For example, each covered the labor "always" for about 40 percent of the DRP repairers who asked. Yet for non-DRP facilities, only 11.4 percent and 19.2 percent of repairers "always" saw the work reimbursed by State Farm and USAA, respectively.
Help the collision industry by taking the current "Who Pays for What?" survey by the end of the month and answering questions on topics including not-included frame and mechanical labor operations. All answers are kept confidential; data is published only in the aggregate.
More information:
Take the anonymous third-quarter "Who Pays?" survey
Images:
CRASH Network and Collision Advice in July 2021 celebrated April 2021 "Who Pays for What?" survey results indicating the proportion of body shops charging to inspect seat belts has grown over the past five years. The surveys first asked about seat belt inspections in 2016 and found that 63 percent of shops had never attempted to charge for the work. Now, around that many shops are seeking reimbursement. (Provided by Collision Advice and CRASH Network)
April 2021 "Who Pays for What?" polling found State Farm and USAA were notably more receptive than their peers to seat belt inspections charges from their direct repair program facilities than non-DRP shops. (Provided by Collision Advice and CRASH Network)
Share This: