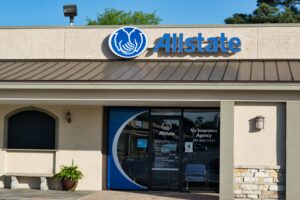 Allstate announces 3 ways it's addressing inflation
By on
Insurance
After Allstate announced in April that it plans to raise auto insurance rates through this year, Tom Wilson – the company's chair, president and CEO – said on May 4 that inflation is being addressed "by raising prices, reducing expenses and changing investment allocations."
"Rising severity levels compared to the prior year reflect increased used car prices, higher parts and labor costs, medical inflation, and greater attorney representation," an Allstate news release states. "In response, Allstate is taking comprehensive action to improve profitability, including rate increases, reducing expenses and claims operational actions. Given ongoing inflationary pressures, we expect to implement rate increases greater than our initial expectations for 2022 to restore auto margins to target levels."
Specific to auto insurance, Wilson said, "Excellent profitability in homeowners insurance, strong investment income, and earnings from Protection Services and Health and Benefits mitigated the negative impact of inflation on auto insurance margins. Shareholder value also benefited from a shortening of the bond portfolio duration in late 2021 to reduce enterprise exposure to inflation and higher interest rates."
Revenues for Q1 totaled $12.3 billion, down 0.9% from 2021 Q1. The decrease was a reflection of losses on fixed income sales and equity valuations this year compared to net gains last year, which was partially offset by higher Property-Liability earned premium and increased Protection Services revenue, according to the release.
Earned premiums were $11 billion, an increase of 6.5% over the prior year "due to policy growth and increased average premiums, as auto and home insurance rate increases begin to increase revenues," Wilson said.
Net income was $630 million and adjusted net income [non-GAAP] was $726 million, or $2.58 per share. That was down compared to $1.9 billion generated in the 2021 Q1. "The decrease reflects higher auto accident frequency and increased inflation, unfavorable prior year reserve reestimates and lower net investment income, partially offset by higher earned premium and lower catastrophe losses."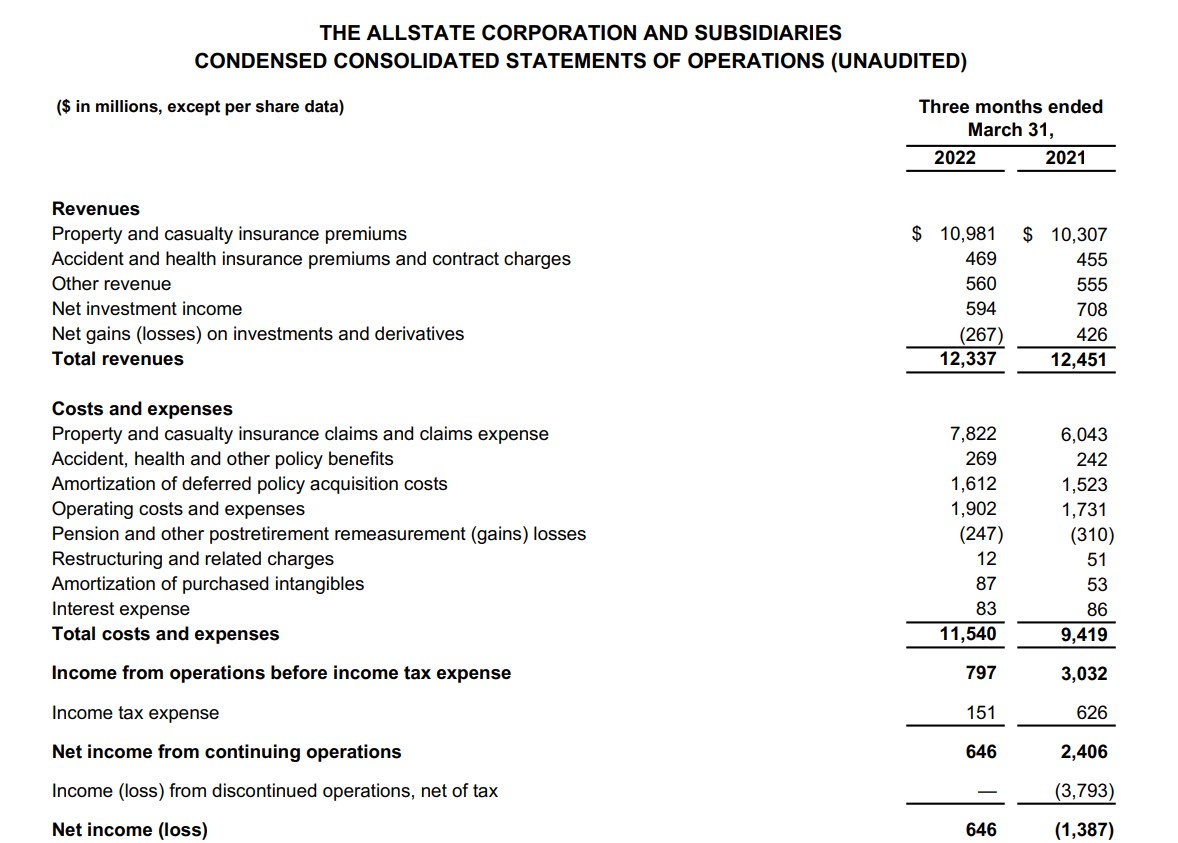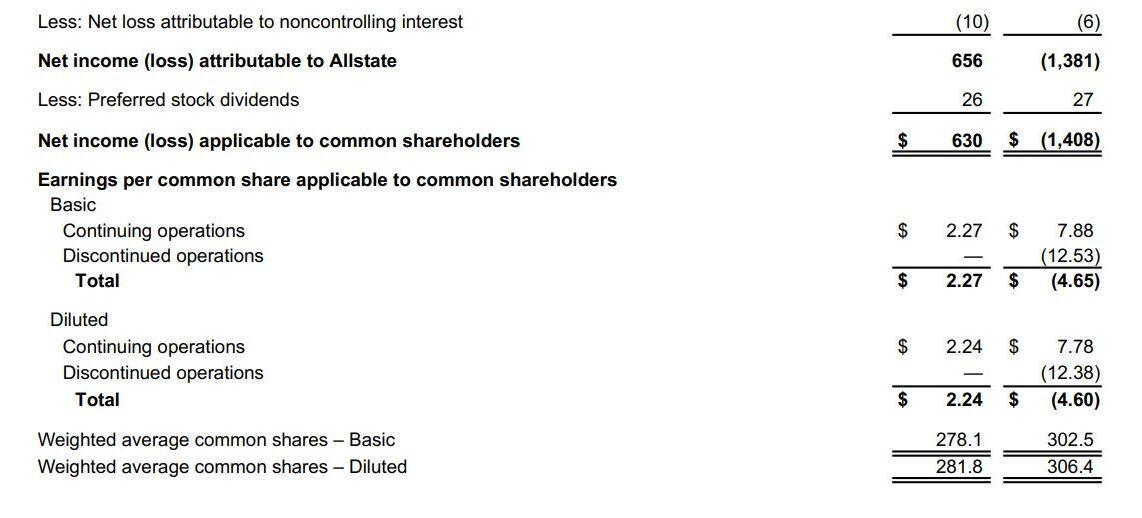 "We made excellent progress on the Transformative Growth strategy by expanding customer access, improving pricing sophistication and advancing expense reduction programs. Customer access was expanded as Allstate agent new business sales were maintained while direct distribution grew to 38% of new business and National General expanded through independent agents," Wilson said. "Allstate brand auto insurance price increases of $862 million were
implemented in the quarter using sophisticated pricing algorithms. While the expense ratio increased compared to prior year quarter from higher employee-related costs, we remain committed to our three-year expense reduction goals. Transformative Growth has positioned us to quickly adapt to this inflationary environment while improving our competitive position to grow market share."
Other Q1 results:
Property-Liability premiums earned $10.5 billion, an increase of 6.1% compared to 2021 Q1 due to higher average premiums and item growth in both the National General and Allstate brands;
Underwriting income was $280 million compared to $1.7 billion in 2021 Q1 due to lower auto insurance margins, "reflecting the impact from inflationary increases in claim severity and increased auto insurance accident frequency as miles driven increased with economic activity …partially offset by higher premiums earned and lower catastrophe losses;"
Non-catastrophe prior year "reserve strengthening" of $158 million was due to adverse loss development in auto physical damage and bodily injury coverages;
The underlying combined ratio* of 90.9 in Q1 2022 was 13.8 points above Q1 2021 because of higher auto and homeowners claims severity due to increased inflationary impacts and higher auto accident frequency.
Allstate Protection auto insurance earned premiums increased 4% due to higher average premiums and growth of policies in force by 2.4% compared to the Q1 2021. Written premiums increased 7.8%, which was higher than earned premium growth as rate increases are earned over the six-month policy period after customer renewal, the release states. Policies in force growth were driven by National General, including impacts from the SafeAuto acquisition, and the Allstate brand.
Allstate increased auto insurance rates at 28 locations during Q1 at an average of 9.3%, or 3.6% on total premiums. The carrier's recorded auto insurance combined ratio – a figure used to show the money spent by a carrier through dividends, expenses, and losses – increased by 21.6 points to 102.1 over Q1 2021 because of "higher claim severity and accident frequency compared to the lower levels experienced during the first quarter of 2021 due to the pandemic" as well as "2.1 points of unfavorable non-catastrophe prior year reserve reestimates driven by physical damage and bodily injury coverages."
In a section of the news release titled "Proactive Capital Management," Allstate CFO Mario Rizzo said the insurer's capital position "remains strong and enables excellent cash returns to shareholders."
"In the first quarter, Allstate returned more than $1.0 billion to common shareholders through a combination of $794 million in share repurchases and $230 million in common shareholder dividends," he said. "In February, we announced a quarterly dividend of $0.85, representing a 5% increase, that was paid on April 1st, 2022. We have $2.5 billion remaining on the current $5 billion share repurchase authorization, which is expected to be completed early next year. We have repurchased 9.2% and 20.0% of our common shares outstanding over the last twelve months and three years, respectively."
IMAGES
Featured image credit: Brett_Hondow/iStock
Allstate statements of operations (Provided by Allstate)
Share This: