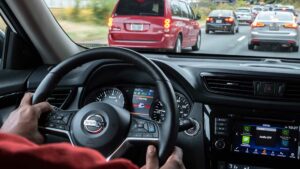 IIHS focuses on higher speeds in AEB testing
By on
Technology
The Insurance Industry for Highway Safety (IIHS) said Thursday that it is considering ways to encourage OEMs to develop automatic emergency braking (AEB) systems that will prevent front-to-rear collisions at higher speeds.
As part of that effort, IIHS is dropping its current AEB test, which evaluates systems at 15 and 25 mph, and considering whether a new test might be more effective.
IIHS said a new study has shown that its current test represents just 3% of real-world front-to-rear collisions. Even so, AEB systems have been shown to prevent about half of all such accidents.
Nearly all new vehicles now have AEB. Under a voluntary commitment brokered by IIHS and the National Highway Traffic Safety Administration (NHTSA), 20 OEMs pledged to equip nearly all of the light vehicles they produce for the U.S. market with the technology by Sept. 1, 2022. As of now, 12 of the 20 have met the target.
"Thankfully, in the real world, AEB systems are preventing crashes at higher speeds than the maximum 25 mph our test program uses," IIHS Senior Research Scientist David Kidd, the author of the new paper, said in a statement. "The problem is that our current evaluation doesn't tell us how well specific systems perform at those speeds."
The vehicle-to-vehicle front crash prevention test, introduced by IIHS in 2013, was added to the criteria for achieving a Top Safety Pick+ award in 2014, with a basic, advanced, or superior rating required. Three years later, an advanced or superior rating was required for a lower-tier Top Safety Pick.
With about 85% of 2022 model year vehicles earning a superior rating, IIHS said, the test no longer provides any differentiation among systems. For that reason, it's dropping the test from the awards criteria next year and considering whether it should be replaced by a new test.
Kidd's 20-page study, one step in answering that question, analyzed data from 6,731,215 police-reported rear-end crashes from the Crash Report Sampling System and 4,285 fatal rear-end crashes from the Fatality Analysis Reporting System during 2016-2019.
The data provided validation for IIHS's testing protocol, in which a moving vehicle strikes a stationary vehicle, showing that about 80% of all rear-end crashes occur under such circumstances. But they also showed that most crashes were happening at higher speeds than the IIHS evaluation.
The study found that only 3% of police-reported rear-end crashes happen at 25 mph and that raising the speed of the IIHS test to 35-45 mph would make it relevant to more than 10 times as many crashes. Adding large trucks and motorcycles would make the test much more relevant to fatal crashes, IIHS added.
Because the federal databases don't include crash speeds, Kidd used the posted speed limit as an indicator. This was backed up by information gathered from the event data recorders (EDRs) of vehicles involved in rear-end crashes in which at least one vehicle was towed from the scene.
What he found was that half of all non-fatal crashes happened on stretches of roads where the speed limit was 35 to 45 mph and that 70% of fatal crashes occurred on roads where the speed limit was 55 mph or higher.
Kidd also found that AEB's safety benefits were reduced when roads were wet or snow-covered, when one of the vehicles in the crash was turning or changing lanes, or when the speed limit was 70 mph or higher.
IIHS said it will now conduct research tests on six AEB-equipped vehicles at speeds of up to 45 mph. Different types of passenger vehicles, as well as a motorcycles and large trucks, will be used as the stationary vehicle.
Images
Featured image: Most front-to-rear collisions take place at speeds greater than 25 mph, prompting IIHS to reconsider its testing. (Provided by IIHS)
Share This: