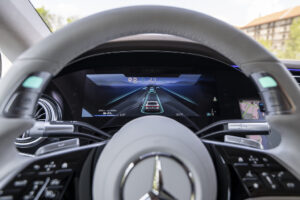 Mercedes-Benz said it will begin selling vehicles equipped with "conditionally automated driving" technology on May 17 in Germany, making it the first OEM to put an internationally validated Level 3 system into series production.
Drive Pilot, as the technology is called, will be an extra-cost option on S-Class and EQS vehicles.
The automaker said it intends to begin offering Drive Pilot in California and Nevada by the end of this year, "provided the legal situation permits the system operation." Currently, as Transportation Secretary Pete Buttigieg told a congressional committee last week, the U.S. has no federal regulatory framework for autonomous passenger vehicles.
Mercedes-Benz became the world's first car manufacturer to receive internationally valid system approval for conditionally automated driving in December 2021, when the German Federal Motor Transport Authority granted system approval on the basis of the technical approval regulation UN-R157.
"Responsible handling of future technologies such as conditional automated driving is the key to acceptance among customers and in society," Britta Seeger, a member of the Mercedes-Benz management board, said in a statement. With Drive Pilot, "we have developed an innovative technology that, thanks to redundancies with many sensors, enables safe operation and gives the valuable asset 'time' back to the customer," Seeger said.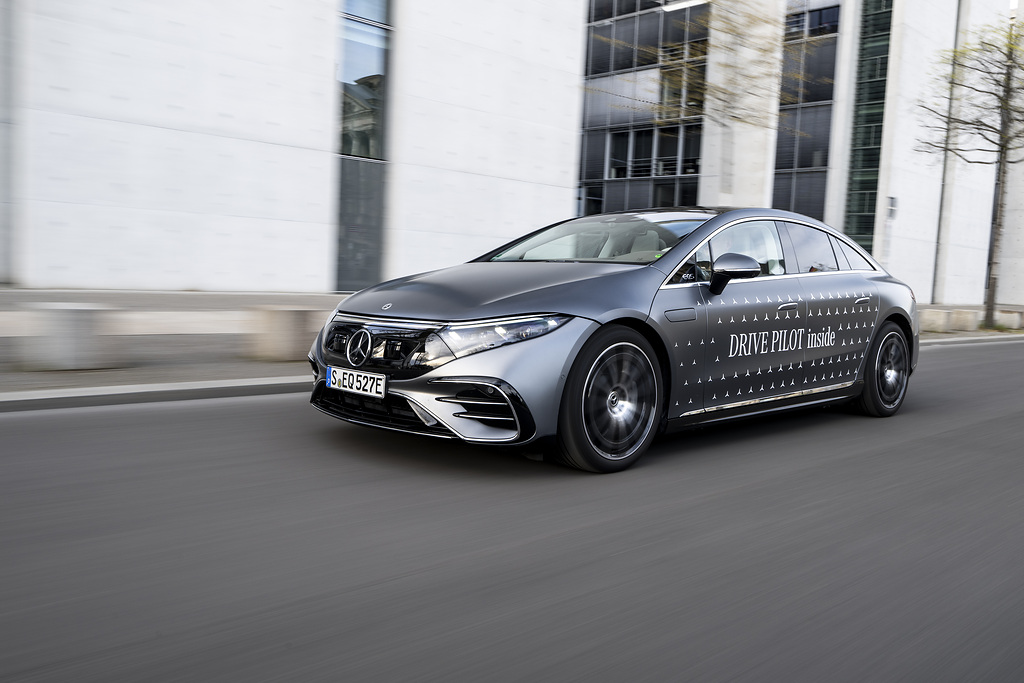 Drive Pilot builds on Mercedes-Benz's existing Driving Assistance Package, adding a number of radar, lidar, ultrasound, moisture sensors, and cameras. For now, the technology will be usable on 8,197 miles of highway in Germany, at speeds of up to 60 kilometers per hour, or about 36 miles per hour.
Once Drive Pilot has been activated, it controls the vehicle's speed, and guides the vehicle within its lane. It interprets the detailed digital map of the route, data gathered on events happening around the car in real time, and road signs, and can undertake evasive maneuvers to handle unexpected situations.
In the event of a system malfunction, the vehicle contains redundant architecture, including the braking system, steering, power supply, and parts of the sensor technology. Parts of the sensor technology are functionally redundant, too, with overlapping optical, ultrasonic, and radio wave input.
The vehicle's location is pinpointed by a high-precision positioning system that Mercedes-Benz says is "much more powerful than conventional GPS systems."
With Level 3 technology, the vehicle takes responsibility for the driving, on certain stretches of roadway and under certain conditions. Current Level 2 technology, sometimes called semi-autonomous, can drive the vehicle through adaptive cruise control and lane centering, but requires an attentive driver who is always ready to take control.
Although Tesla has described its driver assistance system as the most sophisticated in the industry, its Autopilot with Full Self Driving (FSD) is actually a Level 2 system.
Mercedes-Benz was apparently not the first to receive governmental approval for its Level 3 technology. Honda was granted approval by the Japanese government for its system, called Honda Sensing Elite, in March 2021. However, unlike Mercedes-Benz, Honda is leasing its equipped Legend EX vehicles to customers.
Honda said that the technology, offered only in the Japanese market, is part of its efforts to realize a collision-free society based on its global safety slogan, "Safety for Everyone."
Honda Sensing Elite includes a feature called Traffic Jam Pilot. As described by Honda, Traffic Jam Pilot enables the automated system to drive the vehicle under certain conditions, such as traffic congestion or highway travel.
Like GM's upcoming Ultra Cruise and Mercedes-Benz's Drive Pilot, Honda Sensing Elite relies on high-definition digital maps and an array of a robust array of lidar emitters, radar sensors, and cameras.
Governmental regulation
Mercedes-Benz noted that the German government has been a pioneer in automated driving, having opened its Road Traffic Act for Level 3 systems in 2017, and implementing a technical approval process at the start of 2021.
The OEM said it has been guided by that legal framework in creating its new technology, with a team that includes engineers, lawyers, compliance managers, data protection officers, and ethics experts.
In the U.S., members of Congress have pressed the Department of Transportation to create such a regulatory environment here, while Buttigieg has told members of Congress that his department needs Congress to act.
"We're doing what we can with the authorities and flexibilities that we have, but we lack a fully established legislative framework for that," Buttigieg said during a May 3 hearing convened by the Senate Committee on Commerce, Science and Transportation.
The secretary pointed out that responsibilities for vehicle safety tend to be divided between states and the federal government.
"We tend to regulate or assure the safety of the design of the vehicle, and the state DMVs are concerned with the driver," he said. "That framework makes sense until you have a scenario where the vehicle is the driver. I don't know how we can address some of those issues without the involvement of Congress."
The previous week, a group of 10 Democratic senators had urged Buttigieg to develop the necessary regulations for autonomous driving.
"We lag behind in shaping a regulatory framework that will foster this innovation while simultaneously protecting and encouraging all of the important benefits we believe autonomous vehicles are capable of delivering," wrote the senators, led by Gary Peters, who chairs a Senate Commerce subcommittee on surface transportation. "Autonomous vehicles hold great promise to deliver significant benefits for all Americans – but only if the federal government puts the necessary policies in place to achieve these benefits."
More information
Mercedes reportedly takes on liability of its Level 3 AV technology, Drive Pilot to be offered in U.S. later this year
Mercedes-Benz lidar-based system wins approval for conditionally automated driving
Images
Featured image: The dashboard of a Mercedes-Benz EQS with Drive Pilot activated. (Provided by Mercedes-Benz)
A Mercedes-Benz EQS with Drive Pilot will be available in Germany starting May 17. (Provided by Mercedes-Benz)
Share This: