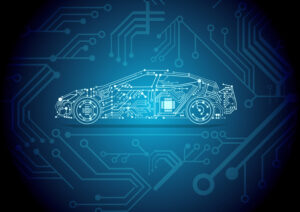 Spending on vehicle diagnostics in collision repair "exceeds $1 billion today, and will be a multiple of that in the coming years," the CEO of CCC Intelligent Solutions told investors during a first quarter earnings call.
CCC CEO Githesh Ramamurthy said that scans are up more than 900% since 2017, and are now part of nearly half of all collision repair appraisals.
Through a recent partnership with asTech, CCC now has "more than 10% of our repair facility customers utilizing our diagnostic solution," he said. The integration helps to "streamline the process for repair facilities, including validating the scan with the insurer as part of the claim."
"We expect that diagnostics can be at least a $50 to $100 million revenue opportunity for CCC, making it one of the more compelling growth opportunities," the CEO said during the May 5 call.
With the growing technological complexity of vehicles comes more complex repairs, Ramamurthy said. "Both insurers and repair facilities need solutions that can provide a consistent repair process, regardless of the automaker."
"We have seen rapid adoption of our diagnostic solutions as customers look to CCC to help solve the challenge. Diagnostic scans, which tell you what is damaged or needs to be reset or recalibrated in a car, are seeing explosive growth," he said.
Ramamurthy said CCC's customers are increasingly looking to digital solutions as they grapple with inflation, labor shortages, and supply chain challenges. "We increasingly hear from customers that these challenges are mission-critical issues that must be addressed to operate profitably," he said.
He identified "three key factors driving the digital transformation of the auto insurance industry that will underpin CCC's growth for years to come" as:
Delivering a better experience for the consumer. Ramamurthy said many of the insurance industry's digital practices are "inefficient, and have significant room for improvement." He said "process gaps" can "drive less than optimal engagement with policyholders and create unnecessary friction among insurers, repair facilities, and other industry participants." CCC's products, he said, help carriers "focus on the more important tasks and meet the heightened expectations of today's consumer."
The need for a "connected ecosystem." A network that digitizes key aspects of the claims process can help reduce friction between insurers and collision repair shops, he said. He added, "We have built by far the largest connected network in the industry, and one that continues to expand."
The use of AI to accelerate and improve decision-making. Ramamurthy said CCC has built a dataset of more than $1 trillion worth of claims data over the decades. "We are incorporating AI across our product portfolio to help our customers deliver faster and better decisions across a range of solutions and process steps," he said.
Straight-Through Processing, or STP, remains at the core of CCC's ability to meet its customers' needs, Ramamurthy said. "STP is a comprehensive approach to the P&C insurance economy that will be made up of many digital and AI solutions that are seamlessly integrated to provide customers with digital solutions throughout the claims process," he said.
"This modular approach is a great fit with what customers need to digitize their end-to-end claims experience and demonstrates the value of the CCC cloud's deeply integrated position. Customers tell us they want flexibility and fast time-to-value throughout the claims handling process. The CCC cloud readily unlocks this capability without the need for costly and time-consuming re-platforming."
Brian Herb, CCC's CFO, said "eight significant customers" have so far signed onto the company's CCC Estimate-STP solution since its launch last year.
"Estimate-STP is a component of our overall STP vision and, I'd argue, one of the hardest things in that STP vision to pull off," Herb said in response to an investor's question. "This involves very sophisticated AI, very sophisticated workflows, very sophisticated tuning of the AI parameters, and that's also giving us a lot of credibility for STP overall."
Herb said he took part in "two conversations with our team, one yesterday and one today, with customers exactly around this topic. And so Estimate-STP is going well, [with] fairly quick adoption. It has significant ROI and fairly quick ROI. And it's also showing the power of … STP in general as it extends across the different components of the claim."
Ramamurthy said the process begins with the use of AI to determine whether a damaged vehicle is repairable. "Today, our platform is used to determine the repairability of tens of billions of dollars of auto claims annually," he said.
Once a vehicle has been determined to be a total loss, CCC has other digital products that can streamline the process for insurers, he said.
"Historically, our total loss products have been focused on helping insurers determine the value of the vehicle. But there are also many additional downstream manual processes that need to be completed to finalize a total loss claim including the processing of title lien, taxes, and fees among others. Each of these represents sizeable opportunities for CCC to assist in digitizing," Ramamurthy said.
"A total loss care solution is one way insurers can streamline these downstream aspects of the total loss process, including lender payoff requests, letters of guarantee, and lien and title resolution. In the 18 months since launch, we now have 21 carriers that are either onboarded or in the pilot process for total loss care."
For the 80% of vehicles that are repairable, "we have a comprehensive portfolio of solutions that help automate and digitize the repair experience." Among these are the CCC diagnostics network, recently bolstered through the agreement with asTech.
Ramamurthy said CCC, which saw revenues increase by 18% compared with 2021 Q1, has raised its outlook for 2022 and expects "another year of double-digit revenue."
"We are seeing strong adoption across the product portfolio, with both existing and newly introduced solutions," he said. "We also continue to expand and strengthen our ecosystem. I believe the investments we're making in talent, innovation, and service delivery will help us solve critical problems for our customers, as well as deliver consistent growth for years to come."
More information
CEO: CCC Estimate-STP could be 'game-changer,' expand adoption of company's AI
Images
Featured image provided by kaptnali/iStock.
Share This: