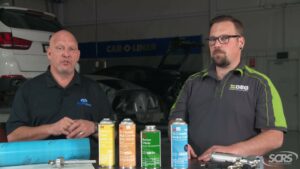 Five recent "Quick Tips" videos released by the Society of Collision Repair Specialists (SCRS) serve to fill collision repairers in on protecting connectors on electric vehicles, how to properly store parts, using gravel guard, the importance of pre-measuring and pre-diagnostic alignment, and why melting and blending clearcoat is a not-included operation.
Every Quick Tip video features Mike Anderson, CEO of CollisionAdvice.com and Danny Gredinberg, Database Enhancement Gateway (DEG) administrator.
Here's a roundup of the tips posted on SCRS' YouTube channel:
"Protecting Connections on Electric Vehicles"
"As we start to see the advancement of EVs, electric vehicles, in our industry there's a lot of things we're going to have to start thinking about," Anderson said.
One of those things, I-CAR's Jeff Poole said, is protecting battery connectors; specifically those that connect the battery to the inverter unit and the inverter unit to the drive motor because they have to have extremely low resistance.
"Whenever we start looking at high voltage systems in particular, milliamps – that's thousands of ohms – become very, very critical especially when we start looking at high current applications," Poole said.
The terminal connectors through the cable become a weak point if they aren't kept clean and protected, he added
"These connectors aren't taken apart and put back together very often but once in a while they do need to come off," Poole said. "It's very, very critical because, at a thousandth of an ohm, 300 amps turns into a 90-watt light bulb right there at that connector so think about the old-style light bulbs – a 90-watt lightbulb got pretty hot."
That level of heat, however, is normal, but if dust or contamination gets inside the connector it becomes dangerous for the repairer. For example, Poole said, if resistance leads to .1 ohms the heat equivalent would increase to 9,000 watts and 1 ohm to 90,000 watts.
So, the connections need to be protected just like airbag and electronic system connections are protected, he said.
"If the vehicle maker has dummy plugs designed for the purpose they should be the ones that you first default to. In some cases, vehicle makers may actually state that you can use that or make sure you mask it, tape it very, very well. I like to use some sort of a non-conductive, highly visible tape."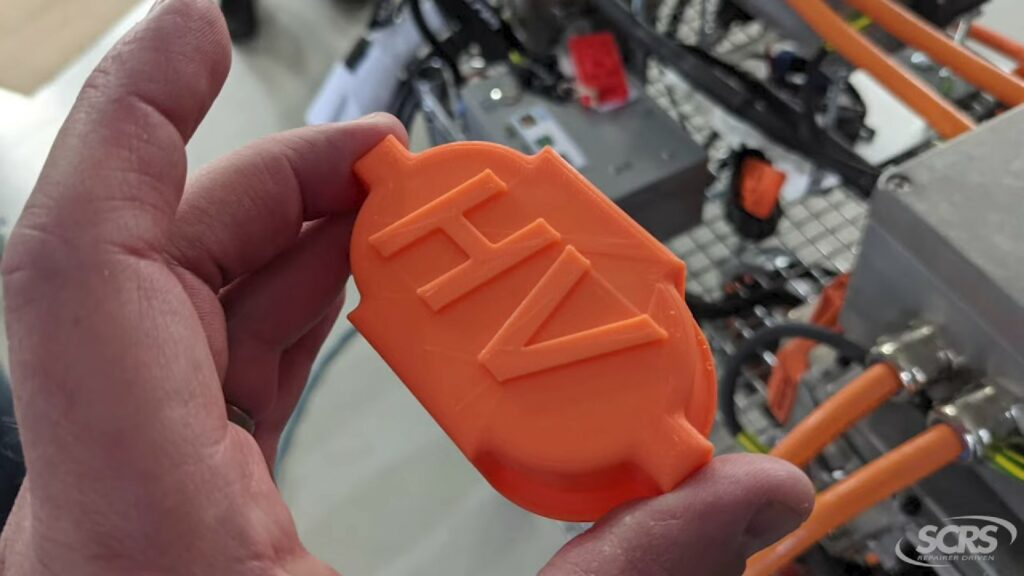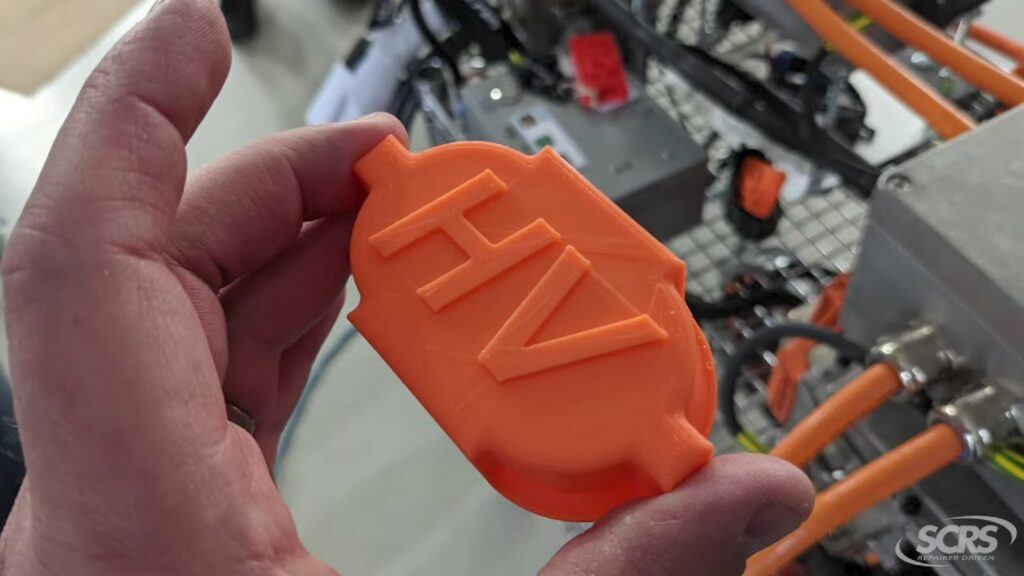 Repairers can also put a baggy over the connector and zip tie it, Poole said. The time it takes to protect the connectors is non-included.
"Parts Storage to Protect Parts"
While showing an example of an unsafely cluttered shelf of parts, Gredinberg said glass should be protected by bubble wrap or film – not stacked with other parts, especially those that are metal, and then placed in an area that's safe. The same goes for other high-dollar items, such as headlights, and interior trim components. Labor time to wrap and store parts is not included.
This is an example of properly protected and stored parts: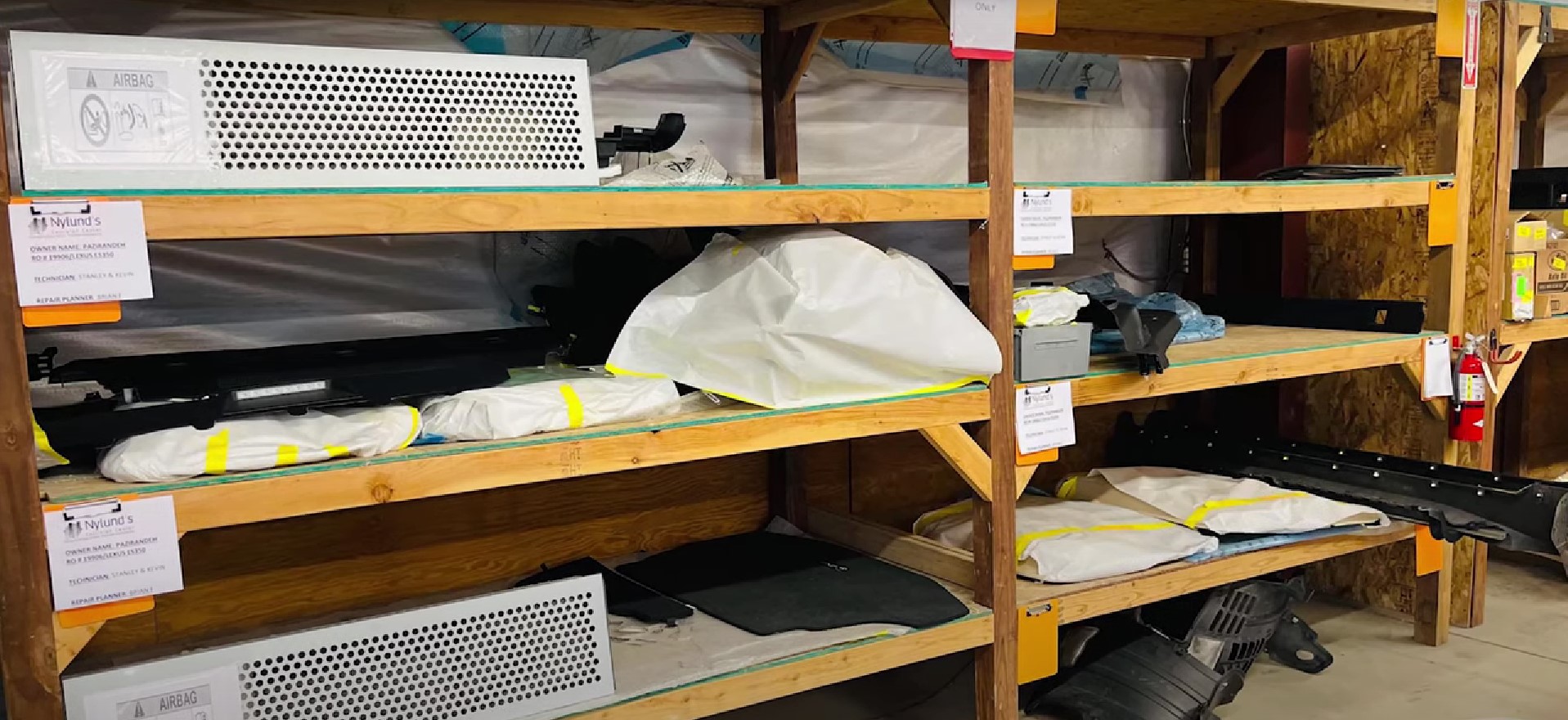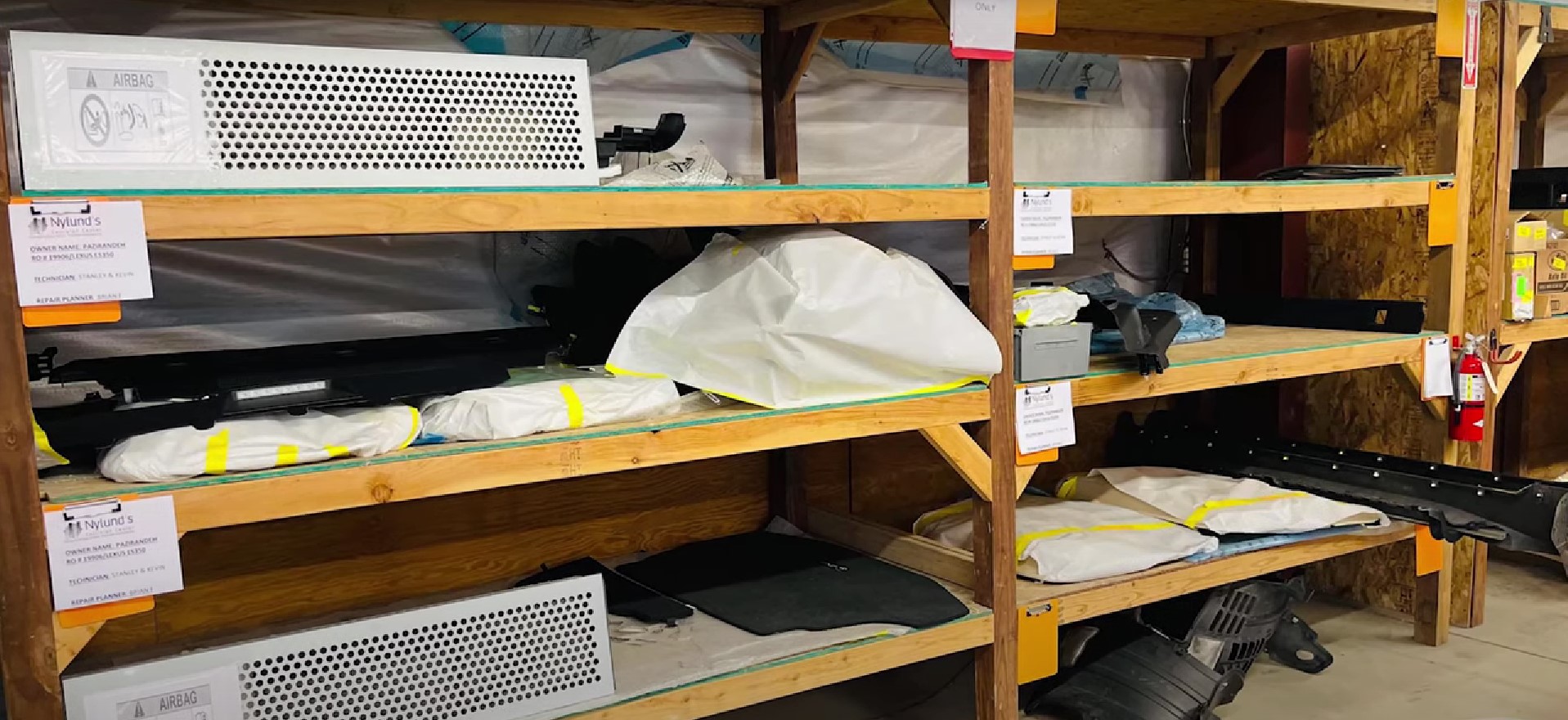 "Gravel Guard"
Gravel guard – also known as chip guard, body Schutz, or rocker guard – is generally applied on the lower areas of vehicles, such as the rocker panel and lower portion of the fender near the rocker panel. It can also be used on doors and cab corners.
"Most OEMs consider that a form of corrosion protection," Anderson said.
However, he added collision repair shops, need to consider the following:
Price of materials;
Labor time;
Additional labor to match the OEM appearance; and
Labor to mask to apply gravel guard to avoid overspray on other areas and to create a tight line.
Gredinberg said gravel guard is a not-included operation, but depending on the vehicle, there may be a predefined value in The DEG database, or repairers can calculate it and put it on estimates manually. He reminded repairers to always reference OEM repair procedures to check for specific products that need to be used.
"Get it straight! Pre-diagnostic Alignment & Measurement"
As advanced driver assistance systems (ADAS) become more prevalent, Anderson noted that vehicles should be pre-measured and that a pre-diagnostic alignment conducted before repairs are made because getting measurements and alignment right can be critical to ADAS features operating accurately.
"We've often been told that if something's off one degree it actually can affect the ability of that component to read by 10 feet," he said.
Any additional labor time to pre-measure vehicles, such as using an alignment machine or a vehicle structure measurement system to work up a damage report is a not-included operation, according to Gredinberg.
"Don't let this confuse you," he said. "This is not for final verification. This is not for a final alignment. This is just in the beginning stages of that repair process. If you have to do a final adjustment and you have to do a vehicle structure correction that is a not-included step as well."
"Why is it NOT Approved to Melt or Blend Clear Coat?"
While repairers are being asked to melt clearcoat in the middle of a panel, Gredinberg said, he isn't aware of any OEM that warranties the process.
Instead, repairers should extend the paint to the nearest breaking point for a proper refinish, he said. Estimating systems may have a formula in their P pages or it's selectable in the database as a not-included operation.
Repairers should also consider additional remove and install (R&I) work when removing door seals, glass, and trim that may be in the way, Gredinberg said.
IMAGES
Featured image: (Left) Mike Anderson, CEO of CollisionAdvice.com and Danny Gredinberg, Database Enhancement Gateway (DEG) administrator. (Credit: Society of Collision Repair Specialists)
Dummy cap (Credit: SCRS)
Properly protected and stored parts (Credit: SCRS)
Share This: