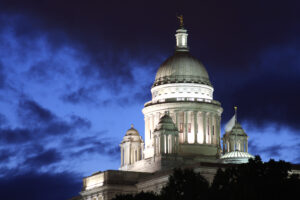 Rhode Island considering 2 bills to advance its 2030 GHG emissions goal
By on
Legal | Technology
Rhode Island senators want to take more time to consider welcoming electric vehicles (EVs) as the cars of the future and planning for charging infrastructure as evidenced by the Senate Environment and Agriculture Committee's recent unanimous votes to hold two bills on the subject for further study, meaning no vote was taken to send them to the Senate floor.
S. 2448, called the "Electric Transportation Act," seeks to meet the state's greenhouse gas (GHG) emissions 2030 target, as mandated by its Act on Climate, to 45% below 1990 levels. The mandate takes that further to 80% by 2040 "net-zero" by 2050.
S. 2692 "strives to make sales of all new medium and heavy-duty vehicles in the state zero-emissions by no later than 2050." ecoRI News reports that, "Rhode Island has let heavy-duty vehicle emissions remain unchecked for 20-plus years, after passing legislation to crack down on them. As ecoRI News reported last year, the state's heavy-duty vehicle emissions program remains in development, 18 years after it was supposed to be implemented."
Sen. Alana DiMario (D-District 36), a sponsor of both bills, clarified during the May 4 Senate Environment and Agriculture Committee hearing that the bills don't mandate EVs or ban any type of vehicles. However, the bill states, "It shall be a goal of the state that one hundred percent (100%) of new passenger cars and trucks model year 2030 or later offered for sale or lease, or sold or leased for registration in the state shall be zero emissions by 2030."
"The future of transportation – we know just from the direction that the market is going in – is toward electric vehicles," DiMario said. "We also know that transportation emissions account for a large portion of our greenhouse gas emissions and in order for us to meet the goals that we need to meet, not only to meet the mandates set by the act on climate but also just because of the physical reality of the world that we are living in, we need to have a good plan for how Rhode Island is going to be able to transition to primarily electric vehicles. This bill is an attempt to get us closer."
Green Energy Consumers Alliance Transportation Policy and Program Coordinator Mal Skowron was one of several who spoke in support of the bills at the hearing. Rising gas prices are a great incentive when it comes to transitioning to EVs and the S. 2448 establishes "a plan forward" for green, climate-safe, and affordable consumer choice.
"Back in March, when gas prices were going up, there was a shoot up in Google searches for electric vehicles because people are trying to escape gas prices and this is not going to be the last time that we see those increases," Skowron said. "…By 2030, every Rhode Islander buying a new car should be able to go electric without worrying about where they're going to charge, whether their condo association is going to have charging for them, whether the car salesman is going to try to push them into buying a gas-powered car instead of an electric car. These are all real things that are happening to Rhode Islanders that I think this bill will start to help alleviate."
And S. 2692 works toward establishing a green energy plan for the often ignored or misunderstood medium and heavy-duty trucking sector that are facing record-high diesel prices making prices go up on other goods, she said.
Brian Moran, director of government affairs for the New England Convenience Store and Energy Marketers Association, in opposition to both bills, said it would be more effective "to provide voluntary incentives for fleet electrification [and] consumer EV adoption metrics as opposed to mandates."
He added that the association believes the bills are "unrealistic" and "premature," partially due to EVs being "an embryonic, nascent industry right now." While the bills would create create "inflationary pressures" on the trucking industry, the association is looking forward to EVs and are invested in charging infrastructure, he said.
"We are not anti-EV," Moran said. "We are not anti-EV charging. We see our industry having a significant role in the future and we provide traditional motor fuels because that's what people want; that's what they need now. As their fuel choices change, we're going to change along with them."
Moran also said the bills missed the opportunity to address direct current fast charger (DCFC) sustainability, which electric companies "create a significant barrier to" by imposing demand fees.
Committee member Sen. Joshua Miller (D-District 28) disagreed that they're premature noting that Tesla fast chargers, for example, already exist on Cape Cod at convenience stores.
Acadia Center Rhode Island Director Hank Webster, in support of the bills, said the state's Public Utilities Commission is already considering a demand charge discount pilot for DCFC stations and a time of use rate pilot is underway to ensure EVs are charged when it's "most advantageous" to the grid to avoid adding strain.
"This transition is happening," Webster said. "The automakers have told us it's going to happen and so it's very important that Rhode Island get its hands on the wheel during this transition so that we don't careen off the side of the road; so we are making sure that we channel our resources into making sure this transition happens in a way that is in the best interest of Rhode Islanders."
He added that EVs are three-and-a-half times more efficient than internal combustion engine (ICE) vehicles. One gallon of gas has about 120,000 British Thermal Units (BTUs) in it so if that lasts 30 miles, in order to get the same 30 miles from an EV, about 34,120 BTUs are needed, Webster said.
Northeast Clean Energy Council Policy Associate Greg Ohadoma, in support of S. 2448, echoed the bill's text by pointing out that the transportation sector is the largest source of GHG emissions in Rhode Island. He said GHG emissions make up one-third of all emissions in the state.
"Electrifying transportation is in the public interest economically, environmentally, and in terms of public health," the bill states.
Ohadoma called the bill "a strong commitment" to clean energy.
"The adoption of the Electric Transportation Act will reduce the systematic disproportion of burden of tailpipe emissions that have affected the environmental justice communities," he said. "They've worn those for far too long."
If the bill is signed into law, the Rhode Island Department of Environmental Management would have to "adopt motor vehicle emissions standards based on California's duly promulgated motor vehicle emissions standards, unless, after a public hearing, the department establishes, based on substantial evidence, emissions standards and a compliance program similar to the state of California's will not achieve, in the aggregate, greater motor vehicle pollution reductions than the federal standards and compliance program for any such model year."
California has been known to have ambitious goals when it comes to air quality, greenhouse gas emissions, and climate change. With a preemption waiver that was reinstated to California in March, the state's Advanced Clean Car (ACC) program was also reinstated, which implements GHG emission standards and a zero-emission vehicle sales mandate for model years 2017-2025.
States have the authority under the federal Clean Air Act to request the waiver, which prohibits them from enacting emission standards for new motor vehicles, according to the EPA.
IMAGES
Featured image: Rhode Island State House. (Credit: DenisTangneyJr/iStock)
More information
Bill introduced in Ohio to retrain workforce, retool factories & shops for EVs
Vermont & Connecticut consider EV legislation centered on charging station infrastructure, traffic mitigation
Share This: