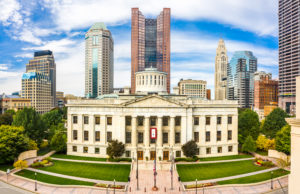 A bill introduced this week in the Ohio Senate aims to train the workforce and retool auto factories and shops for electric vehicle production and repair with a proposed $25.75 million a year.
Senate Bill 307, known as "Accelerating Ohio's Auto Industry," or AOAI, focuses on preparing for the expected influx and popularity of EVs, including battery electric vehicles (BEVs), plug-in hybrids (PHEVs), and hybrids by creating three programs – one focused on incentives, another on retooling and equipment, and a third on training and modernization. It also addresses EV charging infrastructure creation and electric grid support.
Clean Fuels Ohio, a nonprofit organization that worked with sponsor Sen. Michael Rulli (R-District 33) to write the bill, cites a combined $330 billion global investment by OEMs to shift to EV production by 2025. Kelley said Clean Fuels Ohio views the legislation as "a comprehensive first step" to create a needed EV policy framework. Rulli didn't return requests made by Repairer Driven News for comment on the bill.
"…This is becoming a mass-market thing and we expect adoption to continue to rise," said Brendan Kelley, director of Clean Fuels Ohio and Drive Electric Ohio. "Every three to six months when analysts revisit their predictions for electric vehicle adoption they revise them upwards because this is happening so quickly. With prices dropping for electric vehicles, the way they are coming in line with what gas vehicles cost upfront, and with the fueling and maintenance costs for electric vehicles being lower than gas vehicles already, it's just going to make financial sense for people if they buy cars for those cars to be electric."
There is a sales tax exemption incentive for consumers and fleets within the bill on the purchase or lease of new EVs – up to $2,000 for all-electric vehicles, up to $1,000 for PHEVs, and up to $1,000 for used all-electric vehicles. The exemption only applies to vehicles with a base model MSRP below $55,000 for sedans and below $80,000 for vans, pickup trucks, and SUVs.
The purpose of the incentive program is to increase EV production in the state and, according to the bill, will end on Jan. 1, 2032.
Under the retooling and equipment program, $15 million would be provided by the state every year to fund grants to OEMs and suppliers with locations in Ohio to buy equipment needed to produce EV parts or components or to assemble EVs including retooling existing facilities or for the creation of a new facility. Up to $1.5 million can be applied for per entity. The grant amount can't exceed 50% of what the applicant states in the application that they've paid out. Suppliers are defined in the bill as businesses that make completed vehicle parts for direct sale to OEMs or components from raw materials for use in the production of completed vehicle parts.
Kelley said the time for Ohio to act on legislating EV policy is now because OEMs are deciding where their EV facilities are going to be as they ramp up production to meet the commitments they've made for the next five to 15 years. Many auto manufacturing plants in the state, he said, only make parts for internal combustion engine (ICE) vehicles, and local economies depend on those jobs.
"We have over 108,000 jobs in auto manufacturing in our state," Kelley said. "…We've been an auto manufacturing state for a century. It's a cornerstone sector of our economy…  What we've seen is that the states that are leading on electric vehicle production and adoption have a policy framework in place that supports that; that demonstrates to the industry that they want to be a real partner to the industry and they want the facilities that are going to make electric vehicles and be part of the supply chain to be located in their states and then the jobs that go with those will be in their states."
Little detail is given in the bill on the training and modernization program aside from the cost to the state's General Fund of $10 million a year. However, it does state that reimbursements can be applied for after the effective date of the law for up to $25,000 for training as well as installing, modifying, or upgrading a service facility, charging station, or equipment that is used to repair, service, or perform maintenance on EVs.
A summary of the bill by Clean Fuels Ohio states the grant funding will go toward new training curricula, faculty training, new EV and EVSE training equipment as well as scholarships and tuition assistance for new and existing students at community colleges, vocational tech centers, and trade schools that train auto technicians and electricians and have EV and charging infrastructure manufacturing, installation, maintenance, and repair programs.
The bill would also create a task force made up of representatives from the state government, EV charging companies, OEMs, auto dealers, and nonprofit and community-focused organizations to "monitor, and provide expertise regarding, the electric vehicle product market in Ohio and provide suggestions to maximize its benefits to the state" with administrative support from DriveOhio, the state's "new center for smart mobility," according to its website.
"The goal is to make sure that as administrations change and as the issue evolves, which it's doing very rapidly, the state keeps its eye on the ball and we continue to monitor the situation," Kelley said.
Among the responsibilities of the task force are:
Creating a statewide plan that details how EV product adoption can be advanced;
Completing a statewide economic impact study that evaluates the EV market;
Determining criteria gauging the success of the EV incentive program in increasing EV production in the state;
Educating consumers on the "true costs and benefits" of EVs;
Evaluation of existing EV charging infrastructure and identify needed improvements or expansions;
Development of a strategic siting plan for EV charging infrastructure that ensures universal charging access;
Evaluation of improvements needed to the electric utility grid to support the "growing demand" for EVs;
Survey local government efforts to support EV adoption;
Evaluation of the inventory of existing EV product facilities and production capability;
Evaluation of the number of skilled and nonskilled workers in the EV industry;
Evaluation of opportunities and needs for training within the EV industry.
The task force will also decide if any traditional auto industry training centers and factories can be transitioned to centers for the promotion of EV careers and production of EVs. It will also determine if new training centers are needed. It doesn't include any specifics about what kind of EV training the programs would include.
The bill includes several amends to current law to "encourage" electric utility companies to make additions or improvements to their infrastructure to support the development of EV charging stations, minimize customer costs for their construction, and allow for the utilities to recover "prudently incurred program costs." It would also invest in or incentivize utility-owned or customer-owned charging stations.
Kelley said Clean Fuels Ohio believes investment from utilities is "appropriate and positive" because electric utility customers' rates will decrease as more EVs are added to the grid as long as that's managed effectively and efficiently.
"There's the potential for investment on a very, very large scale, which is much needed," he said. "Even the billions of dollars that are coming from the federal government in investing in EV charging infrastructure over the next five years or so is not expected to be sufficient to meet the needs that will be out there for charging. There is a need to find ways to generate further investment."
No hearings on the bill had been scheduled as of Thursday afternoon.
IMAGES
Featured image: Ohio Statehouse in Columbus (Credit: Ultima_Gaina/iStock)
More information
As Lucid ramps up Air production Stellantis talks EV cost, future
Nissan plans to ramp up EV production may foster increased workforce development
Share This: