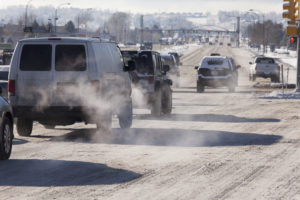 EPA gives back California's power to set vehicle greenhouse gas emission standards; Other states can now request to do the same
By on
Legal
While some OEMs are shifting their focus to a zero-emissions future by ramping up the production of electric vehicles, the Environmental Protection Agency (EPA) has reinstated a waiver to California that allows the state to implement its own greenhouse gas (GHG) emission standards and zero-emission vehicle sales mandate for model years 2017-2025.
States have the authority under the federal Clean Air Act to request a waiver of the preemption which prohibits states from enacting emission standards for new motor vehicles, according to the EPA.
The Los Angeles Times reports that the EPA's choice to grant the waiver to California "reverses an attempt by the Trump administration to block the state from using its vast market power to push the auto industry in a greener direction."
In its announcement of the waiver approval, the agency stated doing so "concludes the EPA's reconsideration of 2019's Safer Affordable Fuel-Efficient Vehicles Rule Part One: One National Program Rule (SAFE-1) by finding that the actions taken under the previous administration as a part of SAFE-1 were decided in error and are now entirely rescinded."
"Today we proudly reaffirm California's longstanding authority to lead in addressing pollution from cars and trucks," said EPA Administrator Michael S. Regan, in a statement. "Our partnership with states to confront the climate crisis has never been more important. With today's action, we reinstate an approach that for years has helped advance clean technologies and cut air pollution for people not just in California, but for the U.S. as a whole."
The withdrawal of the Clean Air Act SAFE-1 interpretation means other states can now adopt California's GHG emission standards in lieu of the federal standards, consistent with section 177 of the Clean Air Act.
"I thank the Biden Administration for righting the reckless wrongs of the Trump Administration and recognizing our decades-old authority to protect Californians and our planet," said California Gov. Gavin Newsom, in a written statement. "The restoration of our state's Clean Air Act waiver is a major victory for the environment, our economy, and the health of families across the country that comes at a pivotal moment underscoring the need to end our reliance on fossil fuels. California looks forward to partnering with the Biden Administration to make a zero-emission future a reality for all Americans." 
California Attorney General Rob Bonta called it "a victory for Californians, a victory for the nation, and a victory for the planet."
"Right now, we are standing on the edge of a cliff, and every day that we don't act, we come a little bit closer to falling over the edge," he said in a written statement. "If we're going to tackle the climate crisis, we're all going to have to do our part. And California's standards — which have been adopted by 15 states and counting — are some of the best tools we have to reduce emissions, drive technological innovation, and protect public health."
California has been known to have ambitious goals when it comes to air quality, greenhouse gas emissions, and climate change. With the waiver, the state's Advanced Clean Car (ACC) program will now be reinstated.
"California's ACC program includes both a Low Emission Vehicle (LEV) program, which regulates criteria pollutants and greenhouse gas (GHG) emissions, as well as a Zero Emission Vehicle (ZEV) sales mandate," EPA stated in its final decision. "These two requirements are designed to control smog- and soot-causing pollutants and GHG emissions in a single coordinated package of requirements for passenger cars, light-duty trucks, and medium-duty passenger vehicles (as well as limited requirements related to heavyduty vehicles). Between 2013 and 2019, twelve other States adopted one or both of California's standards as their own. But in 2019, EPA partially withdrew this waiver…"
U.S. Congress members and several leaders from other states have applauded the EPA and/or the Biden administration for their action, including Colorado, Connecticut, Delaware, New Jersey, New York, Maryland, Nevada, and Washington. Many business and association leaders have also talked positively about the change.
"Automakers are committed to working cooperatively and constructively with California and other states to ensure vehicles are efficient, clean, and affordable for all," said Alliance for Automotive Innovation (AAI) President and CEO John Bozzella in a written statement. "Collaboration between governments at all levels will be essential to achieving our shared goals for a cleaner transportation future that benefits all communities and enhances U.S. economic competitiveness."
Ford, General Motors, and Audi USA commended the action as well.
Bob Holycross, Ford Motor Co. vice president for sustainability, tweeted: "@Ford is still proud to be the only full-line US automaker to have agreed to comply with CA's stricter emissions standards. It was the right thing to do before the last election, it's the right thing to do now, and we're committed to doing the right thing going forward."
GM Head of Global Policy Omar Vargas said the company believes everyone should "have access to affordable, long-range electric vehicle options, and we are committed to working in collaboration with California to achieve an equitable transportation future. We're all in on putting everybody in an EV."
Audi congratulated California and tweeted that restoration of the waiver is "an important step [in] restoring the state's leadership role in driving towards an all-electric and zero-emissions future. We at Audi will continue to lead from our side with one of the largest all-electric vehicle portfolios in CA and across all 50 states."
Prior to the EPA's ruling, Newsom proposed in the 2022-23 fiscal year budget a total of $6.1 billion from various fund sources over five years for a package of proposals related to ZEVs. Most of the proposed funding would continue and/or expand existing programs, such as heavy‑duty and off‑road programs, ZEV fueling infrastructure programs, and programs focused on cleaner vehicles and mobility for low‑income households and disadvantaged communities, according to California's Legislative Analyst's Office (LAO).
IMAGES
Featured image credit: milehightraveler/iStock
More information
New greenhouse emissions standards likely will increase lightweighting
As Lucid ramps up Air production Stellantis talks EV cost, future
Nissan plans to ramp up EV production may foster increased workforce development
Share This: