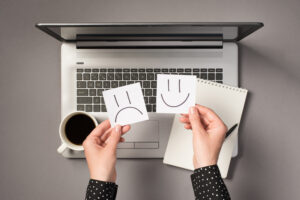 J.D. Power study finds falling customer satisfaction with digital insurance offerings
By on
Insurance | Technology
Customer satisfaction with insurers' digital offerings has fallen, despite significant investments in customer-facing websites and mobile apps, a J.D. Power study of the property and casualty (P&C) insurance industry has found.
J.D. Power found that customer satisfaction with the digital shopping experience fell 16 points over the past year, to 499 on its 1,000-point scale. It attributed the decline to customer frustration with rising rates and the inability to find lower premiums through shopping for a new policy.
Customer satisfaction with the digital service experience fell by one point, to 705, J.D. Power said. The service experience includes such factors as ease of navigation, speed, visual appeal, and information/content.
The study also found that traditional insurers' access to human support when needed by customers is helping them to keep pace with insurtechs, which it said benefit from higher speed and visual appeal metrics.
The 2022 U.S. Insurance Digital Experience Study, which was redesigned this year, evaluates digital consumer experiences among both P&C insurance shoppers seeking quotes and existing customers conducting typical policy-servicing activities, J.D. Power said.
This study did not ask about consumers' experience of the digital claims process, which is covered by a different study released in December. That study found the insurance industry lagging far behind other industries, with none of the most important key performance indicators achieving even a 50% success rate.
In its latest study, J.D. Power found that "The streamlined user experience, seamless customer support and improved navigation that was supposed to define the digital transformation of the property and casualty (P&C) insurance industry—and improve customer satisfaction — has been overpowered by rising rates."
According to TransUnion, auto insurance premiums have gone up 4.3% on average over the past four months. While 39% of consumers shopped for a new policy, just 21% ended up switching insurers, it said.
"What's hampering the shopping is that there's no good rates to be found out there," Robert Lajdziak, director of insurance intelligence at J.D. Power, told Repairer Driven News. "That's leading to a lot of frustration among consumers."
While consumers have become more price sensitive, Lajdziak said, "there's not a lot of switching going on because people aren't finding a better price."
"We're also seeing a clear trend in which more than half of digital insurance shoppers are choosing not to use digital tools or educational resources to help them through the shopping process. This further exacerbates the decline in customer satisfaction," Lajdziak said. According to the study, 54% of insurance shoppers did not use any shopping tools during their quote processes.
One takeaway, he told RDN, is that the ability to speak with a person can help to mitigate consumer dissatisfaction. When compared to a digital-only process, "brands that have agents as part of the process are better able to explain the economic forces that are driving up rates." That's especially true when consumers don't use the digital tools available.
This does not mean that customers dislike the idea of "touchless" interactions, Lajdziak said.
"Customers really do like self service platforms when they work. It's when they don't work that leads to added frustration," he said. "Specifically, if I were to comment a little bit on claims to make a really tangible example – photo estimation. Customers take pictures of their vehicle or pictures of their home and they submit them. The claims process goes faster if the company accepts them – work starts faster, work gets completed faster.
"But if those photos are not accepted – maybe they didn't get the right angle or didn't get enough information on the photos – somebody's got to come out, or you've got to take the car to the shop for them to look at it. And that adds time and effort, and customer satisfaction is actually much lower than if they were to use the traditional process to begin with."
Michael Ellison, president of Corporate Insight, said that some carriers are doing better than others, particularly in the area of mobile apps, and that the poorer performers are keeping the overall satisfaction numbers down. Corporate Insight collaborated on the study.
The average satisfaction score among the top-performing 25% of respondents using a mobile app was 885 – much higher than any other channel. At the same time, satisfaction with the bottom 25% of respondents using a mobile app fell 358 points, to 527.
Ellison said year-to-year volatility among the carriers in the study is an indication that "smart investments in good technology can drive rapid performance improvement."
According to J.D. Power, Safeco ranked highest in the service segment with a score of 738, followed by State Farm (733) and Progressive (725). Regional insurers scored highest in the shopping segment, with Country Financial (525) ranking first, and Auto Club of Southern California (517) and Auto-Owners Insurance (517) ranking second in a tie.
J.D. Power did not release the full results of the study, which was based on 10,671 evaluations and was fielded in February-March 2022.
More information
P&C Insurer Digital Investments Not Enough to Offset Rising Rates, J.D. Power Finds
https://www.jdpower.com/business/press-releases/2022-us-insurance-digital-experience-study
Images
Featured image by InspirationGP/iStock
Share This: