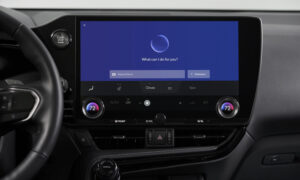 Toyota's new infotainment system, called "Intelligent Assistant," is another example of why collision repair shops should know how to help customers clear personal identification information (PII) stored on their vehicles when they've been deemed total losses or are going to be sold.
As Toyota points out, it's easy for occupants to ask the assistant where the nearest coffee shops are and directions to get there, but it's much more complicated behind the scenes where there's "a complex web of commands, hand-offs, and processing" working through the car and the cloud to complete the tasks. In a Society of Collision Repair Specialists 2021 Quick Tips video, CollisionAdvice.com CEO Mike Anderson notes that most people today use their vehicles as "a smartphone on wheels."
"That means they may have their home address stored into their GPS or navigation unit," he said. "They may have their personal contacts stored where they use Bluetooth and make voice-activated calls or last but not least, they may have their garage doors coded into the vehicle."
It's always best for shops to ask customers if they'd like their personal information to be erased before vehicles are taken from the shop by tow truck drivers, Anderson added. It is, however, a not-included operation.
With all that in mind, consumers and repairers should be mindful that in-vehicle features from advanced driver assistance systems (ADAS) to infotainment and navigation are only going to become more commonplace, likely to collect more data that owners won't think twice about giving and as Toyota said in reference to "Intelligent Assistant," is "constantly getting smarter, looking at accuracy and tweaking commands to add more ways to ask for specific functions."
Toyota Connected Product Owner Ryan Oehler leads the team responsible for the OEM's new infotainment system, which is available in the 2022 Lexus NX, Lexus LX, and Toyota Tundra and will be available in 2023 models.
"There's a lot of opportunity," Oehler said. "There's value with a voice assistant because it adds depth to the experience, is smart, and can and likely will strengthen consumer confidence as more people use it and evolves in future iterations."
He said the system is cloud-based and supplements the onboard voice assistant. The first step is automatic speech recognition. When the driver pushes the talk button in the vehicle, it transcribes that speech to text, both in the vehicle's embedded computer and over the cloud.
"It's doing things like looking at the waveforms of the audio, and it's actually able to understand, phonetically, what that translates to and formulate transcriptions based on that audio input," Oehler said in a news release.
The transcribed command text is then processed by Toyota Connected's machine learning models in the cloud to determine the intent of the words being used then it's fed back to the vehicle where notes are compared between the embedded and cloud voice assistants to ensure the car is most accurately executing the command the user actually wants.
"Certain audiences expect to interact in completely different ways," Oehler said. "Younger audiences that are more familiar with their modern voice assistants tend to operate in a more fluid manner, whereas people that are less familiar would say, 'Navigation' and then 'Texas' in a series of steps," for instance. To help the user, we've added more contextual things, such as prompts, to help guide them through this new user experience. One of the other important things that we're learning is what our customers want to use on a daily basis."
IMAGES
Featured image: Toyota's new "Intelligent Assistant" is pictured in use. (Photo provided by Toyota)
Share This: