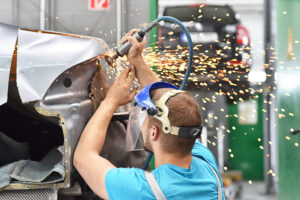 In response to an annual survey conducted by the ASE Training Managers Council (ATMC), 63% of collision technicians said the training they need the most is in collision structural repair. However, interestingly, about 18% of aftermarket/independent respondents also said they didn't complete any training in 2021.
ASE conducts the survey to gauge training benchmarks within the automotive and heavy vehicle service and repair industry "to help the industry recognize trends, provide a comparison standard, and align the offerings of training providers with the needs of training consumers."
Participation was down this year compared to last year with 3,343 respondents versus 6,893. In fact, the response hasn't been nearly that low since 2017. The majority of respondents, 65.46%, were automotive repair technicians, followed by shop managers (14.06%) and instructors (10.24%). Eighty percent of the auto technician respondents work at OE dealerships while 89% of collision techs work at aftermarket or independent shops. Similar to results of the 2019-2021 surveys, 73% of respondents said they've had vocational-technical training. About 36% said they have worked in the automotive industry for 30 years or more.
Regarding the need for more collision structural repair training for collision techs, ASE Credential Testing Programs Vice President Matt Shepanek told Repairer Driven News that he thinks "a lot of that is material-based."
"So many manufacturers are coming in with aluminum and hybrid construction," he said. "Aluminum used to be used in higher-end cars, sports cars, European cars — things like that — but in the past 10 years, we've seen more manufacturers using aluminum so that's kind of brought it to the mass market. I believe what you're seeing is that people are realizing that and there's other manufacturers going into it and the industry is saying, 'Hey, we need some help here.'"
Shepanek also noted, from having previously worked as an OEM training manager, that OE dealerships and certified shops are the first to get repair training while it tends to take longer for independent shops to gain access.
Close behind collision tech respondents' desired need for structural repair training was the request for more hybrid and electric vehicle (EV) systems training by 59.3% of respondents, and 44.4% said they want more electrical and electronic training. More paint and refinish and advanced driver assistance systems (ADAS) training were tied as a request by 40.7% of respondents and coming in last was more estimation training by 33.3% of collision technician respondents.
ASE recently began offering a new L4 ADAS specialist certification test, which covers the diagnosis, service, and calibration of radar, camera, and ultrasonic systems as well as other ADAS, according to the institute's website. Either the "Automobile Electrical/Electronic Systems (A6)" test or "Collision Mechanical & Electrical Components (B5)" test must be passed first to take the ADAS test.Visit ase.com/test-series to download study guides and register for the test.
As for the number of training hours completed in a year, he attributed 37% of all respondents completing one day or less of training and 18% of aftermarket and independent employees not completing any training to OEMs pushing for the completion of required certification programs at OE-certified shops and dealerships. The pandemic also created a drop-off in training participation over the past couple of years because of limited access to hands-on training, Shepanek said.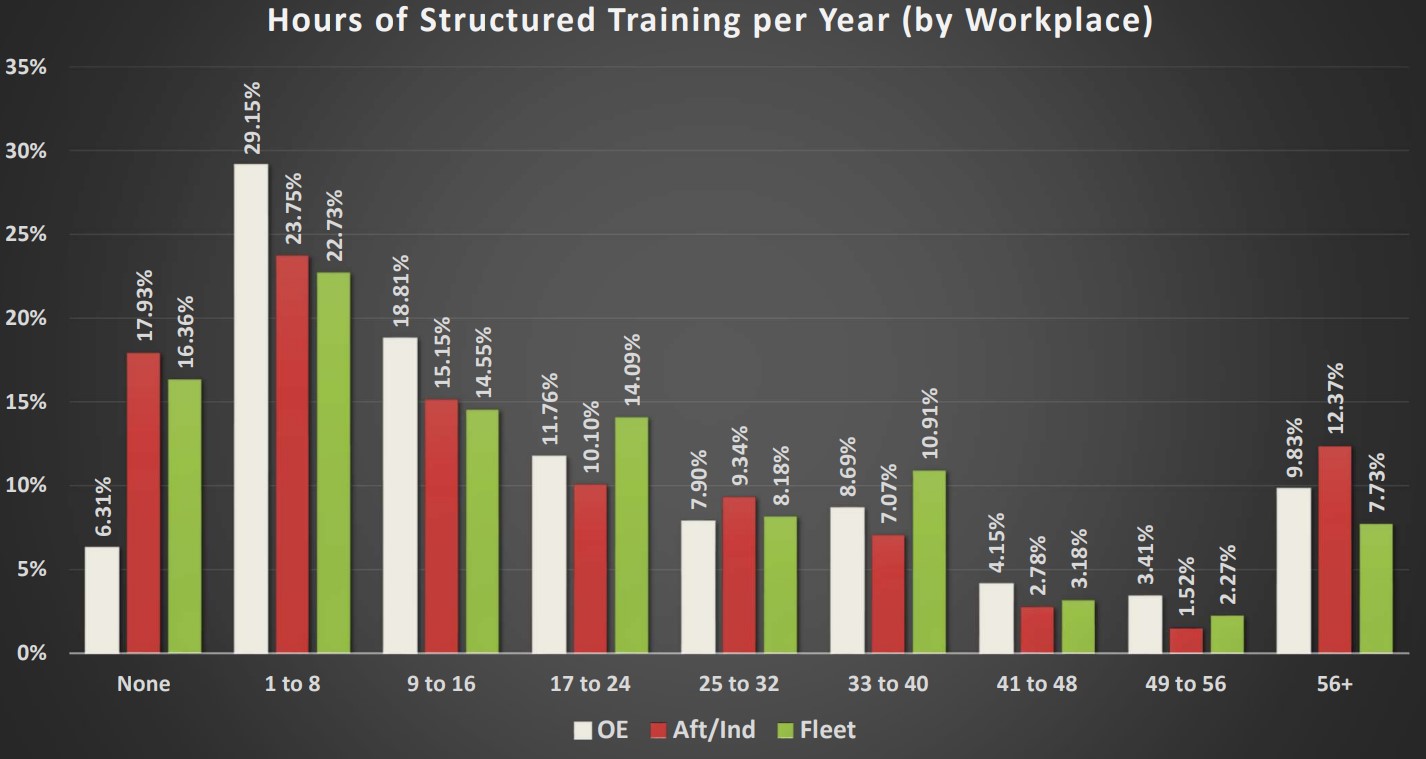 Just under 44% of respondents said they don't have access to the training they need, down from 51.12% last year. Fleet technicians were the highest percentage (59.55%) to say they don't have access followed by aftermarket and independent techs at 48.48%. The No. 1 reason for not having access was attributed to pandemic restrictions, which 54.74% said was an issue, and the second was that the "right topics" weren't available (42.02%). Respondents also said quality training wasn't available (35.26%), they couldn't take time off of work (24.47%), and that training costs too much (18.06%).
It's also evident from the survey results that respondents want more in-person and instructor-led training in the classroom (20.5%) and hands-on (18%). However, "self-paced e-learning" wasn't far behind as a desire by 16% of respondents.
IMAGES
Featured image credit: industryview/iStock
"Hours of Structured Training per Year (by Workplace)" graph (Provided by ASE)
Share This: