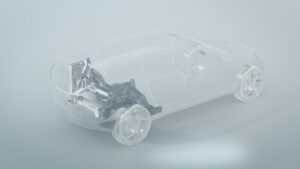 An increasing number of EV producers are showing interest in integrating large aluminum castings, or mega-castings, into their vehicle structures, in spite of "many doubts about repair ability, life cycle and aging," according to a new whitepaper from research firm Ducker.
Among the authors' conclusions is that, because these giant castings are "not of a nature to be straightened or even replaced," even a minor accident could lead to a vehicle being declared a total loss.
"Cars with these parts are … stiffer, simpler, but also more disposable, especially since the aging of such massive casting parts is not yet known," authors Bertrand Rakoto and Leonard Ling note In the whitepaper, "2022 Mega-Casting Trends for Automotive Manufacturers."
Rakoto, Senior Engagement Manager – Global Automotive Practice Leader, and Ling, Senior Analyst – Automotive Knowledge Manager, note that Mercedes-Benz, Volvo, and Volkswagen are among the OEMs following Tesla's lead in the use of mega-castings, in spite of the industry's limited experience with the technology.
Mercedes-Benz is "aiming for maximum cost reduction and weight reduction" on its EQXX, a low-volume vehicle unveiled as a concept during the last Consumer Electronics Show. "The vehicle is a technological exercise as Mercedes-Benz aims not only for lower production costs, but also for weight reduction (which mega-casting makes possible) leading to a better management of energy consumption to increase range," the whitepaper says.
Volvo announced in February that it will be investing the equivalent of just over $1 billion in its Torslanda factory to produce vehicles that use giant aluminum castings. The OEM's goal, the whitepaper notes, is "to reduce the weight of vehicles, to improve the use of interior space, and to be able to develop several vehicles capable of using the same modules based on the same body-in-white elements (mega-castings)."
In announcing its investment, the OEM said mega-casting "creates a number of benefits in terms of sustainability, cost and car performance during the car's lifetime, and Volvo Cars is one of the first car makers to invest in this process."
Volkswagen, which is mounting a challenge to Tesla in the EV segment, intends to consider the use of mega-castings as part of its new Project Trinity, aiming to speed up production through "ramped-up automation" and the replacement of dozens of components with single-piece aluminum castings.
"Tesla says it can already churn out a Model Y in 10 hours at its new Giga Berlin-Brandenburg factory in Gruenheide near the German capital, whereas it can take Volkswagen three times as long to make its ID.3 electric car," Reuters reported.
Meanwhile, two Chinese EV startups, Nio and Xpeng, have committed to mega-castings by ordering injection molding machines capable of 12,000 tons of force from IDRA (LK Machinery), the whitepaper says.
"The adoption of these mega-castings by manufacturers other than Tesla are perplexing at this point," the authors write. "To develop a definitive idea, volume increases, technological improvements, and the first customer feedback on high-mileage vehicles will be needed. However, with certainty the sudden enthusiasm of premium manufacturers for these solutions tends to prove that the economic equation and the profitability of electric vehicles are far from being resolved."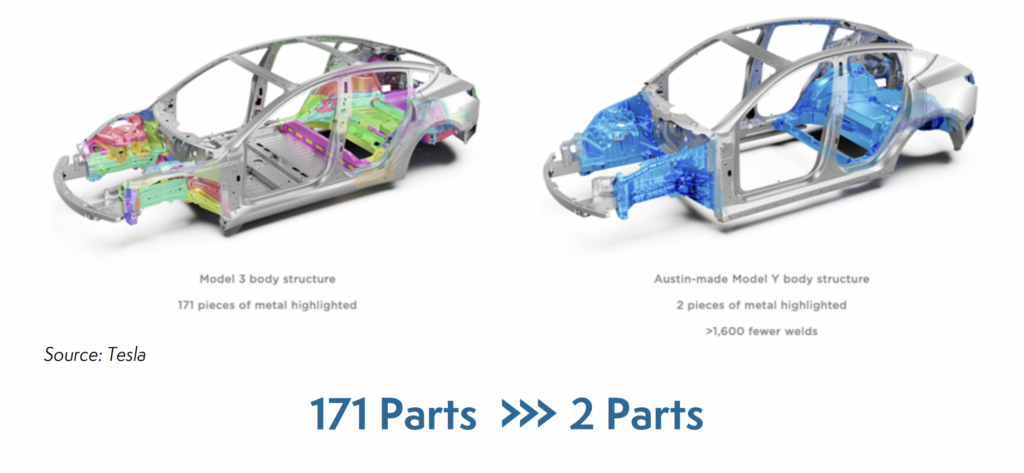 For Tesla, which put mega-casting into volume production on the Model Y in January 2021, the appeal of the process lies in lower production costs. "Elon Musk said this solution removes 300 robots from the assembly line on Munro Live (YouTube). Mega-castings allow to improve profitability by reducing assembly time, length of the assembly line," the whitepaper says.
"In terms of reparability, the casting component is not of a nature to be straightened or even replaced. If it bends or breaks, the vehicle will be a total loss. However, this is unlikely to slow Tesla down in its approach as the manufacturer is considering a new Giga-casting part for the front of the future Model 3 and Model Y," as well as a cast tray for the battery pack, the authors say.
Because "the casting is not of a nature to be straightened or even replaced," breakage will lead a vehicle to be classified as a total loss, the whitepaper says. "The lack and cost of parts, as well as the below-average ability for repair, are reasons enough for a minor fender-bender to turn a Tesla into a wreck in the eyes of insurers."
Musk enthused about the process in a January 2021 tweet: "With our giant casting machines, we are literally trying to make full-size cars in the same way that toy cars are made."
In response to a question from Repairer Driven News, the authors said the use of the technology is too new to draw reliable and accurate crash data about the current effect of mega-castings on claims.
Only Tesla is using the technology, and its lack of an aftermarket parts policy "leads to higher total loss verdicts after a crash," they said. "Therefore, even with numbers, it would be difficult to attribute the nature of a total loss just to the Mega castings. If it exists, such data could be available from insurance companies and would necessitate a qualitative analysis to distinguish the reasons behind a total loss decision."
They added that aluminum market foundries that participate in the mega-casting supply chain, such as Rio Tinto, are developing new alloys to enable better repairability for mega-castings, such as welding properties for future repairs.
Rakoto and Ling cast doubt on the efficiency of die-casting as an assembly of solution. Because dies have to be designed to allow molten aluminum to reach the far ends of parts without turbulent flow, they cannot incorporate thin-wall design in areas where high strength and stiffness are not required.
For that reason, cast aluminum parts require a minimum thickness of 2 to 3 millimeters, versus 0.7 millimeters for sheet steel.
The whitepaper notes that Mercedes-Benz is working on that problem, with a Bionicast process to reduce excess material in those areas where greater strength is not needed, while Volvo expects a 15% weight saving over steel through design optimization.
Further, while the set-up time and the scrap rate (45% at Tesla in 2021) "are often highlighted with more importance than with stamping parts," the process requires more adjustments. "Confirmed by suppliers, the delays Tesla has experienced in Berlin and Austin are not only administrative or financial, but also technical," the authors say.
In spite of the concerns, mega-casting does show promise in some areas. Material utilization can be increased, as well as the use of scrap aluminum. Volvo says that 100% of its aluminum will be utilized, versus 55% of stamped steel parts, and that half of the aluminum can be a secondary alloy, promising a CO2 emissions reduction of 35% or more.
Rakoto and Ling say that the "limited experience" with the use of mega-castings leaves many concerns unanswered, and leave OEMs "innovating by trial and error."
"With cost-reduction being the end-game for Mega-casting technology, the sudden enthusiasm of premium manufacturers for these solutions tends to prove that the economic equation and the profitability of electric vehicles are far from being resolved," they conclude.
More information
Ducker: Mega-casting trends for automotive manufacturers
https://ducker.com/mega-casting-trends-for-automotive-manufacturers/
Volvo Cars to invest SEK 10bn in Torslanda plant for next generation fully electric car production
https://www.media.volvocars.com/global/en-gb/media/pressreleases/294360/volvo-cars-to-invest-sek-10bn-in-torslanda-plant-for-next-generation-fully-electric-car-production-1
Images
Featured image: A mega-casting incorporated into the body in white of a future Volvo EV. (Provided by Volvo)
A Tesla Model Y, right, uses 2 aluminum mega-castings in place of the 171 components in a Tesla Model 3. (Provided by Ducker)
Video provided by Volvo.
Share This: