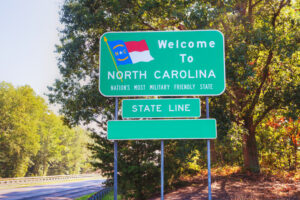 North Carolina bill would place restrictions on EV charging stations
By on
Legal | Technology
A bill under consideration by North Carolina legislators would prohibit building free electric vehicle (EV) charging stations on public property unless they also provide free gasoline and diesel fuel.
House Bill 1049 also addresses charging stations built on private property, requiring the businesses to tell all customers how much of their bill goes toward subsidizing the electricity used, whether or not the customer charges an EV.
The bill, titled "Equitable Free Vehicle Fuel Stations," is sponsored by Reps. Keith Kidwell, Ben Moss Jr., Mark Brody, and George G. Cleveland — all Republicans.
The bill specifically mentions the North Carolina Department of Transportation (NCDOT) in its ban on building chargers on public land, and includes $50,000 for NCDOT "for the purpose of removing any electric vehicle charging stations that do not comply with the provisions of this act."
The proponents have not explained why they feel the legislation is necessary, or what problems it would address. Brody directed questions from Repairer Driven News to Kidwell, and he and the other sponsors had not responded as of the publication deadline.
State Rep. Jon Hardister (R-Whitsett), the House majority whip, told local station CBS 17 that he had "just glanced at the bill" and had not had any conversations about it. "It doesn't seem to be something that is moving forward," he said.
Not mentioned in the bill is its possible effect on North Carolina's $16 million share of the $5 billion the U.S. Department of Transportation plans to spend over five years on building charging stations along interstate highways.
Tech website TNW took a dim view of the proposal, calling it "an environmental disgrace" and "an evident anti-EV polemic, provocatively disguised as 'equity.'"
Collision repairers and other businesses that have installed chargers on their property might have difficulty calculating each customer's share in the electric bill "unless they can accurately determine how much business came in as a result of the free charging," TNW said.
The requirement to provide free gasoline or diesel fuel is even more unworkable, TNW said, "simply because it'd be impossible to install free gas stations. The higher price of gasoline compared to electricity would require larger public funds, which would, in turn, require heavier taxes."
The bill seems to be at odds with North Carolina's support of EVs as part of the state's plan to reduce greenhouse gas emissions by 50% from 2005 to 2030. Gov. Roy Cooper's Executive Order No. 246 (EO 246)​​, signed Jan. 7, 2022, sets a goal of at least 1.25 million registered zero emission vehicles (ZEVs) in the state by 2030.
"Reducing greenhouse gas emissions in the transportation sector is a critical component of the state's strategy, and the N.C. Department of Transportation has been working with stakeholders to develop plans and strategies to reduce transportation emissions," NCDOT says.

As of February, there were 26,209 EVs and 12,518 plug-in hybrid vehicles (PHVs) registered in North Carolina.
"Electrification of transportation is exciting and challenging. Market forces are already pushing us in the direction of electric vehicles, but our electric 'refueling' infrastructure is lagging. Investments are being made and more are coming in the form of grants, incentives, and substantial federal investments," reads a document on EV charger installation provided by NC Clean Energy. "Our challenge here in North Carolina is to prepare now for this influx of funding, to ensure we are ready for it, and that we use it effectively and efficiently."
In February, Cooper toured PoleVolt, a new, free EV charging station in Charlotte created by a partnership between the City of Charlotte, Duke Energy, Centralina Regional Council, and UNC Charlotte. The station uses existing streetlights to provide free curbside charging for electric vehicles and expand access to charging infrastructure for people who do not have access to dedicated off-street parking.
"The transition by vehicle manufacturers to electric vehicles is upon us and this station is just one example of how North Carolina is getting ready," Cooper said. "The quicker we move, the more affordable electric vehicles will become for everyday people. Our state is moving toward an equitable clean energy economy and public-private partnerships like this one will help make that happen."
In January, EV startup VinFast announced that it would build its first North American manufacturing plant in North Carolina, promising a $2 billion investment in the project's first phase, and the creation of thousands of jobs.
"North Carolina is quickly becoming the center of our country's emerging, clean energy economy," Cooper said at the time.
More information
BEV maker VinFast announces pricing strategy, lifelong 'battery subscription plan'
Images
Featured image by AndreyKrav/iStock
Share This: