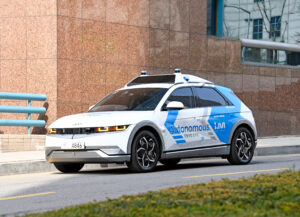 GM & Hyundai take next steps toward offering public AV ride-hailing services
By on
Technology
General Motors and Hyundai have made recent progress in offering autonomous ride-hailing services.
GM's Cruise became the first company earlier this month to secure a permit to charge for self-driving car rides in San Francisco after overcoming objections by city officials and securing a 4-0 vote of approval from the California Public Utilities Commission, according to Reuters.
Cars will be limited to a maximum speed of 30 mph in clear weather conditions, to a geographic area that avoids downtown and highways. They will only be allowed to operate between 10 p.m. and 6 a.m., according to Reuters.
The publication also reports that disability and business groups have expressed support for Cruise's paid services while emergency responders have asked for more restrictions out of concern that the "unusual behavior" of the autonomous vehicles could cause harm
Earlier this year, Waymo made another stride in autonomous vehicle (AV) history when, for the first time, a fully autonomous all-electric Jaguar I-PACE completed a route with no human driver behind the wheel in San Francisco. The Google company has been offering autonomous rides to the public in Phoenix since 2020.
Hyundai Motor Group announced last week it will pilot a RoboRide car-hailing service in Seoul, South Korea with IONIQ 5 battery electric vehicles (BEV) with in-house developed Level 4 autonomous driving technology. The OEM plans to further develop the pilot service, called "RoboRide" to "navigate safely and flexibly in complicated urban environments" and "with consideration for various conditions, such as driving stability," according to a news release.
The Society of Automotive Engineers (SAE) defines Level 4 driving automation as fully autonomous that doesn't require the person seated in the driver's seat to take over at any time.
Hyundai has obtained a temporary autonomous driving operation permit for RoboRide and will collaborate with Jin Mobility, a Korean startup operating the artificial intelligence (AI)-powered car-hailing mobility platform "i.M." on the project. The plan is to operate an initial demonstration service for Hyundai personnel and then expand RoboRide to customers in the future.
"At Hyundai Motor Group, we are developing level 4 autonomous driving technology based on the internally developed Advanced Driver Assistance System (ADAS), whose functionality and safety are verified through mass production and successful commercial launch," said Woongjun Jang, Senior Vice President and Head of the Autonomous Driving Center of Hyundai Motor Group, in the release. "We expect this RoboRide pilot service will be an important inflection point that will enable us to internalize autonomous driving technology."
Hyundai expects to collect "valuable autonomous driving data" from the pilot project. Trips in AVs during the pilot will be monitored by a remote vehicle assist system to ensure safety, the release states.
"Based on the level 4 autonomous driving technology, a RoboRide vehicle will perceive, make decisions, and control its own driving status, while its safety driver will only intervene under limited conditions."
IMAGES
Featured image: Hyundai plans to pilot autonomous ride-hailing service "RoboRide" with Jin Mobility's AI platform "i.M." in Seoul, Korea. (Credit: Hyundai Motor Group)
Share This: