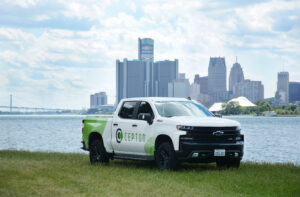 Cepton opens office in metro Detroit, pursues making lidar a 'must-have' component
By on
Announcements | Technology
Cepton, the Silicon Valley company supplying lidar units to General Motors, has opened a new corporate office in metropolitan Detroit. Cepton said the office will serve as its "automotive hub" as it "continues to expand its active engagements and initiatives with original equipment manufacturers (OEMs)."
The tech firm last year won a contract to supply GM with its sensors for various future production vehicle programs, in support of Ultra Cruise, the OEM's semi-autonomous driving technology. GM will introduce Ultra Cruise on the 2024 Cadillac Celestiq, a flagship electric vehicle (EV).
GM has said that Ultra Cruise will ultimately make hands-free travel across most of the U.S. and Canada possible. It will launch covering more than 2 million miles of paved roads, the OEM said in a November announcement.
The new office, located in Troy, Michigan, will provide space for members of Cepton's senior leadership team as well as product, program management, business development, application engineering, sales, and corporate marketing, Cepton said in a press release.
Jun Pei, the company's co-founder and CEO, said in a statement that the opening of the new offices will help Cepton pursue its goal of making lidar a standard feature on all new vehicles.
"As we continue to expand our engagements with all of the top ten global OEMs, locating our experienced team in Detroit will serve us well," Pei said. "Our expanded footprint will help us reach our goal of making lidar a standard safety feature in the cars of today and the key component in the autonomous vehicles of the future."
Brunno Moretti, Cepton's VP of product, said the company is working to make lidar "a must-have 'auto part' in every passenger car."
"Having a strong presence in Detroit not only enables us to keep up with the latest trend in the industry but also makes us part of that trend – we are here to demonstrate how lidar is essential to the future of mobility, with our product experts driving informative communications and our application engineers working in the field," said Moretti, who will head the Troy office.
Besides GM, there may be many more OEMs using Cepton's technology in the relatively near future. In an SEC filing, the company said it is engaged in discussions with all of the 10 largest OEMs in the world as well as with four new EV OEMs.
Ford Motor Co. has also been working with Cepton, evaluating the company's lidar sensors for its ADAS research and development, possibly for a semi-autonomous successor to Ford's BlueCruise ADAS system that could compete with Ultra Cruise.
Ford has also partnered with Cepton on its "smart cities" program. Sensor pods using Cepton lidar units are being tested with the Argo AI automated vehicle fleet in Miami.
Lidar is expected to be one of the key sensors to enable autonomous, or SAE Level 3 and up, driving. Venture capital firm Microtech Ventures reports that more than 95 companies are developing automotive-grade lidar sensors, and have attracted investments of more than $5.6 billion.
In a January interview with Repairer Driven News, Pei said that the launch of the Celestiq will represent lidar's breakthrough into the mainstream.
The agreement with GM calls for the use of lidar in four models initially, and then an additional four in 2023-24. "These models will cover certainly luxury sectors, as well as the main classes" of vehicles, Pei told RDN.
To date, only EV startup Lucid has offered lidar-equipped vehicles to North American buyers. European and Asian automakers, including Audi, Mercedes-Benz, Volvo, and Honda, have incorporated the technology into a few high-priced vehicles.
Cepton, founded in 2016, has partnered with Japanese lighting manufacturer Koito to bring its units to market. Cepton is providing its technology and certain components to the Tier 1 manufacturer, which is supplying the sensors to GM.
More information
Tech firm CEO predicts automotive lidar technology is about to go mainstream
Cepton Expands Footprint in Metro Detroit
https://www.cepton.com/announcements/cepton-expands-footprint-in-metro-detroit
Images
Featured image: Lidar company Cepton said its new Detroit office will serve as its automotive hub as it continues to expand its active engagements and initiatives with OEMs. (Photo provided by Cepton/Business Wire)
Share This: