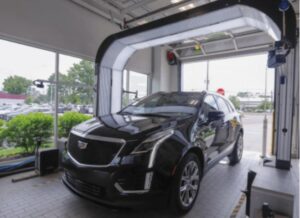 UVtech, GM partner to offer AI inspections at dealerships; other tech products in the works
By on
Technology
More than 4,000 U.S. General Motors dealerships are now eligible to purchase UVeye's automated high-speed systems to inspect damaged vehicles.
UVeye systems use artificial intelligence (AI), machine learning, and high-definition camera technologies "to quickly and accurately check tires, underbody components, and vehicle exteriors for defects, missing parts, and other safety-related issues," according to a joint news release.
As for how the tech could help collision repairers, GM spokesperson Miesha Krueger, on behalf of the OEM and UVeye, said the systems provide before and after damage photography that can be used as a visual comparison and a standardized condition report when writing an estimate.
"It also adds an additional level of transparency and improvements in overall levels of customer satisfaction," she said.
GM's initial focus is to add UVeye at its U.S. dealerships in a market-by-market rollout, and then to expand it globally.
The dealerships have access to three high-speed UVeye systems that use "a unique combination of proprietary algorithms, cloud architecture, AI, machine learning, and sensor-fusion technologies," including Helios, Artemis, and Atlaslite.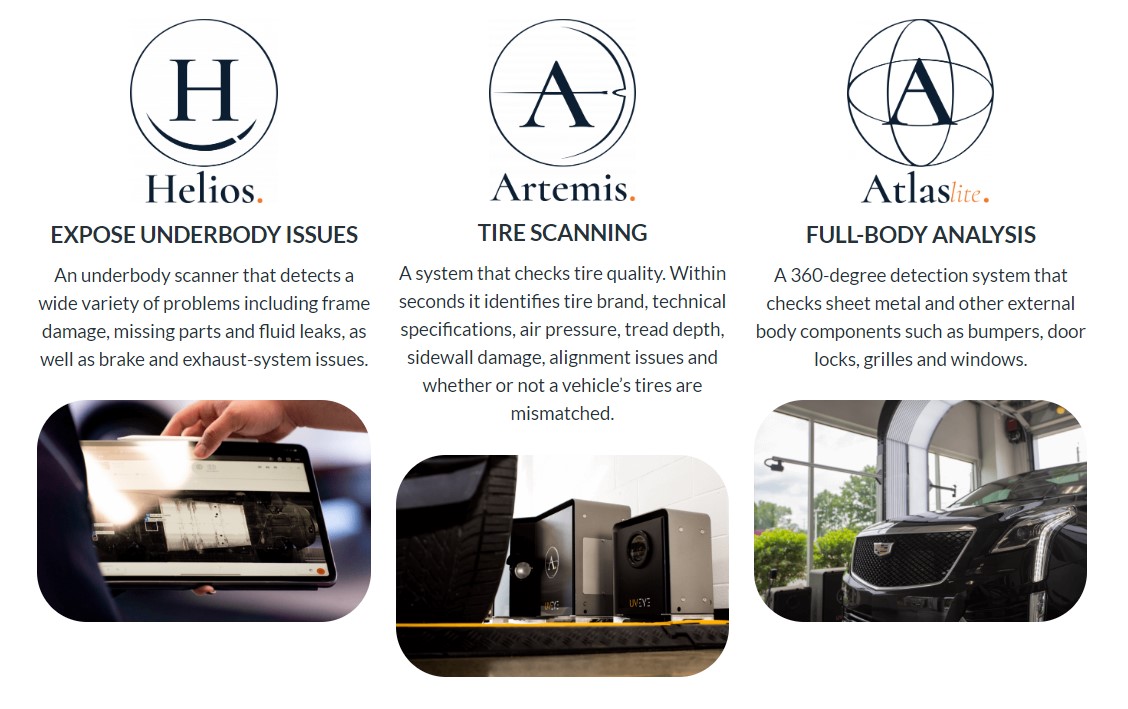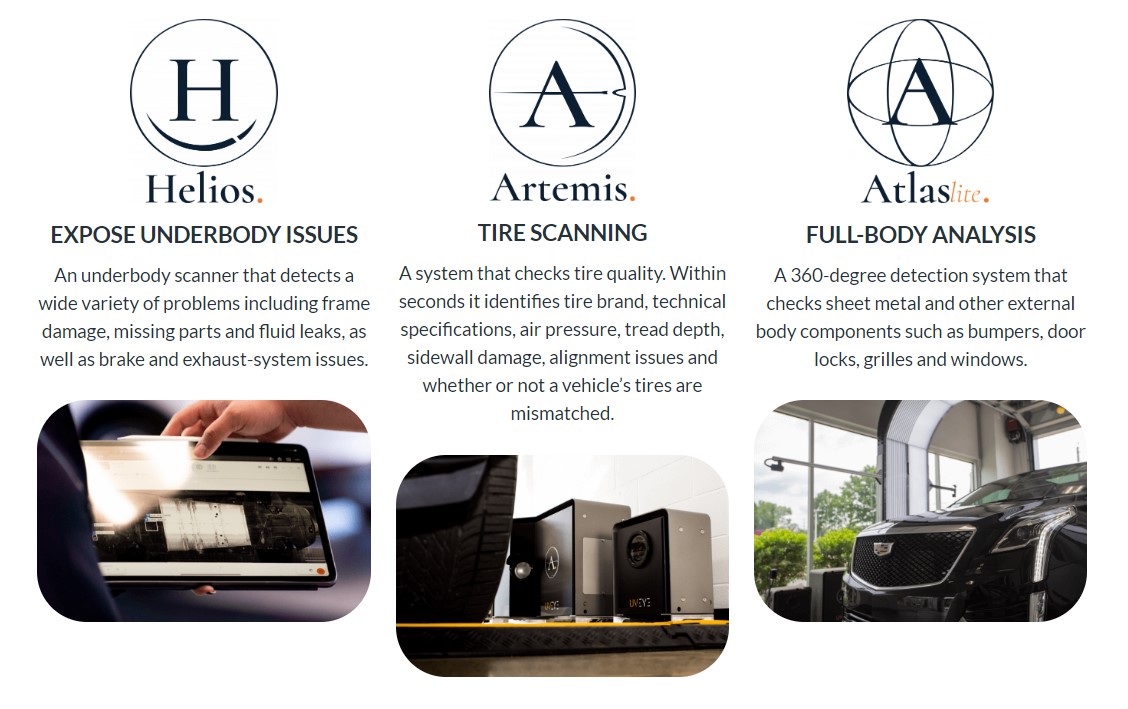 GM's capital venture arm, GM Ventures, announced last week it invested in UVeye "to help fund the development and commercialization of the company's vehicle inspection technology" and inked a commercial agreement to expand the tech to its dealerships.
As part of the agreement, the companies will work on vehicle inspection technology projects for used car auctions, fleet operations, and automotive dealership sales. Krueger said the vehicle inspection systems will be beneficial to those operations in many of the same ways they are to dealerships through "improved levels of customer satisfaction, fast and accurate inspections, more efficient utilization of service-department staff time and photographic record for use with customers."
"In the case of auctions, the UVeye technology allows for a standardized condition report to assist on the value estimate of the vehicle," she said. "It also offers an additional level of transparency for buyers and sellers. Preventive maintenance triggered by UVeye inspections can result in cost savings for fleets by avoiding the need for more expensive repairs that might be required later."
UVeye can be used on all vehicles, including electric vehicles (EVs) and autonomous vehicles (AVs) because its databases and inspection algorithms are continually updated with the most current information on EVs and advanced driver assistance system (ADAS) platforms. This will continue to be updated as GM launches new electric and autonomous vehicles.
The companies plan to also work together on exterior scan and photography technology to generate online interest and potential sales for used vehicles.
"We are on a journey to create the best customer service experience possible and the implementation of UVeye into our dealership service lanes helps us do that, providing real-time, consistent, and accurate feedback to our customers will help us ensure they are getting the best performance out of their vehicle," said GM Global Customer Care & Aftersales Vice President John Roth, in the release.
UVeye CEO and co-founder Amir Hever noted that automated inspection processes take seconds to complete and are "significantly more accurate than time-consuming manual inspections commonly in use today."
UVeye has partnerships with numerous dealership groups, used car auctions, and vehicle fleets, according to the release. The most recent venture was with Volvo, which said in March UVeye would be rolled out at dealerships in the U.S. — first on the East Coast. 
Krueger said several GM dealers independently installed UVeye into their service lanes and "saw positive results for their customers," including streamlining dealership operations, freeing up technician bandwidth, and offering increased credibility and trust with customers. Based on that, GM saw the tech company's potential, she said.
Hever said he believes that UVeye shares a common vision with GM for improved service quality that can benefit dealers, service technicians, and customers.
"High-speed inspection equipment can serve as tools of empowerment for new-and used-car dealers," he said. "We very much look forward to working with GM in the months and years ahead. Both companies share the same vision and sense of innovation and when it comes to vehicle quality, the future is a bright one."
IMAGES
Featured image: UVeye in use. (Credit: UVeye/GM)
Helios, Artemis, and Atlaslite system descriptions (Credit: UVeye/GM)
Share This: