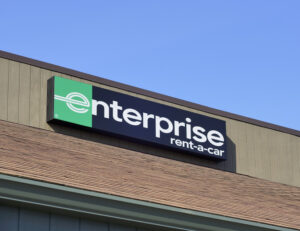 Enterprise: Length of rental remains elevated for Q2, with shop-insurer communication delays a factor
By on
Collision Repair
The average length of collision-related rentals was 17.7 days in the second quarter of 2022, a drop of a half-day from the first quarter, but an increase of 4.5 days from the second quarter of 2021, Enterprise reported.
Though overall length of rental (LOR) totals remain much higher than in past years, the numbers fit with annual trends, with second quarter results traditionally the lowest of the year, Enterprise said in its quarterly U.S. Length of Rental report.
"While trending seems to be reverting to historical normalcy, the results themselves continue to illustrate a 'new normal,'" the company said.
Data shows that communication delays between the shop and insurer are a factor in LOR, in addition to supply chain disruptions, parts delays, collision repair backlogs, claims process challenges, and technician shortages, Enterprise told Repairer Driven News.
"Initial approval process delays are often felt more keenly on non-drivable claims, as the customer may be in a replacement rental shortly after the loss occurs, whereas many carriers authorize replacement rentals for drivable claims once repairs are ready to begin (and approvals reconciled). But any supplement delays will be felt on both drivable and non-drivable claims equally," Enterprise said.
Speaking specifically about non-drivable claims, the report states, "We spoke with Dominic Martino, owner of Gold Coast Auto Body in Chicago, who shared: 'We are consistently seeing 7 to 10 business days elapse between initial estimate or supplement submission and repair authorization. And if the submission requires reconciliation, we could see an additional 3 to 5 days. When insurer staff are coming into the shop in-person, we see reconciliation times drop to 24-48 hours.'"
Enterprise said it found little regional difference in the results, confirming that the increases are the result of nationwide factors.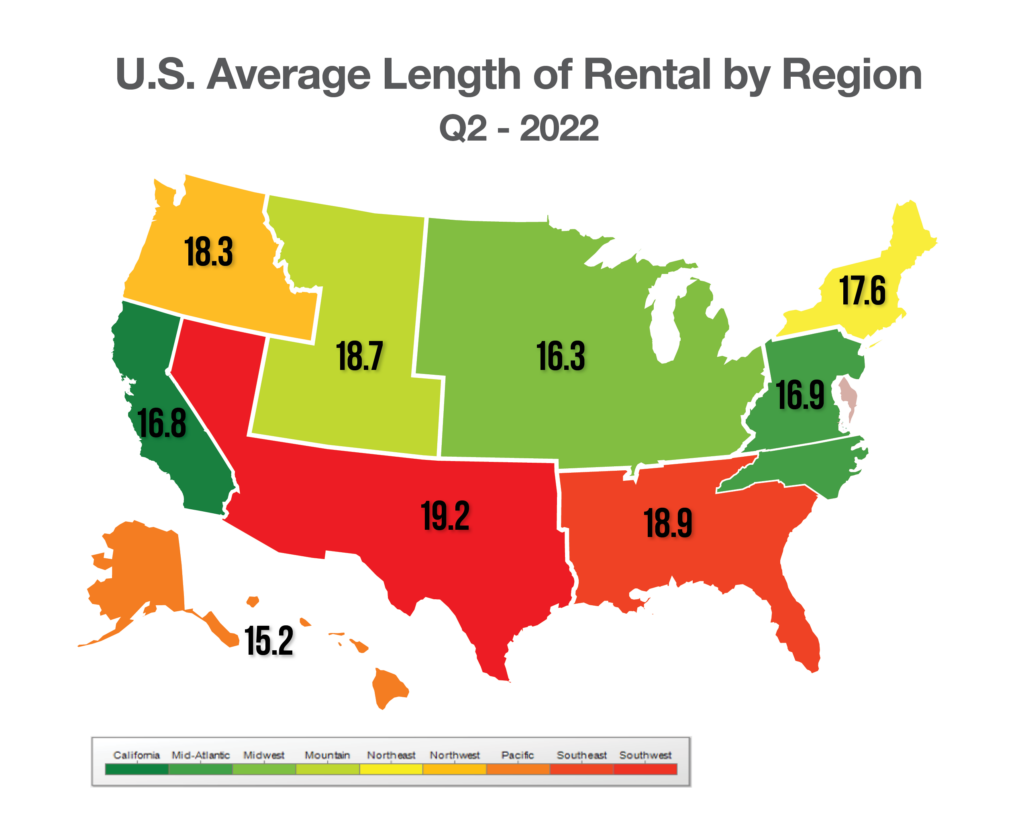 Regionally, LOR was highest in the Southwest, at 19.2 days – an increase of 4.9 days from 2021. The Pacific, which incorporates Alaska and Hawaii, had both the lowest LOR, at 15.2 days, and the smallest increase – 2.5 days. This was heavily influenced by Hawaii's lowest-in-the-nation 13.1-day LOR.
California had the second-lowest LOR, at 16.8 days, followed by the Mid-Atlantic, at 16.9 days. Those reflect increases of 3.3 days and 4.4 days, respectively. The biggest change, 5.7 days, was experienced in the Mountain region, where LOR averaged 18.7 days.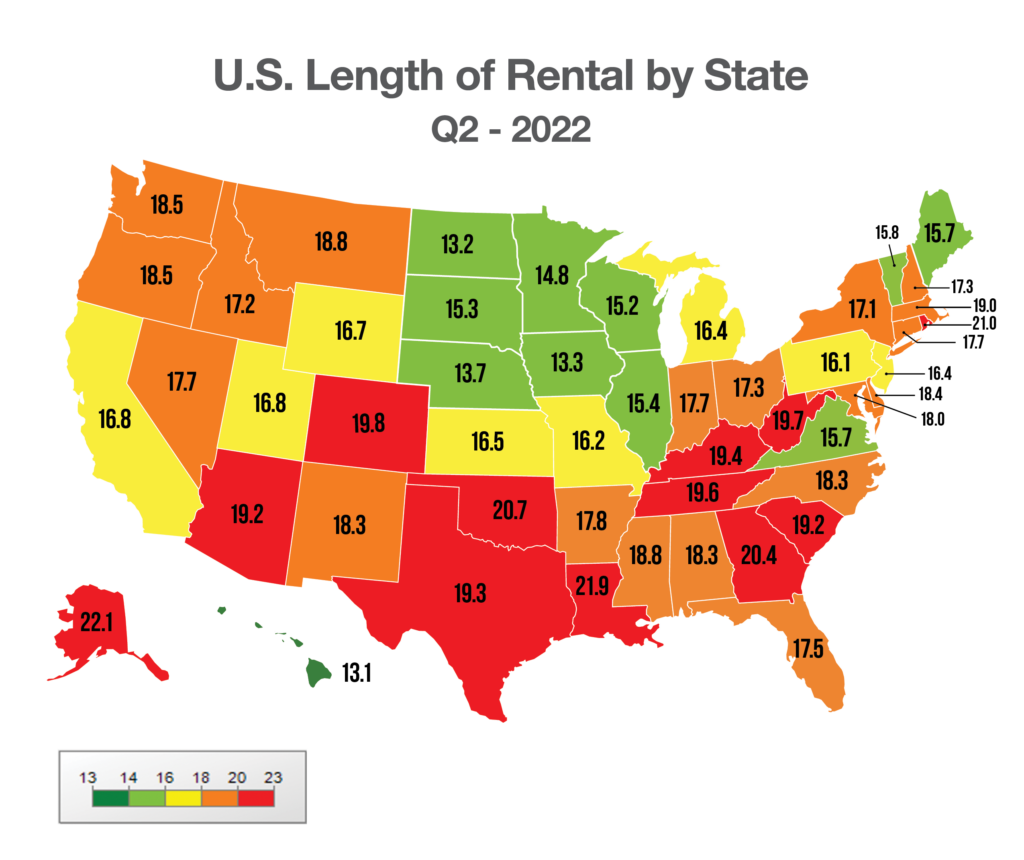 By state, Alaska, Louisiana, Rhode Island, Oklahoma, and Georgia showed an average LOR above 20 days – 22.1, 21.9, 21.0, 20.7, and 20.4, respectively. A number of other states stood at or above 19 days, including Arizona, Colorado, Kentucky, Massachusetts, South Carolina, Tennessee, Texas, and West Virginia.
The states with the lowest LOR were Hawaii (13.1), North Dakota (13.2), Iowa (13.3), and Nebraska (13.7). Hawaii also had the lowest increase from Q2 2021 at 1.2 days. Nebraska (2.5) and Iowa (2.7) were the only other states to have increases of less than three full days.
Parts still delayed
Greg Horn, chief innovation officer for PartsTrader, told Enterprise that, while new OEM parts availability "is still driving many delays," the number of OEMs showing long delays has fallen.
On the whole, Horn said, PartsTrader's second-quarter median of 14.9 delivery days, compared to the first-quarter median of 15.6 days, represents a reduction of 0.7 days, "which aligns with the quarter-over-quarter LOR reduction."
He said three OEM brands showed delays of more than 20 days for parts in the second quarter, compared to six in the first quarter. "As we head in the second half of 2022, aftermarket and recycled parts supply and deliveries are returning to pre-Covid levels. Most OEMs have made significant improvements as well."
John Yoswick, editor of the weekly CRASH Network newsletter, told Enterprise that more than 100 of the 650 shops responding to the latest CRASH Network survey commented about having a backlog of work. One-third of those, Yoswick said, specifically mentioned jobs that were held up for lack of parts.
Ryan Mandell, director of claims performance for Mitchell International, offered data breaking down cycle time by vehicle type. "Luxury vehicle frequency increased to 12.9% in Q2 2022 (compared to 10.3% in Q2 2021). In addition, BEV frequency increased from 0.63% of repairable claims in Q2 2021 to 0.83% in Q2 2022. BEVs on average have 1.3 days longer keys-to-keys cycle times in the US," he told Enterprise.
Drivable versus non-drivable claims
Enterprise reported that LOR for drivable claims was 15.2 in the second quarter of 2022, an increase of 3.7 days from Q2 2021's 11.5 days. Louisiana had the highest LOR, at 19.0 days, followed by Rhode Island (18.6) and Georgia (18.0). Three states had an LOR greater than 17 days. Eight more had an LOR of 16 or more days, and 13 states had an LOR of 15 days or more.
The lowest drivable LOR was recorded in North Dakota, at 10.1 days, followed by Hawaii (10.7), Iowa (11.2), and Nebraska (11.7).
Overall, LOR for rentals associated with non-drivable claims was 26.4 days, up 7.7 days from Q1 2021. Eight states – Alaska (34.7), Montana (32.9), Louisiana (32.0), Colorado (31.8), West Virginia (31.6), Oklahoma (30.9), Delaware (30.5), and Washington (30.0) – had non-drivable LORs of more than 30 days compared with five states in the first quarter of the year.
Iowa had the lowest non-drivable LOR, at 22.1 days, followed by New York (22.5) and Nebraska at (22.8).
Shop backlogs continue
Enterprise quoted CRASH Network data showing that the average repair backlog remains near record levels across the U.S. On average, shops are scheduling work out by 4.3 weeks compared to 4.5 weeks in the first quarter. The 0.2-week decline is half the usual decline seen between the first and second quarters, Enterprise said.
"More than 13% of shops are still scheduling more than eight weeks out, a percentage that, until this past winter, hadn't exceeded 2%," Yoswick told Enterprise. "Shops with three months of backlog are not uncommon."
Almost four in five shops (79%) are scheduling two or more weeks into the future, while less than 3% of shops have no backlog and can start on a new job right away, the report said.
Only the South Central and West regions of the U.S. have an average backlog of less than four weeks. The shortest average backlog in the West, including California, is 3.1 weeks. "Until this past winter, that region had never exceeded an average backlog of 1.5 weeks (in the more than five years CRASH Network has been tracking the statistic)," Enterprise said.
The longest backlogs are in the Pacific Northwest, where shops are scheduling work 5.2 weeks in advance, on average, it said.
More information
Enterprise: LOR rises 4.9 days for Q1 2022, continuing string of 'unprecedented' increases
Images
Featured image by River North Photography/iStock
Share This: