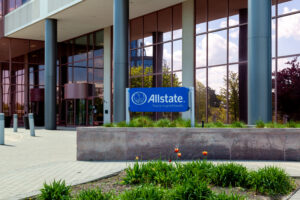 Allstate still losing money on auto insurance, despite rate increases
By on
Insurance
In spite of raising rates by an average of 8.3% in all 50 states, Allstate continues to lose money on auto insurance, according to the company's second quarter underwriting results.
The carrier said it paid out nearly $1.08 to cover claims and expenses in its auto business for every dollar of premium it collected. Even subtracting the effects of claims payments due to wind and hail storms, mainly in the Midwest, Allstate paid out $1.02 for every dollar in premium.
Allstate has been carrying out its pledge to investors to aggressively pursue rate increases to bring its auto insurance business back to profitability. The company reported implementing rate increases totaling $258 million in the month and $601 million in the quarter, after implementing $862 million and $702 million of rate increases in the first quarter of 2022 and fourth quarter of 2021, respectively.
In a Securities & Exchange Commission filing, Allstate said it is not done seeking higher rates. "Allstate continues to implement significant insurance rate increases given ongoing inflationary impacts on claim severities," it said.
The carrier reported three factors reflecting "persistent increases" in loss costs:
Increases in physical damage costs are geographically widespread and reflect higher part prices, labor rates, and length of claim resolution.
Increases in injury claim costs reflect more severe auto accidents, increased medical inflation, higher consumption of medical treatment, and more claims with attorney representation.
Claims reported in 2021 but settled in 2022 were subject to the rising vehicle values, parts prices, and labor rates experienced during 2022, which contributed to the adverse loss of reserve development.
Crain's Chicago Business reported that, with the increases, the carrier's rates are now above pre-pandemic levels.
The results come as consumer groups and some state lawmakers pressure auto insurance carriers to give back more of the windfall profits made during the pandemic when miles driven fell sharply.
Earlier this month, the Illinois Department of Insurance released data showing that, even after providing rebates, auto insurers reaped hundreds of millions of dollars in additional profits from their customers in that state during the pandemic.
Allstate and the rest of the four largest carriers in Illinois by market share – State Farm, GEICO, and Progressive – charged customers $280 million more than needed to maintain their 2019 profitability, according to the analysis by Illinois PIRG Education Fund and the Consumer Federation of America (CFA).
This was after taking into account the $220 million the four insurers cumulatively provided in customer refunds in 2020, the two organizations said.
The analysis was based on figures provided directly by insurers in response to a data call from IDOI, a one-time demand prompted by a request made by 16 Democratic state senators in January. While IDOI has no authority to regulate rates, proponents hoped that the data release would increase pressure on carriers to provide more premium relief.
More information
Auto insurers' figures show they pocketed millions in pandemic profits in Illinois
Allstate, GEICO top list of carriers raising auto insurance premiums
Images
The Allstate Canada head office in Markham, Ontario, Canada. The Allstate Corporation is an American insurance company. (JHVEPhoto/iStock)
Share This: