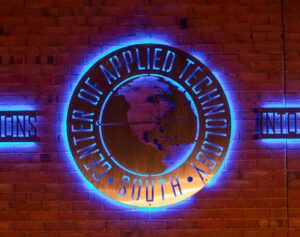 The auto collision repair and refinishing program at the Center of Applied Technology South (CAT South) in Edgewater, Maryland, has a well-equipped shop, enough students to fill its Level 1 and Level 2 classes, and plenty of job opportunities in surrounding communities awaiting its graduates.
All that it lacks, at the moment, is an instructor.
Adam Sheinhorn, the school's principal, said the search for a new instructor has been ongoing since the spring, when the previous instructor left to return to the industry. At this point, he said, the school is planning to put the program on hiatus this fall, with a reboot, and a new teacher, in the spring of 2023.
CAT South's most recent instructor was with the school for just the fall 2021 semester. His predecessor, who taught there for seven years, had been teaching remotely since the COVID-19 pandemic hit, and left when the school returned to in-person instruction.
What makes the job so difficult to fill, Sheinhorn said, is the disparity between a teacher's salary and what a collision technician can make in the field. The last instructor "returned to industry because he couldn't afford to continue on a teacher's salary," he said. Depending on experience, that salary is capped at a little over $67,000 a year, he said.
The amount is subject to negotiation between the school board and the teachers association, Sheinhorn said. "We're hoping that it might go up, but it really hasn't changed much" in recent years, he said.
Though teaching in public schools offers robust health and retirement plans and summers off, looking at future earnings can make it a hard sell for those at the beginning of their careers.
Sixty miles to the west, in Chantilly, Virginia, Chantilly Academy principal Scott Settar was facing a similar hiring problem after the retirement of its auto body instructor, who'd been there for 30 years.
"We were very, very fortunate" to find a graduate of its program who had been working in the industry for five years, and decided to change careers, Settar said.
Chantilly had been trying to fill the position since last fall when its current instructor announced his retirement. When the job remained vacant in January, the search became more intensive.
Settar, like Sheinhorn, reached out to the Washington Metropolitan Auto Body Association (WMABA) to help spread the word about the opening among its members. Still, he recognized that from the perspective of the shops, which are facing worker shortages of their own, it was a difficult request.
"It's hard to reach out to the industry, because, obviously, they don't want to lose their good people," Settar said.
At Chantilly, sections are capped at 20 students. With six sections, 120 future auto body technicians will be enrolled this fall. While a percentage of those will go on to a two- or four-year college and others will change fields about 25 students will graduate from the program this spring and move into entry-level positions in collision repair.
"Our students are seeing the opportunities," Settar said. "A lot of our trade programs are at full capacity."
Federal Bureau of Labor Statistics (BLS) data shows that, despite limited employment growth, about 17,500 openings for career and technical education teachers are projected each year, on average, over the decade. "Most of those openings are expected to result from the need to replace workers who transfer to different occupations or exit the labor force, such as to retire," the bureau said.
BLS projects that overall employment of all career and technical education teachers will grow 5% by 2030, which is slower than the average for all occupations.
Ben Peoples, marketing manager for the TechForce Foundation, said the organization is not currently tracking employment statistics specifically for technical educators but has created an online network of educators, technicians, employers, and schools.
"Our scholarship department is hearing that some environments for teachers nationally are on the hostile side. Instructors are cautious to do anything beyond strictly adhering to the curriculum. There are some environments where instructors do not feel supported by their communities and it is an additional hurdle to retention," Peoples said. "Conversely, there are some states that have prioritized technical education and are committing more resources to it, although it is unclear if those are program-related or teacher-related."
The Foundation does not keep aging-out data for instructors but does for collision technicians. "Even though it's a pain point in our sector, the retirement rate for collision repair technicians is 3.2%, which is actually below the national average of 4.3% for all careers," he said.
Both Chantilly and CAT South work with industry advisory committees, which help ensure that their collision repair programs remain current. Both expressed deep appreciation for repairers' participation.
Both also provide considerable peer support to help incoming instructors transition to their new roles as teachers as well as help with the classes required by their various states to earn the necessary teaching certificates.
Shops that want to have an impact on the future of collision repair could offer apprenticeships to students so that they have some workplace experience when they graduate, Settar said. "I would love to have a repair shop have a tech teach a class of 20 students," he said. "We need people who can get our students excited – energetic people."
He also suggested that shops consider identifying who among their technicians might want to pursue a career path in education — "who can talk to 17- and 18-year-olds and get them excited about the industry."
At CAT South, Sheinhorn and his students are not the only ones waiting for just that sort of person to get to work.
"The surrounding community is aching for students coming out of our program," he said. "There are so many shops in Anne Arundel County and further out that could really use the students coming out of our program."
More information
To learn more about the CAT South vacancy, or to apply, visit the Anne Arundel County Public Schools website.
CAT South Automotive Collision Repair & Refinishing Program Brochure
Images
Share This: