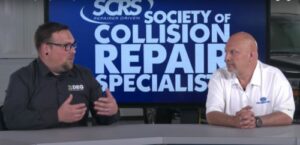 Two recent "Quick Tips" videos released by the Society of Collision Repair Specialists (SCRS) serve to fill collision repairers in on electric vehicle (EV) isolation and some useful information for estimators and repair planners.
Here's a roundup of the tips posted on SCRS' YouTube channel:
EV isolation
Jeff Poole, I-CAR manager and EV Subject Matter Expert, shared with CollisionAdvice.com CEO Mike Anderson that EVs and hybrids use isolated, or floating, high voltage systems, meaning both the battery's positive and negative don't connect in any way to the chassis.
"The high voltage battery is isolated from the metal case," Poole said. "The connectors that come out for the high voltage coming out and going from the high voltage battery to a distribution block to a DC to DC converter to a PTC, which is a heater, and the inverter unit… those are all very well insulated. They also have shields on the outer casings of the cables underneath the outer orange insulation. So, essentially, what that means is that all that high voltage — you'll never touch it unless there's something damaged or there's a compromised component."
While proper PPE should be worn and steps taken while following OEM repair procedures, Poole said there are safety precautions built into the vehicles.
"[I]f the high voltage positive shorted internally to this case, well you're a bird on a wire," Poole said. "As long as that [negative] bonding, and they do redundant bonding in these vehicles, is intact it's going to blow that high amperage fuse that's in that battery. It keeps everybody safe. This is something that's extremely important; to understand those concepts as you're dealing with these vehicles."
It's becoming more and more important, he added, since EVs are "becoming more popular by the day."
"It's something that takes specialized test equipment to verify isolation and ensure that things are in place. The vehicles do monitor this during operation. In some cases, they may actually do the monitoring test right after shutdown whenever the vehicle's been on a drive cycle."
Anderson added that it's "critical" for estimators to research OEM repair procedures in regard to EV vehicles. And, as always, collision repairers know repair procedures should be researched anyway for all vehicles not only to ensure safe and proper repairs but because of how often they can change.
Repair vs. replace
In another SCRS Quick Tip video, Anderson and Database Enhancement Gateway (DEG) Administrator Danny Gredinberg shared some information on the proper way to decide whether a vehicle's parts should be repaired or replaced.
"The only way you're going to find this out is by researching this in the OEM repair procedures," Gredinberg said. "No two manufacturers have identical rules. If you're not following those OEM repair procedures, you could potentially be doing more damage."
As a repair planner or estimator, Anderson said the first thing to do is to consult OEM repair procedures regarding how inertia forces are diverted in each vehicle's design and where to look for damage. Next is 100% disassembly. "I have to disassemble the vehicle to look in these areas that the vehicle manufacturer says could possibly have damage," he said.
If damage is found, the third step is to determine what materials the damaged components are made out of. "Depending on what that component's made out of will determine my repair versus replace decision."
Knowing the materials also determines any precautions that need to be taken during repairs, such as sectioning procedures and being careful around the location of any mounting areas for advanced driver assistance systems (ADAS).
"Also remember, there are certain parts that should never, ever be repaired and should always be replaced, such as door intrusion beams, bumper reinforcements, [and] seat belts," Anderson said.
SCRS Estimating Tips
In addition to helping out with SCRS Quick Tips, Gredinberg often provides Estimating Tips. He recently found out that all three estimating systems – CCC, Audatex, and Mitchell – deem clearing customer data off total loss vehicles a not-included operation.
As SCRS Education Committee members discussed in July, information is harvested by many vehicles through GPS, OnStar connections, cameras, and infotainment systems. The committee is working to bring awareness to repairers about how to protect consumer and shop data that is collected and stored on vehicle modules, like data on a computer hard drive, or in cloud-based drives.
Gredinberg shared that in response to an inquiry made through the DEG that CCC said, "The estimated work time for clearing data would need to be an On-the-Spot evaluation mutually agreed upon by estimators."
Audatex said it isn't possible to provide a standard labor time for clearing data "due to the amount of factors that can be involved depending [on] the data stored… The time should be added manually by the estimate preparer. No changes warranted at this time."
And Mitchell said it "does not account for clearing data regarding navigation, HomeLink garage door settings or cell phone connectivity in any published labor allowance."
In another Estimating Tip, Gredinberg wrote that CCC/MOTOR says there are additional labor operations available through its vehicle diagnostics section.
"CCC users now have the ability to quickly add common ADAS calibration and programming related operations without performing 'manual entry,'" he wrote. "These following operations default to 'subl' when selected unless the end user selects 'repair' if being performed in house."
Find these tips and more at degweb.org/estimate-toolbox-parent/estimate-tips.
IMAGES
Featured image: DEG Administrator Danny Gredinberg and CollisionAdvice.com CEO Mike Anderson discuss the steps to take to determine whether a vehicle component should be repaired or replaced. (YouTube screenshot)
Share This: