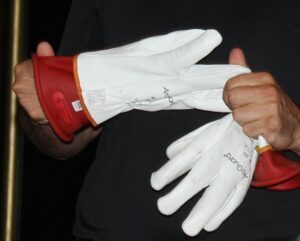 One of General Motors' latest TechLink articles cautions repairs to check the date of high voltage insulation gloves before every use.
"Certified and up-to-date Class '0' insulation gloves rated at 1000V with leather protectors provide an insulative barrier between an electrical point and the skin of an individual," and should be worn "at all times when working with the high voltage battery assembly, wires, and components, whether the system is energized or not."
Keep in mind that both the outer leather protector gloves and inner rubber insulator gloves must be worn together to be effective. The leather and rubber gloves should have a stamped date, which is when they were originally tested at the time of manufacture or were last electrically tested. Unopened gloves shouldn't be used for the first time 12 months past the manufacture date without being recertified. Visit North American Independent Laboratories for Protective Equipment Testing to find an accredited recertification laboratory.
"Rubber insulating gloves must be retested electrically by a certified lab 6 months after first use," GM says. "The lab will restamp the gloves with the new 'tested' date."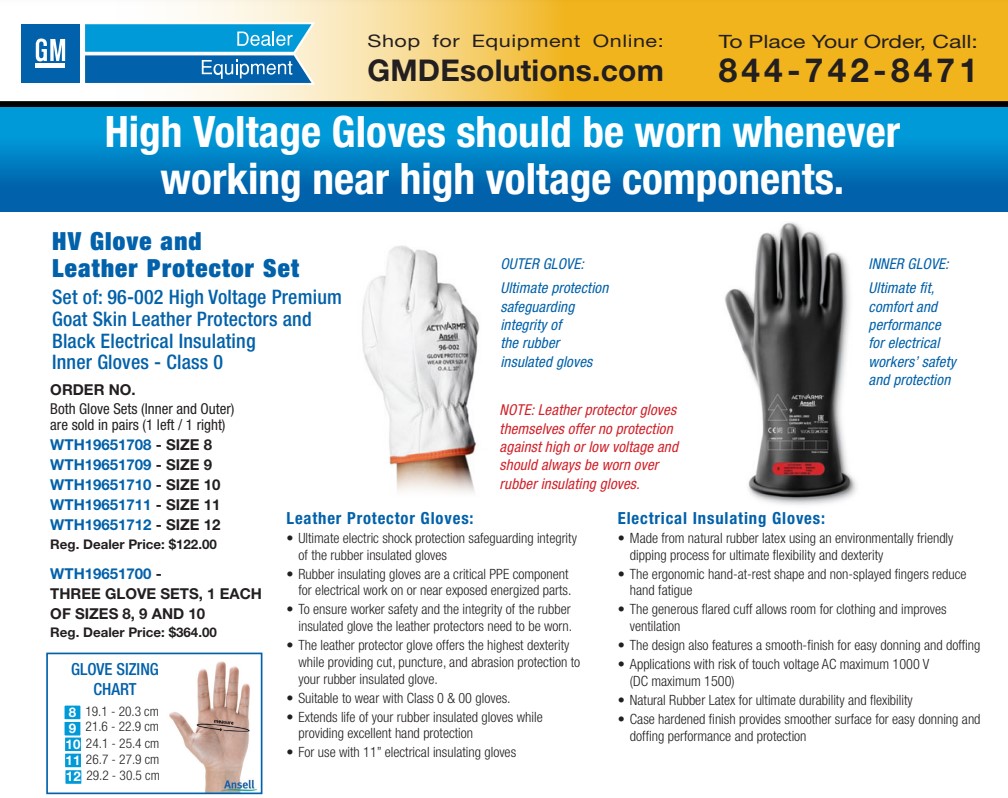 GM says repairers should take the following steps to ensure gloves are safe to use:
"Always record the date of the first time the gloves were opened or used.
"If the first-use date is not known, the gloves must be retested 6 months from the electrical test date stamped on the gloves
Before each use, the rubber insulation gloves should be removed from their leather protector gloves and visually and functionally inspected… by trapping air in the glove and sealing the opening to prevent any air loss. While pressing the glove to increase pressure, check for any pin holes, air leaks, wear or abrasions as well as any swelling that could indicate exposure to chemicals. If glove damage is observed, do not use the gloves and have them tested and recertified or replace them.
"Properly store both the insulator gloves and leather protector gloves when not in use. Do not fold the gloves. The gloves should be kept out of sunlight, excessive heat and humidity."
GM says repairers should refer to the High Voltage Insulation Glove Inspection Procedure in the appropriate Service Information for more specifics. As always, repairers should refer to each OEM's repair procedures for all PPE and procedure guidelines.
View TechLink's article for information on how to order gloves and safety kits and how to access a training course.
IMAGES
Featured image: High voltage system gloves are shown during July's Collision Industry Conference (CIC) meeting. (Lurah Lowery/Repairer Driven News)
GM Dealer Equipment flyer (Credit: GM & TechLink)
Share This: