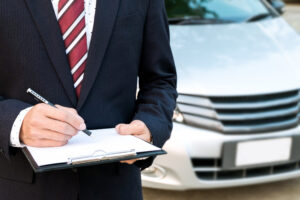 The Massachusetts Automobile Damage Appraiser Licensing Board (ADALB) is seemingly divided when it comes to collision repairers following safe and proper OEM repair procedures.
The board's past two meetings, held on July 19 and Sept. 13, included the review of dozens of complaints — the majority of which were filed by a licensed appraiser who also owns an auto body shop — against two insurance companies and their authorized appraisers. ADALB doesn't disclose any names given on complaints. The board includes two insurance industry representatives and two collision shop representatives who are appointed by the governor and a fifth who is appointed by the insurance commissioner and serves as the chair.
Most of the complaints, according to board members, centered on the appraiser denying coverage for OEM-recommended pre- and post scans, calibrations, seatbelt safety checks, and offered coverage amounts for procedures with no supporting documentation and no recommendations of shops that would complete the job for that amount. The insurance representatives voted against moving nearly every complaint forward while the collision representatives voted the opposite. When there was an abstention, Chairman Michael Donovan voted with the insurance representatives against moving the complaints forward.
According to the July meeting minutes, board member Peter Smith, with MAPFRE Insurance Co., made a motion to dismiss all of the complaints because they "involved monetary disputes and the Board is not in the business of deciding monetary disputes between the auto body shop and the insurance company's appraisers." Smith also said the complaints are "harassment" of the insurers and appraisers. His motion failed for lack of a second and member Rick Starbard, president of Rick's Auto Collision, said he wanted to review and vote on every complaint (there were 100 but by Repairer Driven News' count, only 64 were reviewed by the end of the September meeting). Out of those complaints, only 12 were approved by the board to move forward toward a hearing or mediation.
The board "institutes and maintains standards for the conduct of motor vehicle damage appraisers" and "can suspend, cancel and revoke licenses following a hearing process that may result from complaints that are brought before the Board," according to ADALB's website.
Starbard and member Bill Johnson, president and CEO of Pleasant Street Auto, argued that part of the board's responsibility under state law is to ensure vehicles are repaired safely and said they're failing at that with these complaints. Starbard also said the appraiser who the complaints are lodged against has "ignored" OEM safety recommendations.
"We're putting a lot of people's lives at risk by passing these things on the way that we are," Starbard said. "I hope to God there's some class action attorney out there that's going to look at these vehicles because there's some legal action that needs to be taken here."
Later in the meeting, Starbard noted: "Every vehicle is different and this shop, time and time again, keeps coming up with this specific vehicle maker's requirements post-collision and for some reason, this appraiser feels that none of them are warranted, that I've seen. In some cases, they say they don't pay it because this is the only shop that repairs cars according to the OE requirements, which that one is about as crazy as when we had a complaint that 'should've been dismissed because ADAS is a relatively new technology.' This is absolutely crazy.
"For cars to go out without these mandated-by-the-manufacturers procedures to be followed and when they're presented to an appraiser, for an appraiser to just arbitrarily deny it or come up with some unrealistic cost to carry it out, that appraiser is a danger on the road. They should be unlicensed as quickly as humanly possible but we're giving them (sic) to do whatever they want."
In response, Samantha Tracy, with Arbella Insurance Group, justified her reasoning for voting against many of the complaints moving forward. "One of the concerns that I have with this series of complaints is that some of this appears, to some degree, to be the breakdown or deterioration of a professional relationship between a particular appraiser and a particular shop because… [of] the frequency and the language this contains. I'm concerned that the board is being placed in between what is essentially the breakdown of a professional relationship."
Johnson said he believes the issue is the "breakdown of a profession" in regard to the complaints because what the shop is dealing with from the insurer isn't fair. "[I]f an appraiser says, 'Buy this fender for $100' and it's not available, I'd give a supplement," he said. "If I do a pre- and post-scan and I say it's X and the appraiser says, 'No, I'm only going to pay Y' and I say, 'Where can I get it done?' [The response is] 'I don't know,' how is that fair in any world? I just don't get it."
Tracy also made the argument that some of the complaints are against a supervisor who didn't write the appraisal as well as the appraiser and should be dismissed because of that. In one instance, Starbard made a motion to move a complaint forward against only the original appraiser, which led to Tracy's approval of moving it forward.
Alliance of Automotive Service Providers of Massachusetts (AASP-MA) Executive Director Evangelos "Lucky" Papageorg noted to RDN that since the board follows Robert's Rules of Order, tie votes on motions to move complaints forward means they're essentially in limbo having not been dismissed nor moved forward. The ADALB's complaint procedure guidelines don't state what happens to complaints that end in a tie vote. However, it states that the board can dismiss complaints at any time "with or without prejudice due to lack of jurisdiction, based on frivolous allegations, lack of sufficient evidence, lack of legal merit or factual basis, finding of no violation, withdrawal of a Complaint, subsequent compliance with statutes and/or regulations, or other basis."
To address the split vote of insurance reps vs. body shop reps, Papageorg said AASP-MA is working to get legislation passed that would add two consumer members to the board — one from the Consumer Protection Division of the Attorney General's Office and one from a consumer protection agency. 
"The board was developed to protect the consumer yet they don't have a voice on it," Papageorg said. "As you can see from the votes, it goes strictly down party lines, for lack of a better way of putting it; two votes on the insurance side and two votes on the body shop side. And because they're made by the collision side, fail to move forward to the informal complaint stage in the process because of Robert's Rules. So our feeling is by adding two consumers to the board, the consumers get a voice and it would all but eliminate the chance at a tie vote."
The bill, which died at the end of the 2021-22 legislative session, also looks to move ADALB out from under the Division of Insurance to the Division of Occupational Licensure. The bill will have to be refiled for the next session.
The board's next meeting is scheduled for Oct. 26.
IMAGES
Featured image credit: Chalirmpoj Pimpisarn/iStock
Share This: