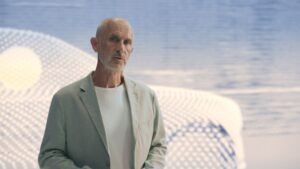 Volvo's new CEO Jim Rowan, who has been at the helm for just over 100 days, announced Wednesday that its newest SUV, the EX90, will be released on Nov. 9 and is "our first Volvo car in a new era — born electric, born with lidar."
"All Volvo EX90s will come with an invisible shield of safety — a unique combination of the latest technology powered by the understanding of the car's outside environment and the state of the driver inside," he said.
"With state-of-the-art sensors and software, our next car will be able to see the world in Point Cloud. These sensors are powered by Volvo Cars' unique combination of advanced core computing and software to enable improvement in safety in the Digital Age, like the three-point seatbelt did in the late 1950s. The safety standard in our next car will be beyond any Volvo car before and we will continue to innovate until cars don't crash anymore, until there are zero collisions, and until we are 100% carbon-free so that even more lives are protected."
EX90s will come equipped with eight cameras, five radars, 16 ultrasonic sensors, and a "cutting-edge" lidar sensor to create a 360-degree real-time view. Rowan said lidar will be in the roofline and is a precision light-enabled radar system that measures distance with pulsed laser.
Volvo spokesperson Thomas McIntyre Schultz explained to Repairer Driven News that the EX90's systems will be controlled (referred to as core computing) by a single, central computing system rather than several separate smaller ECUs and computers. And Point Cloud Vision, through lidar, "will be used to improve the advanced driver assistance systems as it helps detect objects and build 3D point clouds, allowing the car to see beyond human range. Equipped with lidar and an AI-driven supercomputer as standard hardware and coupled with software updates continuously, our next generation Volvo cars will become increasingly capable to intervene as needed to help prevent collisions."
Rowan said Volvo's lidar "senses the road in front of you in daylight or complete darkness at highway speeds. Something as small and unreflective as a black tire on a black road at 120 meters ahead, or a pedestrian at 250 meters [820 feet]."
He noted that at 120 kph, or about 75 mph, 250 meters is 7.5 seconds, which is "more time to act and avoid collisions."
In results released last month, only four of 23 vehicles aced the first nighttime test of pedestrian automatic emergency braking (PAEB) systems conducted by the Insurance Institute for Highway Safety (IIHS). More than half earned a basic score or no credit. IIHS President David Harkey noted that "automakers can rise to this new challenge, as Ford, Nissan and Toyota each earn superior ratings for some models."
Volvo said the goal of its new safety features is "to help people become better drivers by being there when they're not at their very best."
Volvo's research, based on its Traffic Accident Database, indicates that their software and sensors could help reduce accidents that result in serious injury or death by up to 20% and the OEM estimates their vehicles will be able to improve overall crash avoidance by up to 9%, adding up to "millions of accidents avoided over time."
"That would be a leap in safety that we haven't seen in a very long time," Rowan said.
And not only will the EX90 know what's going on outside the vehicle but it will also know what's going on inside with the driver through new sensor technology and two cameras that gauge eye gaze concentration. By measuring how much of the time the driver looks at the road ahead, allowing for natural variations, the system understands when the driver's eyes are focused somewhere other than on driving.
Rowan said the vehicle will be able to tell when drivers are distracted, tired, or in need of a break and will send a warning signal that increases in volume as necessary. If a driver were to fall ill or go to sleep, the EX90 would bring itself to a safe stop, turn on its hazard lights, and call for help.
"Our research shows that by simply observing where the driver is looking and how often and for how long their eyes are closed, we can tell a lot about the state of the driver," said Emma Tivesten, Volvo Cars Safety Center senior technical expert, in a statement. "By basing its calculations on our research findings, the sensing system allows our cars to identify whether the driver's ability is impaired, perhaps due to drowsiness, distraction, or other causes for inattention, and to offer extra assistance in a way that best suits the situation."
The car's capacitive steering wheel also plays a role, Volvo says, by sensing if the driver lets go of the wheel and by monitoring steering stability. The EX90 will also be equipped with an interior radar sensing system to remind drivers when there are other occupants left inside the vehicle.
McIntyre Schultz told RDN that, just like with all of its current models, the EX90's warranty will only remain valid if repaired at Volvo-certified shops. When asked about the development of and access to OEM repair procedures for the EX90, he said more will be shared in coming announcements.
In a news release following Rowan's announcement, Volvo said the EX90 could also get smarter and safer over time, as it learns from new data and receives updates. Volvo hasn't released photos of the EX90 yet and the OEM has promised more details about the new all-electric model in the coming weeks ahead of its November debut.
Volvo didn't provide any details on Wednesday about Ride Pilot, an autonomous feature that the OEM said earlier this year would be on its fully electric flagship SUV. In January, Volvo said once it's made available it can be activated over the air through a subscription.
IMAGES
Featured image: Volvo Cars CEO Jim Rowan (Credit: Volvo)
Share This: