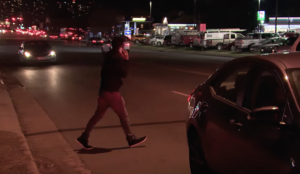 Only four of 23 vehicles examined aced the first nighttime test of pedestrian automatic emergency braking (PAEB) systems conducted by the Insurance Institute for Highway Safety (IIHS) while more than half earned a basic score or no credit.
The findings underscore IIHS's previous concerns about the performance of PAEB systems in low-light conditions and may lead to consumer and regulatory pressure to improve the systems' performance.
"As we expected, most of these pedestrian AEB systems don't work very well in the dark," IIHS President David Harkey said in a statement. "But it's clear automakers can rise to this new challenge, as Ford, Nissan and Toyota each earn superior ratings for some models."
IIHS and the Highway Loss Data Institute (HLDI) in March petitioned federal regulators to require through rulemaking that passenger vehicles be equipped with PAEB systems that work well in the dark.
The National Highway Traffic Safety Administration (NHTSA) has already been directed by the Department of Transportation to initiate rulemaking on a requirement that new passenger vehicles be equipped with PAEB by 2024. IIHS and HLDI are going a step beyond, petitioning NHTSA to require PAEB that is effective in all light conditions.
IIHS-HLDA noted that NHTSA has announced its intent to add PAEB to the advanced driver assistance system (ADAS) technologies recommended under the agency's New Car Assessment Program (NCAP). "While IIHS and HLDI support adding nighttime testing to NCAP, we believe good performance in the dark should be mandated and not merely recommended through NCAP," the March letter states.
IIHS developed its nighttime test in response to earlier findings that, while PAEB reduces pedestrian crash risk by an estimated 32-33% in daylight, it does not reduce pedestrian crash risk in the dark. The ratings released Tuesday were the first awarded under that new test.
An advanced or superior rating in the nighttime test will become a requirement for the IIHS Top Safety Pick+ award in 2023.
Joe Young, director of media relations for IIHS, previously told Repairer Driven News that while the institute occasionally files petitions for rulemaking, it has found that its consumer ratings programs are more efficient at driving change.
Those programs "have helped drive dramatic improvements in occupant protection in a variety of crash configurations and crash avoidance technologies," Young said.
IIHS introduced the daytime vehicle-to-pedestrian evaluation in 2019 and made an advanced or superior rating a requirement for a Top Safety Pick or Top Safety Pick+ award in 2020. Today, the feature is available on nearly nine out of 10 new models that IIHS evaluates, and half of the systems tested earn superior ratings in daylight conditions.
The following passenger vehicles were rated in the new nighttime test:
Superior: Ford Mustang Mach-E, Nissan Pathfinder, Toyota Camry, and Toyota Highlander
Advanced: Honda Accord, Hyundai Palisade, Hyundai Sonata, Nissan Frontier, Nissan Murano, Subaru Ascent, and Subaru Outback
Basic: Chevrolet Traverse, Ford Explorer, Ford Maverick, Ford Ranger, Mazda CX-9, Volkswagen Atlas, Volkswagen Atlas Cross Sport, and Volkswagen Tiguan
No credit: Chevrolet Malibu, Honda Pilot, Nissan Altima, and Toyota Tacoma
In the daylight test, 19 of those 23 vehicles earn superior or advanced ratings.
"It's discouraging that so many midsize SUVs and small pickups perform poorly in the nighttime test because research suggests these types of vehicles are more dangerous to pedestrians," Harkey said.
Pedestrian safety
These first nighttime ratings come in the midst of increasing attention by the federal government to the issue of pedestrian deaths and injuries. According to IIHS, pedestrian crash deaths have increased nearly every year since hitting a low point in 2009, rising 59% to top 6,500 fatalities in 2020, the latest year for which data are available. The same year, another 55,000 pedestrians were injured in motor vehicle crashes.
Three-quarters of those fatalities occur at night, IIHS said, when research shows most PAEB systems are less effective.
According to one recent IIHS study, PAEB reduced pedestrian collisions by more than a quarter for equipped vehicles. However, the presence of PAEB made no difference in collision rates at night on unlit roads, the institute found.
The first nighttime tests offered further evidence of poor performance in low-light conditions.
"Eight of the 12 vehicles that earn a basic rating or no credit in the nighttime test got superior or advanced ratings in the daylight evaluation," said David Aylor, vice president of active safety at IIHS, who designed the new program.
Methodology
IIHS said the nighttime test includes two common pedestrian crash scenarios: an adult crossing the road and an adult walking along the road at the edge of the travel lane. Lighting is limited to 1 lux, about the amount of light cast by a full moon.
The crossing test is conducted at 12 mph and 25 mph, and the parallel test is conducted at 25 and 37 mph, IIHS said. Scores are based on the average speed reductions in five repeated test runs on dry pavement.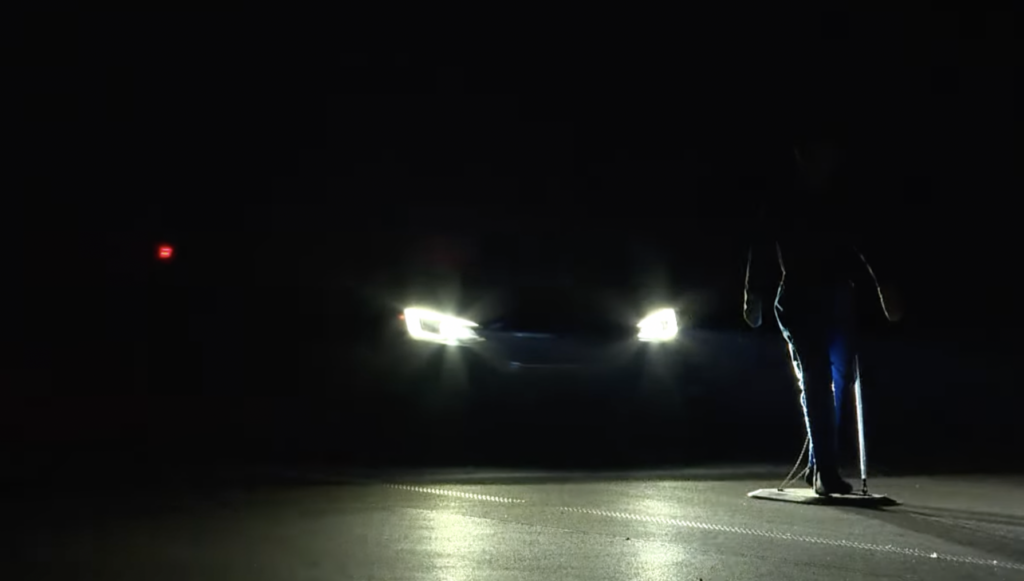 Separate tests were conducted with low and high beams illuminated. Testers adjusted scores of vehicles equipped with high beam assist, which automatically turns on the high beams if no other vehicles are on the roadway. "The idea is to weight the score according to the beam setting that's most likely to be switched on at the time of a potential crash," Aylor said.
For PAEB systems that use cameras, the quality of a vehicle's headlamps may also affect performance. For that reason, IIHS decided that its ratings would apply only to those vehicles equipped with the specific headlamp systems used for the evaluation.
How they performed
Among the 23 vehicles tested, only the Pathfinder avoided striking the pedestrian dummy in both test scenarios and at all speeds, using either its low or high beams.
The Camry, Highlander and Mustang Mach-E, which also earn superior ratings, avoided hitting the dummy in the crossing scenario at both test speeds and in the 25 mph parallel test with both low and high beams. All three vehicles slowed substantially with their high or low beams in the 37 mph parallel test, reducing the impact.
All of the advanced-rated vehicles struck the dummy in the 37 mph parallel scenario. With high beams illuminated, most avoided hitting the pedestrian in the 12 mph and 25 mph crossing scenario and in the 25 mph parallel test. However, IIHS said, most struggled in those scenarios when using their low beams.
"While some basic-rated vehicles avoided hitting the pedestrian dummy at the lower test speeds, none avoided collisions in the higher-speed crossing or higher-speed parallel scenario," IIHS said. "The vehicles that received no credit for their pedestrian AEB systems did not slow at all or barely reduced their speed before hitting the dummy in multiple test scenarios with both their low and high beams."
More information
IIHS: Few vehicles excel in new nighttime test of pedestrian autobrake
https://www.iihs.org/news/detail/few-vehicles-excel-in-new-nighttime-test-of-pedestrian-autobrake
IIHS: Regulators should require pedestrian AEB that works in the dark
IIHS developing nighttime pedestrian crash prevention ratings
Images
Featured image: A pedestrian crosses a busy street at night. (IIHS via YouTube)
A dummy simulating a pedestrian walking along the road at the edge of the travel lane. (IIHS via YouTube)
Share This: