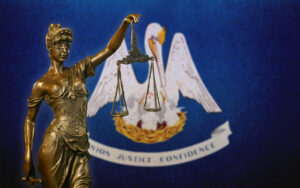 Tesla files suit against Louisiana officials & dealers for direct-to-consumer sales & services ban
By on
Legal | Market Trends
Tesla has filed suit against the Louisiana Motor Vehicle Commission, Louisiana Automobile Dealers Association, and individual dealers for barring direct sales of its electric vehicles in the state.
The complaint states Tesla filed the suit "to vindicate their rights under the U.S. Constitution and federal and state law, and to protect Louisianians' ability to buy, lease, and service Tesla's critically acclaimed, all-electric vehicles in the State of Louisiana."
"The people of Louisiana should have the freedom to buy, lease, and service the car of their choosing. Yet, Louisiana consumers' freedom is being unduly restricted by protectionist, anti-competitive, and inefficient state regulation and laws being implemented and enforced by representatives of the same entrenched automotive industry that lobbied for the passage of this anti-consumer regulation in the first place. As a result, those representatives have effectively shut out of Louisiana the consumer-centric, free-market solution that is a more efficient, consumer friendly business model for today's automotive consumer."
Tesla claims the dealers association and its members as well as the defendant dealerships and motor vehicle commissioners are in violation of state and federal anti-trust laws as well as Louisiana's Unfair Trade Practices Act. Commissioners are accused of violating the due process, equal protection, and commerce clauses of the U.S. Constitution's Fourteenth Amendment.
The suit seeks declaratory relief by the U.S. District Court for the Eastern District of Louisiana against all of the defendants including:
That the commission, under state law, can't regulate Tesla consistent with due process "and thus that its attempts to prevent Tesla from leasing and
servicing vehicles are unconstitutional;"
That the direct sales ban and the servicing ban cannot be enforced against Tesla;
Permanent enjoinment of state officials from enforcing the direct sales and servicing bans against Tesla;
That "the conspiracy among the Dealers Association, its members, the Dealerships, and the named Commissioners violates state and federal law;" and,
Enjoin the dealers association, its members, the dealerships, and the commissioners named as defendants "from violating state and federal law by coopting the Commission to bar Tesla from leasing and servicing Tesla Vehicles in Louisiana."
Tesla argues that its "unique sales, leasing, distribution, and service model in which it engages consumers directly" based on its sales figures and "superlative survey rankings, show that this model has immense procompetitive benefits for consumers, providing them access to an array of unique products and exceptional service."
"Although consumers have embraced Tesla—indeed, because consumers have embraced Tesla—Tesla's competitors have pursued every avenue to bar Tesla from the market. Groups of industry incumbents, including some dealer associations across the country, have viewed Tesla as a threat to their local monopoly power over automobile distribution. Rather than try to compete with Tesla, some of these well-connected dealers have tried to block Tesla from local markets altogether by promoting protectionist legislation and by coopting state regulatory authority."
In 2016, Tesla also sued Michigan for the state's direct sales ban and reached a settlement in 2020 under which Tesla can have its cars serviced in Michigan through a subsidiary, according to Reuters. As of the complaint filing on Aug. 26, Tesla operates stores and/or service facilities in 35 states and the District of Columbia.
Oklahoma and Mississippi legislators as well as New York worker unions have also taken issue with direct-to-consumer sales by Tesla and other automakers. A bill unanimously passed Oklahoma's House Business and Commerce Committee in March but hasn't been introduced in the Senate.
In Mississippi, both the House and Senate passed their own versions of a bill to prohibit the sales model. However, the House declined to concur with the Senate's amended bill on March 17 so it was referred to a conference committee of legislators from both chambers. The bill died in conference.
The United Service Workers Union (USWU) and United Auto Worker (UAW) unions representing automotive sector workers, opposed New York Assembly and Senate companion bills during its 2022 legislative session. They called on lawmakers "to protect New York jobs by denying out-of-state electric vehicle (EV) manufacturers that want special treatment to directly sell their vehicles," according to a USWU news release. The groups specifically called out Tesla, Lucid, and Rivian. The bills weren't voted on before the session adjourned on June 2.
A bill in Georgia that supported the sales model for EV OEMs and that specifically named Rivian Automotive stalled in the Senate earlier this year. The Connecticut Senate also passed legislation in favor of direct sales to become effective Oct. 1 but the House took no action.
Tesla claims its only option to sell vehicles in Louisiana would be to "forgo its successful (and necessary) business model" and franchise its sales to dealers, which would result in "anti-consumer effects and higher prices." However, the complaint notes that Louisiana law doesn't prohibit Tesla from leasings its EVs in the state or providing warranty repairs and services.
The issue in Louisiana, according to the complaint, dates back to 2017 when the dealers association, the defendant dealerships, and some of the defendant commissioners "successfully lobbied the Louisiana Legislature to prohibit Tesla from directly selling its vehicles to customers in Louisiana."
"Before this amendment, Louisiana only prohibited manufacturers from competing with their own franchised dealers. …Specifically, the pre-2017 statute provided no manufacturers may 'sell or offer to sell a new or unused motor vehicle directly to a consumer except as provided in this Chapter, or to compete with a licensee in the same-line makes, models, or classifications operating under an agreement or franchise from the aforementioned manufacturer.' …Under the pre-2017 version of the law, therefore, if Tesla had both manufactured vehicles and franchised local dealers in Louisiana to sell those vehicles, then Tesla could not directly sell its vehicles to customers in Louisiana in competition with its own franchised dealers. But Tesla was free to directly sell vehicles if it did not franchise local, in-State dealers.
"After the Legislature amended the direct sales ban, however, Tesla may not sell new or used cars directly to consumers in Louisiana without using a local, in-state dealer: It is now unlawful for a manufacturer '[t]o sell or offer to sell a new or unused motor vehicle directly to a consumer.'"
As of Tuesday afternoon, no response was on file from the defendants.
IMAGES
Featured image credit: Gwengoat/iStock
Share This: