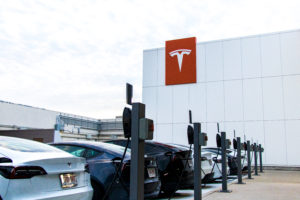 A bill unanimously passed by the Oklahoma House Business and Commerce Committee would prohibit direct sales models, such as Tesla's, from operating in the state without having a direct shipper license.
Bill sponsor Rep. Mike Dobrinski (R-District 59) told the committee on March 2 the bill was written to help protect more than 30,000 jobs.
"The metro and rural dealers are united in this effort and it will help ensure competition of both sales and service for many years to come," he said.
Of note, Oklahoma was in favor of Tesla building a Gigafactory in Tulsa back in 2020. Tesla, however, chose Austin, Texas. The OEM has two store/service locations in Oklahoma.
Without specifically naming Tesla, Committee Member Rep. Meloyde Blancett (D-District 78) said dealers who have electric vehicles (EVs) on their lots or repair them at their service centers have told her they're concerned the bill would require them to close their existing facilities or not be able to open service facilities. "…[A]nd they're concerned about having to tow their cars across state line to get service," she said.
Dobrinksi didn't have an answer but said that concern will be addressed, adding that the bill is "far from the finished product."
"It's a very difficult issue to work forward," he said. "What we're looking to accomplish here is that everyone is regulated going forward, and specifically in Oklahoma right now, direct shippers are not."
Oklahoma Motor Vehicle Commissioner Curtis Hayes said the commission is working with Dobrinski and the Oklahoma Auto Dealers Association on language for the bill that would allow EV regulations by the commission and, therefore, open the door for consumers to have a state agency to offer recourse if they have issues with dealers or factories. The bill doesn't name Tesla. However, Hayes said the only EV manufacturer of concern is Tesla because of its direct sales model.
"All the legacy OEMs that make EV vehicles work through the franchise dealer system," he said. "It's a very complicated issue because it has ramifications throughout the entire law dealing with motor vehicle franchise dealers. …We are not trying to preclude consumers and residents in the state of Oklahoma from getting their cars serviced in Oklahoma."
Tesla launched a campaign against the bill in February. "House Bill 3994 is a detrimental bill that could be interpreted as outlawing EV manufacturers like Tesla from servicing and delivering cars in Oklahoma. …If passed, this bill could force Tesla to close its existing locations in Oklahoma AND prevent Tesla from shipping cars to anyone in the state, which would force locals to travel out-of-state to service their cars or pick up their new Tesla vehicles. Oklahoma should focus on increasing revenue and jobs in the state, not stifling competition and limiting consumer choice."
The OEM encouraged constituents to contact their state representatives to tell them why the bill "is bad for Oklahoma" and to vote against it.
Tesla didn't respond to questions regarding the bill from Repairer Driven News by the publication deadline on Thursday.
The bill doesn't specifically address how independent repair businesses could be impacted if it becomes law, such as those who are part of Tesla's certified repair network, or if Tesla and other OEMs would be able to push out over-the-air updates within Oklahoma. However, both are questions that the bill raises. For example, the West Virginia legislature recently faced pushback from OEMs regarding OTA recall repairs in a provision of HB 4560 that seeks to amend the state law that governs new car dealerships. Seemingly in response to the opposition, the bill was amended to strike language that prohibited OTA repairs.
Oklahoma House Business and Commerce Committee Member Rep. Judd Strom (R-District 10) asked Dobrinski and Hayes how, if he votes for the bill, he's supposed to continue saying he supports a free market in Oklahoma "when we're eliminating the market for an entire other product in this state with this bill."
"We are not restricting any manufacturer that has been in business," Hayes said. "We are not restricting any dealer that's been in business. We are trying to balance the scales as the distribution model has changed, as the selling model has changed, as we get more and more pressure from the OEMs for what dealers have to do. …I don't believe we are asking you to vote on something that's anti-competitive."
Hayes said Tesla is currently conducting warranty work on its vehicles that, under the franchise dealer law, is "reserved for the rights of the franchisee." Dobrinski added the goal of the bill isn't to shut down the two Tesla facilities in Oklahoma but to "strengthen and protect franchise dealers from their own manufacturers that are seeking ways to try and eliminate them from the market or put restrictions on them that are cost-prohibitive."
"You can't deal with that without dealing with the EVs and the new distribution system that they want to put in place that currently we have absolutely zero regulation over in the state," he said.
The bill will "force" the legislature to find a way to license Tesla dealers as well as other franchise dealers and direct shippers and to provide consumer protections that "Tesla dealers today don't even think that they need," Dobrinski said.
HB 3994 amends current law to state dealers will be denied a license, have their current license revoked or suspended, or be fined up to $1,000 per occurrence if their repair technicians aren't "properly trained and qualified." The bill also includes protection of consumer data that is collected by OEMs, and third parties and sets up requirements for dealers to establish a parts and/or labor rate with OEMs when performing manufacturer warranty work and recall repairs.
The new data law holds factories and third parties acting on behalf of them to comply with federal and state laws that restrict the reuse or disclosure of consumer information provided to auto dealers. The law would allow dealers to request a copy of each factory or third party's established procedures that prove they will meet state and federal requirements to safeguard consumer data. Dealers would also be able to request a list of everyone the factories or third parties have shared consumer data with.
The labor rate piece of the bill is included to ensure OEMs "adequately and fairly compensate its dealers for labor, parts and other expenses incurred by such dealer to perform under and comply with manufacturer's warranty agreements, and recall repairs…" Dealers are to calculate their retail parts rate "by determining the total charges for parts from the qualified repair orders submitted, dividing that amount by the dealer's total cost of the purchase of those parts, subtracting one (1), and multiplying by one hundred (100) to produce a percentage. The dealer shall calculate its retail labor rate by dividing the amount of the dealer's total labor sales from the qualified repair orders by the total labor hours that generated those sales."
Mississippi legislators have also taken a stance against direct sales with both the House and Senate approving bills to prohibit the sales model in the state. The bill was amended by the Senate, which isn't publicly available, prior to approval and sent back to the House for concurrence on Thursday.
The approved House bill requires new auto dealer license applicants, beginning July 1, to "furnish satisfactory evidence that he or it maintains adequate space in the building or structure wherein his or its established business is conducted for the display of new motor vehicles, or he will have such facilities within a reasonable time after receiving a license, and that he or it has or will have adequate facilities in said building or structure for the repair and servicing of motor vehicles and the storage of new parts and accessories for same."
In January, Tesla posted a campaign on its website against the House bill, stating it would "block Tesla and other EV manufacturers from opening more stores in Mississippi, and as a result many locals will be forced to travel out-of-state to buy the country's top selling EVs. Mississippi should be focused on increasing revenue and jobs in the state, not stifling competition and the adoption of clean transportation."
IMAGES
Featured image credit: JL Images/iStock
Share This: