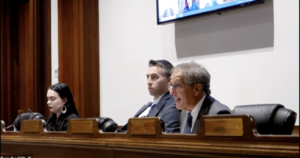 Massachusetts bill would require glass installers to follow OEM, AGSC, federal requirements
By on
Collision Repair | Legal
A bill that would require auto glass installers to meet or exceed federal, industry and OEM requirements is under consideration by Massachusetts legislators.
The bill, H.4445, would require that safety glass replacement meets or exceeds OEM specifications, as well as the requirements of the Automotive Glass Replacement Safety Standard (AGRSS) of the Auto Glass Safety Council (AGSC), a not-for-profit organization dedicated to the safe repair and replacement of auto glass.
In addition, the bill would require that safety glass meets the requirements of American National Standards Institute (ANSI) Z 26.1, in accordance with the Code of Federal Regulations.
The state's registrar of motor vehicles would be responsible for compiling, maintaining, and publishing a list of the types of glass, by name, that conform to all requirements.
Enforcement would be at the consumer level, with the use of approved safety glass one of the requirements for vehicle registration.
Debra Levy, a member of the AGSC board of directors, spoke in favor of the bill at a public hearing before the Joint Committee on Transportation on Wednesday.
"Massachusetts does currently require the registration of auto glass repair companies for consumer purposes. But it doesn't ensure that aftermarket windshields are installed in a safe manner by properly qualified and educated technicians," Levy told legislators.
"This bill will implement the safety standards and ensure that windshield replacements are performed by trained and qualified technicians in accordance with the latest safety procedures," she said.
Levy said AGSC's standard addresses the technical aspects of auto glass installation, as well as education, technician certification, and more, and is frequently evaluated in light of changing technologies.
In addition, the council had developed, and manages, "a robust training and certification program both for companies and technicians in compliance with that standard. It provides educational events online and in person and it produces materials to educate the public about safe installations as well," Levy said.
The legislation is needed, she said, because not all installers are members of AGSC, and even those that are members do not necessarily follow the standards.
"This legislation will reduce the number of catastrophic injuries and deaths resulting from automobile crashes in Massachusetts," Levy said. "In my role as a glass safety advocate, I sometimes talk to technicians who express ignorance about the standard or, worse, who know about it and say they don't follow it because it's just voluntary."
Levy said federal regulators, such as the National Highway Traffic Safety Administration (NHTSA), have repeatedly declined to regulate the installation of glass in the aftermarket. "They are not an option," she said.
AGSC's members include insurance companies, safety advocates, those who provide auto glass information and services, and four of the five largest auto glass companies in the U.S.
Peter Brown, of Tiny and Sons Auto Glass in Pembroke, Massachusetts, told the committee that when his shop opened 45 years ago, there were no standards for the safe replacement of auto glass.
"Now with the new technologies, we need that standard, need a guideline for new businesses and old businesses to follow," Brown, an AGSC member, said. "Safety is what's number one in our business."
The Alliance of Automotive Service Providers of Massachusetts (AASP-MA) supports the bill, the organization's executive director, Evangelos "Lucky" Papageorg, told RDN.
"This AASP is definitely in favor of this bill and what it's trying to accomplish, setting standards for the safe and proper repair of vehicles," he said. "We firmly stand behind it."
The Alliance for Automotive Innovation, a group representing nearly all OEMs, has not taken a position on the bill, a spokesperson told RDN.
More information
Safelite points to ANSI AGRSS standard, seeks auto glass industry exemption from R.I. OEM procedures bill
Auto Alliance: Sunset R.I. auto glass exemption from OEM repair procedures law
Images
Featured image: State Sen. Brendan P. Crighton (D-3rd Essex), center, and state Rep. William M. Straus (D-10th Bristol), right, the co-chairs of the Joint Transportation Committee, listen to testimony on an auto glass replacement bill on Wednesday. The woman at the left was not identified.
Share This: