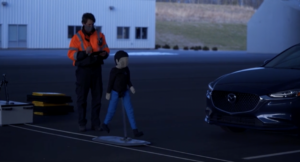 IIHS: Regulators should require pedestrian AEB that works in the dark
By on
Insurance | Legal
The Insurance Institute for Highway Safety (IIHS) and the Highway Loss Data Institute (HLDI) have petitioned federal regulators to require through rulemaking that passenger vehicles be equipped with pedestrian automatic emergency braking (PAEB) that works well in the dark.
The National Highway Traffic Safety Administration (NHTSA) has already been directed by the Department of Transportation to initiate rulemaking on a requirement that new passenger vehicles be equipped with PAEB by 2024. IIHS and HLDI are going a step beyond, petitioning NHTSA to require PAEB that is effective in all light conditions.
While promising a welcome increase in pedestrian safety, the rulemaking sought by IIHS could possibly further increase the complexity of collision repair.
IIHS research has found that, while PAEB reduces pedestrian crash risk by an estimated 32%–33% in daylight, it does not reduce pedestrian crash risk in the dark, Jessica Cicchino, vice president, research, at IIHS, and Matthew Moore, senior vice president at HLDI, wrote in a letter to NHTSA.
More than a third of fatal pedestrian crashes occur at night on unlit roads, IIHS and HLDI said.
The agencies noted that NHTSA has announced that it intends to add PAEB to the advanced driver assistance system (ADAS) technologies recommended under the agency's New Car Assessment Program (NCAP). "While IIHS and HLDI support adding nighttime testing to NCAP, we believe good performance in the dark should be mandated and not merely recommended through NCAP," the letter states.
In the letter, IIHS and HLDI detail their evidence showing the effectiveness of PAEB at preventing pedestrian crashes.
HLDI compared pedestrian-related bodily injury liability claim frequency for Subaru vehicles equipped with optional PAEB against claim frequency for the same models without the technology.
In that analysis, insurance claims filed under bodily injury liability coverage, which covers injury to third parties, without associated first- or third-party damage claims, were used as a surrogate measure for pedestrian injury crashes.
"We found that PAEB was associated with a statistically significant 35% reduction in the frequency of pedestrian-related claims," IIHS and HLDI said. Two other studies "similarly reported that PAEB reduced single-vehicle pedestrian crash risk when comparing equipped and unequipped GM and Toyota vehicles by 14% and 16%, respectively, although these effects were not statistically significant," the agencies reported.
Further analysis of HLDI data shows that PAEB is associated with statistically significant reductions in pedestrian crash risk of all severities of 25%-27% and in pedestrian injury crash risk of 29%-30%.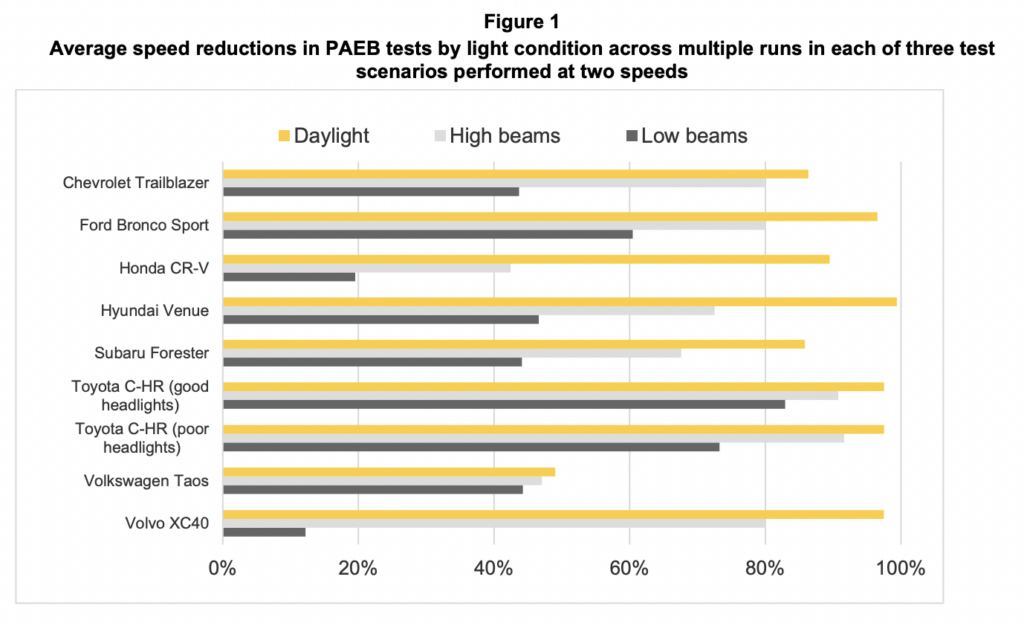 IIHS said track testing it recently conducted showed that "acceptable performance in the dark is possible."
In that test, IIHS put eight small SUVs — a 2019 Subaru Forester, 2019 Volvo XC40, 2020 Honda CR-V, 2020 Hyundai Venue, 2021 Chevrolet Trailblazer, 2021 Ford Bronco Sport, 2021 Toyota C-HR and 2022 Volkswagen Taos — through its standard vehicle-to-pedestrian evaluation in full darkness on the covered track at the IIHS Vehicle Research Center.
The Toyota, which uses a camera and radar, "had significant speed reductions when tested at night," IIHS said.
The test revealed that "some systems worked much better than others in the dark, but there was no single type of technology that got better results," David Aylor, manager of active safety testing at IIHS, said at the time.
The Taos, which uses radar, showed no performance decline from its daytime ratings, but it also put in the poorest performance in the daytime test.
The best performers in the nighttime tests — the C-HR and Bronco Sport — both use a combination of camera and radar. The Forester and Trailblazer, the only vehicles with camera-only systems and no radar, achieved nighttime results similar to those of three vehicles that use cameras and radar: the CR-V, XC40 and Venue.
The testing also found no correlation between good headlights and good nighttime pedestrian AEB performance.
IIHS is now developing a nighttime test in response to the new findings, and plans to publish its first official nighttime pedestrian crash prevention ratings later this year.
Joe Young, director of media relations for IIHS, said that while the institute occasionally files petitions for rulemaking, it was found that its consumer ratings programs are more efficient at driving change.
Those programs "have helped drive dramatic improvements in occupant protection in a variety of crash configurations and crash avoidance technologies," Young said.
"IIHS also helped lead a voluntary commitment among automakers to get automatic emergency braking into new vehicles as standard equipment by the end of 2022. This process was faster than rulemaking would have been, and we estimate that it will prevent 42,000 crashes by 2025," he said.
Two examples of rulemaking petitions that resulted in change were calls to strengthen the rear underride guards on the back of large trucks, and to require electronic logging devices on large trucks. The former was eventually included in the federal infrastructure law, Young said, while it took 30 years for the latter to be implemented.
More information
IIHS developing nighttime pedestrian crash prevention ratings
NHTSA to add 4 ADAS technologies in update of its 5-Star Safety Rating program
Images
IIHS conducts tests on vehicles equipped with PAEB technology on the covered track at its Vehicle Research Center. (Screen capture via IIHS)
Share This: