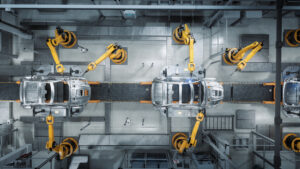 Washington & Ohio legislators look toward EV future with new & proposed laws
By on
Legal
Washington's "Clean Cars 2030" has been signed into law by Gov. Jay Inslee to mandate the sale and purchase of only electric passenger and light-duty vehicles while in Ohio, Sen. Michael Rulli (R-District 33) pleaded Tuesday for "swift consideration" of his "Accelerating Ohio's Auto Industry" (AOAI) bill for electric vehicle (EV) production in the state.
"Clean Cars 2030″ will begin with model year 2030 and will create an interagency electric vehicle coordinating council "with key roles in electrifying the transportation sector" to "drastically reduce vehicle greenhouse gas emissions," the bill states. It is part of "Move Ahead Washington," a nearly $17 billion transportation package.
Rulli's plea was to the Senate Energy and Public Utilities Committee for SB 307, which aims to retrain and retool the automotive industry workforce for EV production in hopes of bringing OEMs' EV work to the state.
"For the people I represent, the automotive industry is already central to many of our lives in the Mahoning Valley," Rulli said. "The auto industry is going through a global transition. Manufacturers have pledged to invest $330 billion in electric vehicles production by 2025. This means they are making decisions right now about where to build new factories and which existing factories will transfer to EV production."
The bill focuses on preparing for the expected influx and popularity of EVs, including battery electric vehicles (BEVs), plug-in hybrids (PHEVs), and hybrids by creating three programs – one focused on incentives, another on retooling and equipment, and a third on training and modernization. It also addresses EV charging infrastructure creation and electric grid support.
SB 307 is important, Rulli said, because "tens of thousands of jobs have been lost from Ohio." He noted that in January, General Motors announced a $7 billion EV investment in Michigan that will create 4,000 jobs. He also said states that Ohio lost jobs to in the last two years including Kentucky, Tennessee, Illinois, North Carolina, Arizona, and Texas. Specifically, he mentioned a combined $11.4 billion investment in EV production by Ford in Kentucky and Tennessee that will create 11,000 new jobs.
"Ohio has a lot at stake as the global economic transition happens before our eyes. We have over 108,000 jobs in auto manu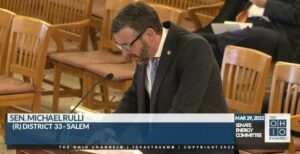 facturing right here in Ohio and many of these jobs involve making gas vehicles or gas vehicle parts. With so many jobs at risk, it is urgent that we take action right now to protect and build on the sector of the economy that makes sure Ohio isn't left behind."
The AOAI will "attack this issue in four different ways," according to Rulli:
By supporting workforce development and factory retooling, which the bill states $15 million would be provided by the state every year to fund grants to OEMs and suppliers with locations in Ohio to buy equipment needed to produce EV parts or components or to assemble EVs including retooling existing facilities or for the creation of a new facility. Incentives to retool factories will let automakers know that Ohio "embraces EVs" and "workforce training builds on existing strength in the Ohio auto industry and supports the growth of quality jobs related to charging and maintaining these EV vehicles," Rulli said.
By encouraging growth of the EV market with fleet and consumer vehicle adoption incentives to show Ohio's commitment to remaining a "strong partner" to OEMs as they shift to EV production. The bill states there would be a sales tax exemption incentive on the purchase or lease of new EVs – up to $2,000 for all-electric vehicles, up to $1,000 for PHEVs, and up to $1,000 for used all-electric vehicles with a base model MSRP below $55,000 for sedans and below $80,000 for vans, pickup trucks, and SUVs.
By investing in "much needed" EV charging infrastructure, especially in rural areas of the state.
By creating a state EV task force with an "electric plan," which will be an "evolving body." "It is never meant to be created and that's it because the EV revolution is going to continue to grow and there's going to be problems that we can't even imagine in the future, especially with battery technology," Rulli said. Among the many responsibilities of the task force are creating a statewide plan that details how EV product adoption can be advanced and a strategic siting plan for EV charging infrastructure that ensures universal charging access, according to the bill.
Rulli said the bill is a work in progress and he will work with the committee and stakeholders to "create the best bill we can to protect Ohio's economic future." Proponent testimony will be heard during the committee's next hearing, which hadn't been scheduled as of Tuesday. The committee's meetings are livestreamed and archived on The Ohio Channel.
IMAGES
Featured image credit: gorodenkoff/iStock
Ohio Sen. Michael Rulli (R-District 33) testifies on his "Accelerating Ohio's Auto Industry" (AOAI) bill during the Senate Energy and Public Utilities Committee on March 29, 2022. 
More information
Bill introduced in Ohio to retrain workforce, retool factories & shops for EVs
Share This: