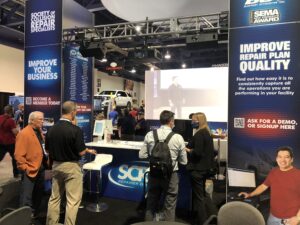 Registration is open for the Society of Collision Repair Specialists' (SCRS) Repairer Driven Education (RDE) sessions during SEMA Show 2022.
Discounted pricing and more efficient processing are available for those who register online before Oct. 1, according to an SCRS news release. The RDE sessions take place Oct. 31-Nov. 4 at the Las Vegas Convention Center.
Early birds will save $50 on their show registration and another $50 on the RDE full series passes or $25 on individually selected courses. U.S. and Canadian early birds that meet attendee qualification requirements will also receive their show badge and course selection tickets in the mail prior to the show, which will reduce time waiting in line at an onsite registration desk.
First-time RDE speakers include Teroson's John O'Neil, Maimone Group's Chris Maimone, and International Technical Automotive Systems' (ITAS) Tony Young. On Nov. 1, O'Neil will discuss replicating OEM seam sealers and textures as "critical steps in producing a proper repair to OEM standards." The next day, Maimone will talk about the importance of having the right mindset to help shop owners "work through their obstacles and embrace the power of a quality-oriented mindset to improve their business."
Young, along with Rivian Automotive's Frank Phillips and Logan Kelley, and Brandon Laur with CCi Global Technologies will talk about the resources that are available to repairers and "can be mutually beneficial to the repairer and the automaker with a common goal of driving repair quality and safety."
To explore the RDE track in more detail or to add sessions to your Show Planner, visit SCRS: Repairer Driven Education on the Map Your Show site.
SCRS will also bring back its IDEAS Collide Showcase this year as part of its RDE sessions during the SEMA Show. There will be 10 sessions in the showcase with topics ranging from finances, shop culture, hiring & operations to vehicle history. First-time speakers include I-CAR's Jeff Peevy, Shop Fix Academy/Pro-Collision's Mike Wandrey, Car ADAS Solutions' Greg Peeters, and Mitchell International's Ryan Mandell.
This year's RDE series is made possible with support from AASP, AirPro Diagnostics, BASF, Car-O-Liner, CCC, Celette, Reliable Automotive Equipment, Inc., Repairify, Toyota, and SEMA.
For more information about SCRS, or to join as a member, visit www.scrs.com, call 1-877-841-0660, or send an email to info@scrs.com.
IMAGES
Featured image: SCRS booth at SEMA Show 2021 (Credit: SCRS)
Share This: