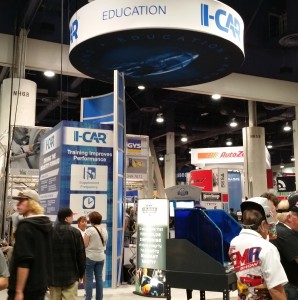 I-CAR will offer several classes during this year's SEMA Show in November "to increase collision repair industry knowledge and skills."
Online registration for the following topics is now open and available through Nov. 3:
Initialization and Calibration of Electronic Systems: "enables attendees to identify the type of information that scans and initializations provide, enabling attendees to identify when initializations and calibrations are needed. This course assumes attendees have a general knowledge of vehicle communication networks;"
Coordinate the Repair Process: "groups work to view a scenario and offer possible problems and optional solutions. This course assumes some existing knowledge of the following topics — check-in, basic estimate writing and P-Pages, vehicle safety, mapping vehicle damage, capturing quality photos, scheduling the repair, and managing vehicle disassembly;"
Managing Quality Control: "provides attendees with an understanding of the details involved in the vehicle inspection process including pre-repair inspections, in-process quality controls, and post-repair inspections;" and
MIG Welding Technology & Applications: "covers MIG welding techniques for aluminum and standard strength steel along with a detailed explanation of welding equipment that Builders may have not considered."
Attendees will also be able to register on-site outside I-CAR Classrooms S224 and S225.
I-CAR Director of Technical Products & Curriculum Bud Center said in a statement that the MIG welding training session will be offered for the first time and exclusive to SEMA. It will focus on "basic to advanced techniques and ideal for classic car, hot rod and vehicle builders/rebuilders and other technicians," he said.
Center added that while the session isn't eligible for I-CAR credit, it will be 50% less than the usual cost "to encourage newer vehicle builders out there" to take it. The cost is $75 and will include complimentary, hands-on welding practice at the SEMA Collision Repair Stage.
I-CAR will also hold a free series of live educational presentations on advanced driver assistance systems (ADAS), electric vehicles (EVs), virtual reality (VR) and augmented reality (AR), scanning and calibrations, welding, and more at the SEMA Collision Repair & Refinish Stage.
Those who take I-CAR educational training gain credits valid toward the I-CAR Platinum designation, which is given to collision repair professionals who achieve and maintain high levels of role-relevant training that contributes to complete, safe, and quality repairs and toward I-CAR Gold Class recognition for repair facilities, according to I-CAR.
As a SEMA Education Partner, I-CAR will participate in the free and new SEMA ADAS Showcase and SEMA Electrify.
The ADAS Showcase will feature 6,600 square feet of space "to learn from subject-matter experts, to exchange knowledge and ADAS best practices, and to gain hands-on experience with ADAS tools and equipment," according to SEMA.
"The dedicated space will also host a variety of ADAS-related products for examination and review, and mock ADAS recalibration demonstrations throughout the week will guide Showgoers through the step-by-step process of integrating ADAS protocols into the workplace. The new exhibit's aim is to assist in member education, to improve industry awareness of ADAS systems and their impact on the aftermarket, and to provide marketing and networking opportunities between buyers and sellers."
During SEMA Electrify, the industry will take a look at what electrification could look like five to 10 years in the future and will feature custom EV conversions and "noteworthy" parts and products that are currently driving the market, according to SEMA.
In other I-CAR news, check out a virtual tour of the new Chicago Technical Center (CTC) and Q&A session on Wednesday at 12 p.m. CDT. Both will be part of an episode of I-CAR's "Repairers Realm" live web series.
IMAGES
Featured image: I-CAR's booth at a previous SEMA Show. (Repairer Driven News file photo)
More information
Share This: