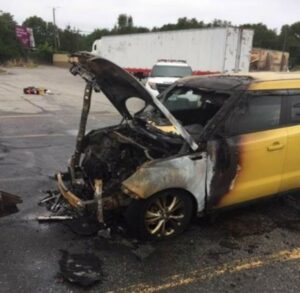 Hyundai and Kia have settled a class action lawsuit involving defects that caused, or could cause, engine failures and fires in several model year Santa Fe, Soul, Sportage, Sonata Hybrid, Sorento, Optima, Tucson, Elantra, Veloster, and Forte models.
The settlement resolves defects with Theta II multi-port fuel injection (MPI) engines, Nu gasoline direct injection (GDI) engines, and Gamma GDI engines described in the combined lawsuit and all vehicles that have the defect, which adds up to 1.05 million. The defect, as described in the suit, is caused by "an improper manufacturing and machining process" that causes the failure of the rotating assembly, which makes "the connecting rod bearings in the engines undergo prolonged failure as the crankshaft rotates within the connecting rod bearings and metal debris circulates throughout the engine via the engine oil."
Eventually, the rod bearings begin to fracture and the oil filters get clogged with so much debris that they can no longer filter out contaminants and maintain proper oil pressure leading to engine failure.
The combined complaint lists a nationwide class — any owners of the models involved in the lawsuit — and 15 state classes. Twenty-four class representatives are named, 16 of which "have already experienced catastrophic engine failure and/or fire because of the Engine Failure Defect, costing them thousands of dollars in repairs and/or loss of use of the vehicle for extended periods of time," according to the complaint.
The complaint alleges violations of state consumer, unfair competition, advertising, warranty, trade practices, fraud, fair business practices, and good faith and fair dealing; most of which are federal violations as well.
"The catastrophic engine failure and fire risk is the direct result of a defect known to, concealed by, and still unremedied by Hyundai and Kia," the suit states. "Not only did Hyundai and Kia actively conceal the Engine Failure Defect from consumers, but they also concealed its consequences, including the serious safety hazards and monetary harm caused by the Engine Failure Defect.
"Hyundai and Kia knew or should have known about the Engine Failure Defect as evidenced by: (1) consumer complaints lodged with the National Highway Traffic Safety Administration ("NHTSA") and elsewhere online; (2) warranty claims, part sales, and consumer complaints lodged with Hyundai and Kia directly; (3) technical service bulletins and safety recalls issued by Hyundai and Kia in an attempt to address the Engine Failure Defect; and (4) Hyundai and Kia's own pre-sale durability testing of the Class Vehicles."
The suit also states the plaintiffs weren't informed of the engine defect and "refuse to fix the Engine Failure Defect at no cost in unrecalled vehicles, even within the warranty period."
In a news release about the settlement that was reached, Hyundai and Kia don't describe the defect but state that class owners will receive "various cash compensation options, extended warranties, free inspection and repair of the covered engines for certain qualifying repairs, and installation of a software update Hyundai and Kia introduced to enhance safety and detection of potential engine failure."
Terms of the settlement include:
"Cash reimbursement for certain past repairs and related expenses, such as towing, rental cars, and other transportation costs;
"Cash compensation for certain past trade-ins and sales in lieu of certain repairs;
"Cash reimbursement for certain incidentals, such as towing, transportation, and, in some cases lodging and meals, for qualifying vehicle break-downs, depending on distance from residence;
"Free inspection and repair or replacement of damaged engines that are still within the duration of their 15-year or 150,000-mile extended warranty for certain qualifying engine repairs;
"Free installation of the Knock Sensor Detection System (KSDS) software update;
"Various goodwill compensation for customers inconvenienced by previous lengthy engine repair times, denied warranty coverage, vehicle loss due to qualifying fire, and trade-ins and sales due to loss of faith, among other provisions."
The OEMs say that each vehicle is part of a "product improvement campaign" to install a knock sensor detection system.
"The knock sensor detection system software continuously monitors engine vibrations for unusual dynamic patterns that develop as an engine connecting rod bearing wears abnormally in a way that could later cause engine seizure. If vibrations caused by bearing wear start to occur, the malfunction indicator lamp will blink continuously and the vehicle will be placed in a temporary engine protection mode with reduced power and acceleration. In this temporary mode, drivers maintain full control of the vehicle as brakes, steering and safety devices such as airbags remain operational."
The detection system will be installed at no cost in all vehicles involved in the settlement with Hyundai and Kia dealers.
The OEMs say the vehicles can continue to be driven for limited time in engine protection mode but acceleration will be slower and the maximum engine speed will top out at 1,800 to 2,000 RPM.
IMAGES
Featured image: A 2014 Soul, owned by one of the class representatives, was rendered a total loss and a fire investigator concluded the fire originated at the engine, according to the complaint. (Photo copied from class action complaint)
Share This: