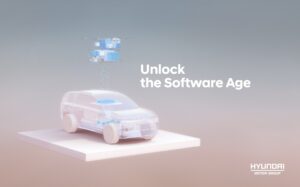 Hyundai has announced that it plans to transform its entire lineup to software defined vehicles (SDVs) by 2025, allowing over-the-air (OTA) upgrades of safety, convenience, connectivity, security, driving performance, and other functions.
The OEM said its strategy, announced Wednesday during Hyundai Motor Group's Unlock the Software Age global online forum, will give customers "the freedom to remotely upgrade the performance and functionality of their vehicles anywhere at any time."
As of the 2023 model year, all newly launched vehicles of the group — which includes Hyundai, Kia, and Genesis — will be equipped to receive OTA software updates. That includes both electric vehicles (EVs) and internal combustion engine (ICE) vehicles.
The advanced driver assistance system (ADAS) and infotainment features that Hyundai already mass produces are both currently undergoing "function advancements" through integrated controller technology. By 2025, both comfort and driving controllers will also be gradually integrated, the automaker said.
Customers will be able to buy feature on demand (FoD) services beginning next year, allowing them to tailor their vehicle's functions and features to their needs and tastes.
"Creating visionary vehicles empowered with the ability to evolve through software will enable customers to keep their vehicles up to date with the latest features and technology long after they have left the factory," Chung Kook Park, head of the R&D Division of Hyundai Motor Group, said in a statement. He said the strategy "will completely redefine the concept of the automobile and take the lead in ushering in a never-before-experienced era of mobility."
For repairers, it means that accessing up-to-the-minute OEM data will be crucial in determining a vehicle's features.
The group said it expects 20 million vehicles to be registered to its connected car service worldwide by 2025. The service was first introduced in 2021.
Other OEMs, such as Tesla, General Motors, and BMW, are also moving toward SDVs, promoting the idea of continual upgrades throughout the life of a vehicle, as well as the possibility of offering certain features through paid subscriptions.
Hyundai said its connected car data will enable other "mobility solutions," including purpose-built vehicles (PBVs), advanced air mobility, robotaxis, and robots. "By establishing a new data platform, innovative services will be provided through connecting and processing the various data generated throughout the car life cycle, as well as promoting the creation of an open ecosystem in partnership with diverse industries such as logistics and accommodation," it said.
The OEM is developing its own Connected Car Operating System (ccOS), an automotive framework that provides vehicle networks and control functions, an infotainment framework that provides navigation, multimedia, and customizable UX (user experience) functions, and a connectivity framework that provides server-based data processing functions. Its goal is to create a platform that can "handle vehicle big data exceptionally quickly and ultra-reliably." Working with Hyundai on the project is NVIDIA, a specialist in AI computing.
Hyundai said it plans to invest the equivalent of $12.6 billion in technology resources by 2030, including the establishment of a Global Software Center to add to its software capabilities and accelerate SDV development.
New EV platforms to launch in 2023
Hyundai also announced that it intends to introduce vehicles in 2025 based on its two new EV platforms, eM, and eS, created under the Group's Integrated Modular Architecture (IMA) system.
The eM platform, which is being developed specifically for EVs across all segments, will provide a 50% percent greater driving range on a single charge than current EVs, Hyundai said. The eM platform is also being developed to support Level 3 or higher autonomous driving technology and OTA software update features.
The eS platform will be developed as an EV "skateboard" just for PBVs. This will have a fully flexible structure to meet B2B demands, and be tailored for companies operating in the delivery, logistics, and car-hailing sectors.
The IMA system "will lead to further standardization and modularization of core components of electric vehicles, such as batteries and motors, while offering advantages in sectors additional to electric vehicles," Paul Choo, executive vice president of Hyundai Motor Group Head of Electronics & Infotainment Development Center, said.
A wealth of data
With 20 million connected vehicles projected, Hyundai is working on strengthening its staffing and resource capabilities to process and analyze large amounts of data. It said it will focus on technology able to identify "how data at each stage of the vehicle's life cycle is generated, in addition to selectively collecting and analyzing the necessary data to provide valuable services to customers."
Hyundai said the collective vehicle data would be "continuously processed and analyzed with deep learning technology." It also expects to collect data from other sources, such as traffic signals, satellite navigation mapping, and smart infrastructure.
Video provided by Aptiv, an Irish-American automotive technology supplier.
GM, Red Hat collaborate to improve in-vehicle software that could benefit all OEMs
Images
Featured image provided by Hyundai
Share This: