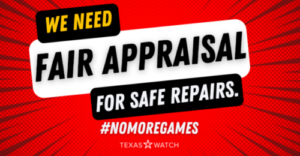 ABAT & Texas Watch collab to help under-indemnified auto policyholders, push for mandatory appraisal clause law
By on
Collision Repair | Legal
In response to the Texas Department of Insurance (TDI) tagging more than 500 consumer complaints submitted to them through the Auto Body Association of Texas (ABAT) as needing to come directly from consumers, ABAT has teamed up with consumer advocacy group, Texas Watch, to "revamp" its consumer complaint process.
The complaints had to do with policyholders being "unfairly under-indemnified by their insurance companies during the collision repair process," ABAT Executive Director Jill Tuggle said Tuesday.
"We started submitting those to TDI and we were met with roadblock after roadblock and they keep changing the rules to the game," she said. "We have obliged to their rules many, many times and it just hasn't been getting us where we need to be."
The complaints were initially filed by ABAT on behalf of consumers with TDI's permission, according to Tuggle. She said TDI then backpedaled and said ABAT couldn't submit consumers' personal information and changed each complaint name to Tuggle's.
"When they were sending the complaints off to the insurance companies, number one, kind of letting them self-police, saying, 'Hey, this person had a problem. What happened?' …The responses we're getting back are that I'm not a party to the claim and that they don't have to respond to the complaint. It stopped us dead in our tracks."
However, Tuggle added that ABAT isn't going to stop fighting the issue and that she believes Taft has found the answer to making headway with TDI by working with consumers directly to file complaints and talk to their legislators. TDI didn't respond by publication deadline to Repairer Driven News' questions regarding the complaints filed by ABAT.
Hand-in-hand with ABAT's issues with TDI is also a legislative issue ABAT has been advocating for — mandatory right to appraisal.
Many car insurance policies include an appraisal clause that allows policyholders to invoke it to have third-party appraisals done when they don't agree with their carrier's valuation of their vehicle. Low valuations often lead to total losses on vehicles that could've been fixed. Both the carrier and the policyholder hire an independent appraiser and if the appraisers can't agree, an umpire is selected to make the final decision.
That was the general standard for years in auto insurance claim disputes until 2014 when State Farm sought approval from TDI to remove the clause from its policies. Approval was granted in 2015. Only one other insurer, GEICO, has sought approval to remove the clause since then, in 2021, to which the Texas Office of Public Insurance Council (OPIC) filed an objection with TDI. The insurer's request was denied in July for failure to address TDI's questions.
"We fear that if GEICO does this, all insurance companies will do this," said Texas Watch Director of Organizing Kelly Taft, who will handle consumer complaint outreach for ABAT and Texas Watch.
The Texas House Insurance Committee held a public hearing in September on the issue of under-indemnification and the right to invoke the appraisal clause. Among comments made, Committee Chairman Dr. Tom Oliverson (R-District 130) said he sees the opportunity for a study to be conducted on the nearly eight years of data from the insurer that removed its appraisal clause.
During the last Texas legislative session, lawmakers considered HB 2354 by Rep. Travis Clardy (R-District 11) and SB 1706 by Sen. César Blanco (D-District 29), which ABAT says "would have streamlined the appraisal process and made it fair." HB 2354 passed the House but stalled in the Senate. Tuggle said on Tuesday similar, possibly identical, appraisal legislation will be submitted during the 2023 session.
"We worked so hard over the last two-and-a-half, three years to get momentum with this bill and educate the lawmakers on these bills so when you have all that momentum and you've spent all that time and resources explaining it, it's kind of hard to move away from it," said ABAT President Burl Richards.
The issue has "really come to a head and really become a problem for a lot of consumers and shops" in the last year, Tuggle said. "We're trying to get ahead of this problem and make sure that the appraisal clause… becomes state law and not just a recommendation by the Texas Department of Insurance."
Initially, Tuggle said, insurance companies fought to have an appraisal clause in their policies "because it benefits them" but are now wanting to remove them.
"It's important for insurance companies to pay claims on time and in full for cars to be repaired safely," Taft said. "If they don't have this [appraisal] process in policies then their [policyholders'] only other option is to go to small claims court, essentially, to try to get their insurance companies to pay."
Repairer Driven News asked TDI for comment regarding Tuggle's explanation of her dealings with the department in filing complaints for consumers through ABAT. TDI spokesperson Ben Gonzalez responded, "When we receive a complaint, we always reach out to the insurance company, agency, or agent involved. We followed that same process with each complaint submitted by the Auto Body Association of Texas. If someone who isn't the insured files a complaint, particularly about reimbursement rates, there often is not much we can do to help them secure additional payment. Of note, TDI reached out to a sample of the policyholders in the complaints submitted by ABAT; some consumers said they were unaware complaints had been filed regarding their claims."
He recommended that consumers who have an issue with a claim follow the steps listed here, which includes how to file a complaint with TDI.
The crux of the #nomoregames campaign is to connect with collision repair customers who have been under-indemnified and to advocate for safe and proper repairs, which starts with an online form for customers to fill out. Repairers can direct their customers to texaswatch.org/saferepairs for more information about the campaign and to fill out the form. Paper copies of it can be requested by contacting Taft at ktaft@texaswatch.org. The form can also be used to bring attention to insurance steering complaints.
Every person that fills out the form will be contacted by Texas Watch and offered help with filing a TDI complaint and getting in touch with their legislator about their issue.
Goals of the #nomoregames campaign are to:
"Call all activists who have submitted form[s] with ABAT to help them file a complaint with TDI;
"Collect information about insurance wrongdoing from 1,000 consumers;
"Organize 1,000 consumers to contact their lawmakers; and
"Identify top stories to share with media."
"You have a great deal of untapped political power in the form of your customers," Taft said Tuesday to collision repairers. "Each one of your customers who have had a problem with an insurance company is a constituent of a lawmaker. I am here to help your customers make their voices heard in Austin. If you can get your customers to us, we can take it from there. …We cannot do this without you. Your role in connecting us with your clients is essential for fighting for mandatory appraisal. Once you connect us with your clients, we can help them file a complaint with the Texas Department of Insurance and also contact their lawmakers."
She added that each consumer's contact information, including address (to connect them with their lawmaker) as well as how much their carrier offered to repair the vehicle and how much the repair estimate was, are very important details on the form to fill out.
Once information on "insurance wrongdoing" is collected from 1,000 Texas auto insurance policyholders, Texas Watch will present the data to the legislature "so that they can do the right thing and make appraisal mandatory in Texas for auto insurance policies," Taft said.
Texas Watch will contact the more than 500 consumers who filed complaints through ABAT to have them file complaints directly with TDI.
"It's now or never," Tuggle said. "Sessions start in January and it doesn't happen for another two years so if this appraisal bill doesn't go through we've got another two years of insurance companies being able to remove those from their policies and this just can be a really big issue that's going to compound in that amount of time."
IMAGES
Featured image credit: ABAT/Texas Watch
Share This: